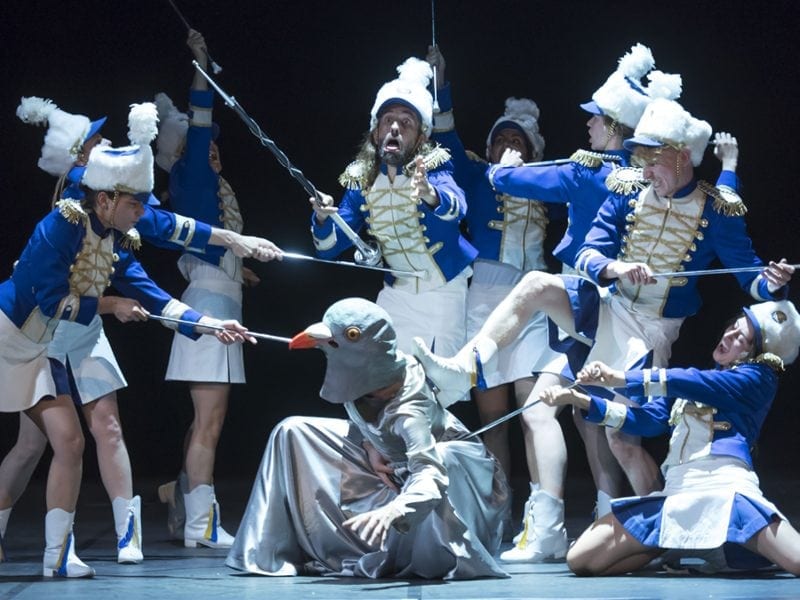 Read the glossary of Belgium Rules/Belgian Rules
After the monumental 24 hours of Mount Olympus – To glorify the cult of tragedy (presented exclusively at the 30th Romaeuropa Festival and winner of the Ubu 2016 prize for best foreign show), Jan Fabre is back with a new, visionary creation: Belgian Rules/Belgium RulesRULES/BELGIUM RULES. This time, it will be his homeland of Belgium to be glorified by his 'warriors of beauty' (as Fabre defines his performers), in an homage like Fellini's to Rome, covering all the elements that have formed and made the artist's aesthetics famous.
«Theatre lay at the birth of this little country, and theatre is what will remain of it. Belgium is a country that is bursting at the seams between bureaucracy and stilted formality. An artificial and unstable State, used as a stage for others' wars», commented Fabre.
In collaboration with songwriter Raymond van het Groenewoud and more than 10 performers on stage, Belgian Rules/Belgium Rules shakes up the image and culture of an entire country, a land of blood and wars, home to Rubens, Bruegel, Bosch and Magritte, as well as beer and chips. An ironic and cutting theatrical self-portrait, reflected in the image of Europe as a whole.
Performance Annabelle Chambon, Cédric Charron, Tabitha Cholet, Anny Czupper, Conor Thomas Doherty, Stella Höttler, Ivana Jozic, Gustav Koenigs, Mariateresa Notarangelo, Çigdem Polat, Annabel Reid, Merel Severs, Ursel Tilk, Kasper Vandenberghe, Andrew James Van Ostade Concept, Direction Jan Fabre Text Johan de Boose Music Raymond van het Groenewoud (Belgium rules and La Wallonie d'abord/Vlaanderen boven), Andrew James Van Ostade (all carnival music and soundscapes and NoiRap) Dramaturgy Miet Martens Assistance dramaturgy Edith Cassiers Costume design Kasia Mielczarek and Jonne Sikkema, Les Ateliers du Théâtre de Liège, Catherine Somers (carnival hats) Intern assistant to the director Nina Certyn Intern costume design Monika Nyckowska Intern P.U.L.S. Timeau De Keyser Technical management André Schneider Production management Sebastiaan Peeters Light technique Wout Janssens Stage technique Randy Tielemans, Kevin Deckers Sound technique Howard Heckers (Inter)national sales Sophie Vanden Broeck Company management Mark Geurden Business coordinator Joost Claes Press, Communication Edith Cassiers Production Troubleyn/Jan Fabre (BE) Co-production Napoli Teatro Festival Italia-Fondazione Campania dei Festival (IT), ImPulsTanz Vienna International Dance Festival (AT), Théâtre de Liège (BE), Concertgebouw Brugge (BE) Troubleyn/Jan Fabre receives funding from the Flemish government, and support from the City of Antwerp Photo © Wonge Bergman