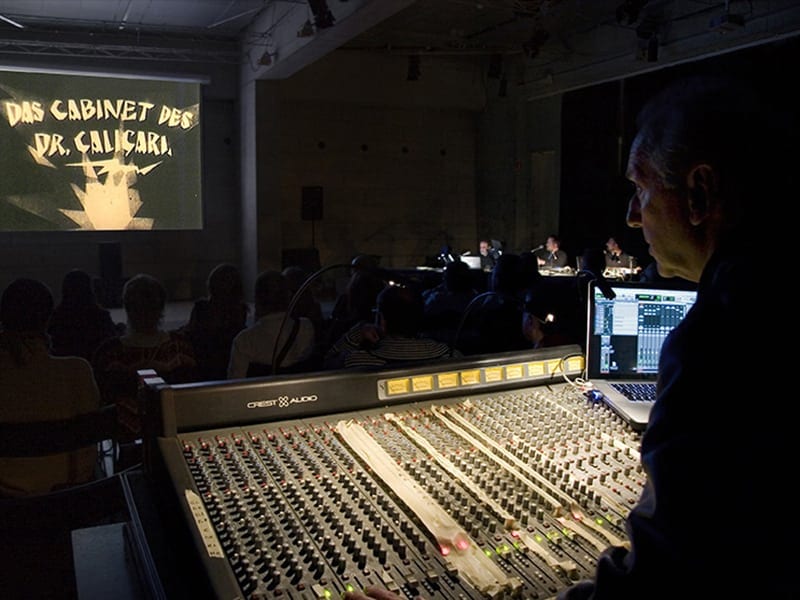 After presenting their personal soundtrack to Hitchcock's Blackmail at the Romaeuropa Festival 2016, shaking up all the clichés of film music with their live performance, Edison Studio (the group formed in 1993 by Mauro Cardi, Luigi Ceccarelli, Fabio Cifarelli Ciardi and Alessandro Cipriani) is back to working on the great masterpieces of the silent era.
The protagonist of a new multimedia experience between music and images is, Das Cabinet des Doctor Caligari, a masterpiece of German expressionist cinema (and apotheosis of the expressionist movement as a whole) directed by Robert Wiene in 1920. With its hallucinatory scenes, created by Hermann Warm, with its angular geometries, its shadows and its dead ends, this cinematic masterpiece recently restored by the Cineteca di Bologna continues to mesmerise the audience.
Edison Studio analyses the film by detecting expressive climates, formal developments, sounds made using keyboards, samplers, percussion instruments and resonant objects, creating a new real-time action that catapults into the soul of the film: a distorted world that, between sleepwalking and madness, has surprisingly anticipated future artistic experiments and important social themes.
Direction
Robert Wiene Decla Film - Berlino, 1919
Script 
Carl Mayer, Hans Janowitz
 Set 
Hermann Warm, Walter Reimann, Walter Rohrig
 Live music 
Edison Studio
 Digital master digitale from original version restored by 
Cineteca di Bologna 
In collaboration with
Munchener Filmmuseum -Cinémathèque Royale de Belgique
Production
Edison Studio
Contributed by 
Istituto Italiano di Cultura di Singapore e della Cineteca di Bologna