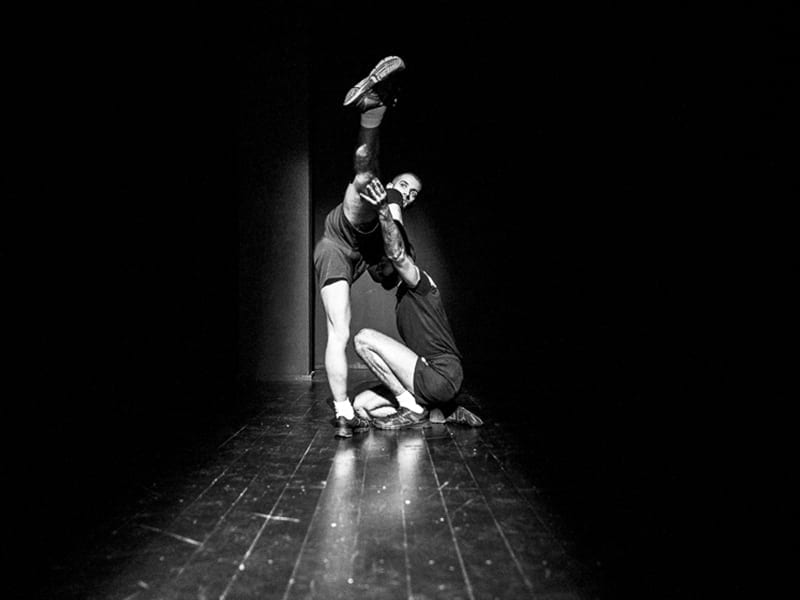 Founders of Collettivo Nada, Angelo Petracca and Orlando Izzo present Trattato semiserio di Oculistica. The show is the fulfilment of the study with which the Naples-based pair won DNA Appunti coreografici 2016 (the prize with which the Romaeuropa Festival, in network with important national institutions, supports the work of young choreographers and dancers).
On stage, Izzo and Petracca create an unsettling choreography with constantly shifting planes and changing aesthetic references, designed to investigate the relativity of each action, gesture or presence, before the eyes. If the point of view can change inexorably, if everything that exists or happens, including dance, exists and happens only because it is watched or because of our precise perception of reality, what happens when this perception is disturbed or altered?
Ironic tennis training, scientific explanations, analysis of the composition of the optical system, geometric shapes, light cuts and projections appear side by side in a show that, like an unexpected puzzle, seems to be turning continuously on itself, between new joints and combinations. The solution will always and only be "a point of view".
Concept, Performance
Orlando Izzo, Angelo Petracca 
Production
Interno5
Support
MiBACT
Residence 
Electa Creative Arts, Corpografie, Florian Metateatro, Teatri Associati di Napoli