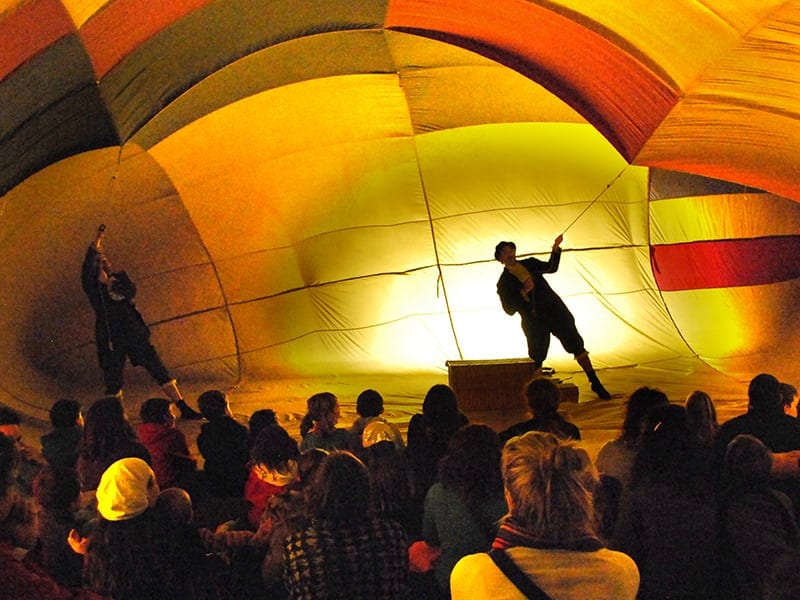 Get ready for a real trip on a hot air balloon through uncharted skies. Take off your shoes and get on board. The hot air balloon is the same one used by brothers Joseph and Etienne Montgolfier, who defied gravity and built the prototype in 1783.
It will be recreated literally on stage and inflated together with the audience in order to kick off this bizarre journey by the brothers Jordi and Pep Farrès from Spanish company Farrès brothers i cia, which has been creating shows for families since 2002. Inspired by the Igloos of the wind project, in which Jordi Enrich tries to give new life to abandoned aerostatic balloons, Tripula is a daydream in which viewers become real adventurers headed to fantastic places (the sea of doubts and the skies of home are just two small examples) in search of three animals that crossed the skies for the first time long before man.
In the belly of this colourful balloon, the company uses a range of different theatrical techniques, from shadow puppets to light and sound effects, accompanying the spectator through to an unexpected landing. And if, after leaving from this wonderful means of transport, the world is no longer the same?
Concept Pep Farrés, Jordi Farrés, Jordi Palet Direction Jordi Palet i Puig Performance Jordi Farrés, Pep Farrés Set Jordi Enrich, Alfred Casas, Farrés brothers i cia Music Jordi Riera Lights Jordi Llongueras Recording Francesc Puig Producer Silvia Lorente Pictures Martí Artalejo