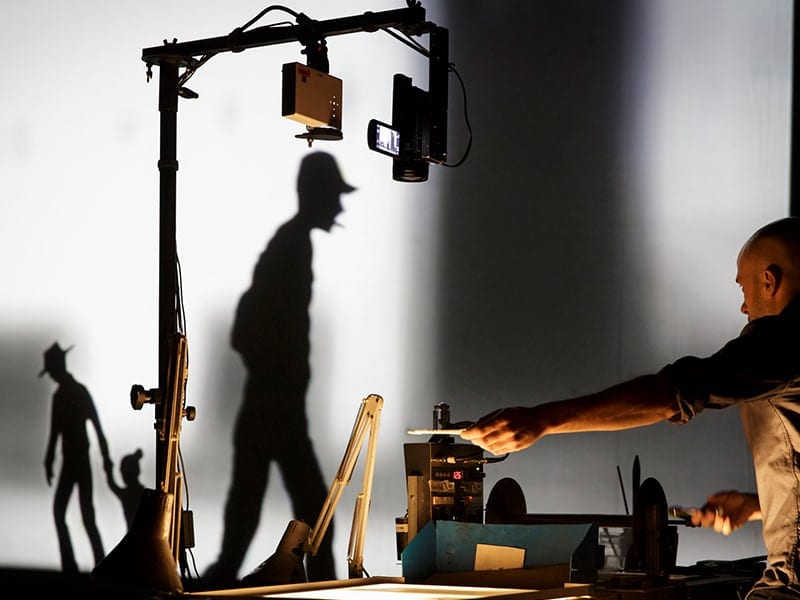 Don't be fooled by the title of this show: the only thing that is black in Dark Circus by French group STEREOPTIK is the ink, a use of light that recalls the dawn of cinema and the shadow-theatre, and a bizarre universal tale universe inhabited by unusual circus performers united by a single ironic motto: «Come for the show, stay for the woe».
After the extraordinary success of the 2016 Edition of the Romaeuropa Festival, the duo formed of musicians and illustrators Romain Bermond and Jean-Baptiste Maillet returns, as part of REF Kids, with its amusing tale created in collaboration with the author and illustrator of children's books Pef. His was the idea for this slightly noir, slightly unlucky circus where every single number turns into catastrophe: trapeze artists who fall from a height, animal tamers swallowed by fierce lions and cannon women lost in space.
The fascination of the puppet theatre, the magic of cinema and animation, live illustration, music and an unusual use of everyday objects, lights and colours (all handcrafted techniques used strictly in real time) open the doors of fantasy and invite us to escape happily from reality.
Concept
STEREOPTIK
 With 
Romain Bermond, Jean-Baptiste Maillet
 From an original story by 
Pef (Pierre Elie Ferrier)
 Consultant 
Frédéric Maurin
 General direction 
Arnaud Viala in alternanza con Frank Jamond 
Production
 STEREOPTIK
Coproduction
 L'Hectare scène conventionnée di Vendôme, Théâtre Jean Arp scène conventionnée di Clamart, Théâtre Le Passage scène conventionnée di Fécamp, Théâtre Epidaure de Bouloire - Cie Jamais 203
Support
 Théâtre de l'Agora scène nationale di Evry e l'Essonne, L'Echalier/Saint-Agil, Théâtre Paris Villette, MJC Mont-Mesly Madeleine Rebérioux/Créteil
Dark Circus' production is funded by
 Ministère de la Culture et de la Communication / DRAC Centre-Val de Loire et de la Région Centre-Val de Loire 
Photo ©
Christophe Raynaud de Lage / JM Besenval / STEREOPTIK