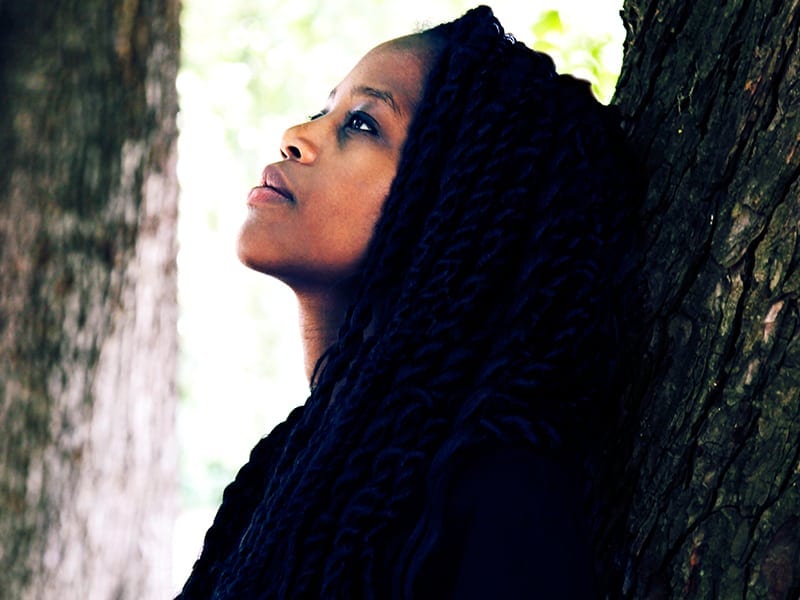 Originating from Rwanda, a British national based in Marseille, Dorothée Munyaneza began her career as a singer (hers is the voice in one of the songs from the soundtrack of the film Hotel Rwanda), while beginning a relationship with dance and theatre right from the start, founding her own company in 2013: Kadidi.
While in Samedi Détente, her first acclaimed work, she eviscerates her own biography to tell the painful experiences of Rwandan genocide through impetuous poetry, she describes Unwanted as: «Now I want the voices of the women of my and other countries to be heard, voices of women whose bodies are or have been the battlefield of men's lust for power and sexual violence. I will meet some of them, listen to them, observe them, share my time with them, so that in my own way, I can tell their stories».
The result is her personal experience, reflected in a chorus of voices of women victims of violence. A tour de force of dance, theatre and music, accompanied by the voice of a soprano and the sound machines of French composer Alain Mahé. A song handed down from mothers to daughters like a dress: «Composed of clean lines and impalpable, yet robust and durable fabric». So that no story is forgotten.
Concept, Text, Dance, Voice
Dorothée Munyaneza
 With 
Dorothée Munyaneza, Alain Mahé, more to announce
 Music 
Alain Mahé
 Light design 
Christian Dubet
Set 
Vincent Gadras
Costume 
TBD
Stage director 
Marion Piry
 Production director, Administration, Distribution 
Emmanuel Magis/Anahi 
Production
Compagnie Kadidi, Anahi
Coproduction
Festival d'Avignon, Théâtre de Nîmes - scène conventionnée pour la danse contemporaine, Le Liberté - Scène Nationale de Toulon, Pôle Arts de la scène - Friche la Belle de Mai, La Chartreuse de Villeneuve-lez-Avignon - Centre national des écritures du spectacle, Musée de la Danse - Rennes, Théâtre Garonne - scène européenne - Toulouse, MCB Maison de la Culture de Bourges Scène nationale, Bois de l'Aune - Aix en Provence, BIT Teatergarasjen-Bergen, Pôle Sud - Centre de développement chorégraphique de Strasbourg, L'échangeur CDC Hauts de France, Escales danse en Val d'Oise, Théâtre de St Quentin-en-Yvelines, Scène nationale, Théâtre du fil de l'eau - ville de Pantin, Théâtre Forum Meyrin, Genève, Tanz im August/HAU Hebbel am Ufer, Berlin, Festival d'Automne à Paris
Support
la DRAC PACA - ministère de la Culture et de la Communication, Région PACA and ARCADI, Fonds de dotation du Quartz - Brest, Creative Exchange Lab of Portland Institute for Contemporary Art, Africa Contemporary Arts Consortium/USA, and Baryshnikov Arts Center, New York, NY, ICRC - International Committee of the Red Cross, Fonds SACD stage music and Fonds SACD Theatre, Fonds Transfabrik - Franco-German fund for performing arts
 With the help of
Montevideo - Marseille, ADAMI
The
 Compagnie Kadidi gets regularly the support of the
Institut Français
 for its international tours
anahi-spectaclevivant.fr