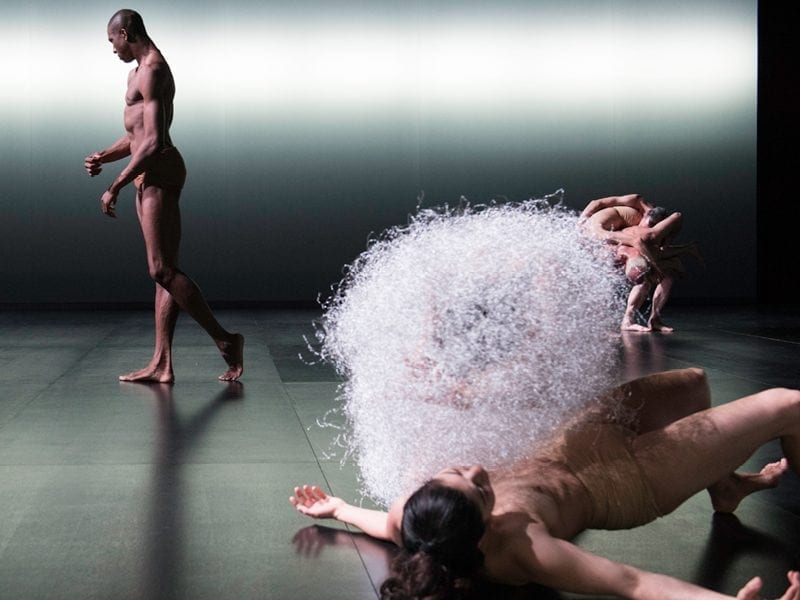 If there is a name that can embody the history of dance and at the same time trace out the future of the genre, that name is Sasha Waltz. The German choreographer will be opening the thirty-second edition of the Romaeuropa Festival with her spectacular show of lines, forces and bodies, renewing attention to dialogue with other art forms.
Her new creation involves two different collaborations: on the one hand, with visionary fashion designer Iris van Herpen, who combines craft techniques and digital technology with surprising results (including some of the more eccentric outfits worn by pop stars such as Björk and Lady Gaga); on the other, with lighting designer Urs Schönebaum, a long-running collaborator of Robert Wilson and now regularly engaged with Thomas Ostermeier and renowned artists such as William Kentridge and Michael Haneke.
This already thrilling trio will be accompanied by the music of Soundwalk Collective, a New York band that ranges between music, performance, concept albums and installations and has also worked with stars like Patti Smith. 14 dancers will be on the stage for an explosive combination of dance, fashion, music and light in a new, rigorous ode to indiscipline from one of the greatest artists of our times.
Direction, Choreography Sasha Waltz Costume Iris van Herpen Music Soundwalk Collective Light Urs Schönebaum Stage Sasha Waltz, Thomas Schenk With Sasha Waltz & Guests: Liza Alpízar Aguilar, Aladino Rivera Blanca, Davide Camplani, Clémentine Deluy, Claudia de Serpa Soares, Peggy Grelat-Dupont, Hwanhee Hwang, Annapaola Leso, Nicola Mascia, Thusnelda Mercy, Virgis Puodziunas, Zaratiana Randrianantenaina, Corey Scott-Gilbert, Yael Schnell Rehearsal master Davide Di Pretoro Assistant direction Steffen Döring Light Martin Hauk Assistant light Olaf Danilsen Sound Lutz Nerger Props Brad Hwang Assistant technical director Leonardo Bucalossi Wardrobe Jasmin Lepore, Sofia Vannini Hair, Make-up Stefanie Kinzel Tour management Karsten Liske Technical direction Reinhard Wizisla General management Sasha Waltz & Guests Jochen Sandig Debut Radialsystem V, Berlin Germany, 9 June 2017 Production Sasha Waltz & Guests Coproduction Festspielhaus St. Pölten, Les Théatres de la Ville de Luxembourg, Opéra de Dijon Made in Radialsystem Sasha Waltz & Guests is funded by the city of Berlin, Hauptstadtkulturfonds Photo © Sebastian Bolesch, Luna Zscharnt