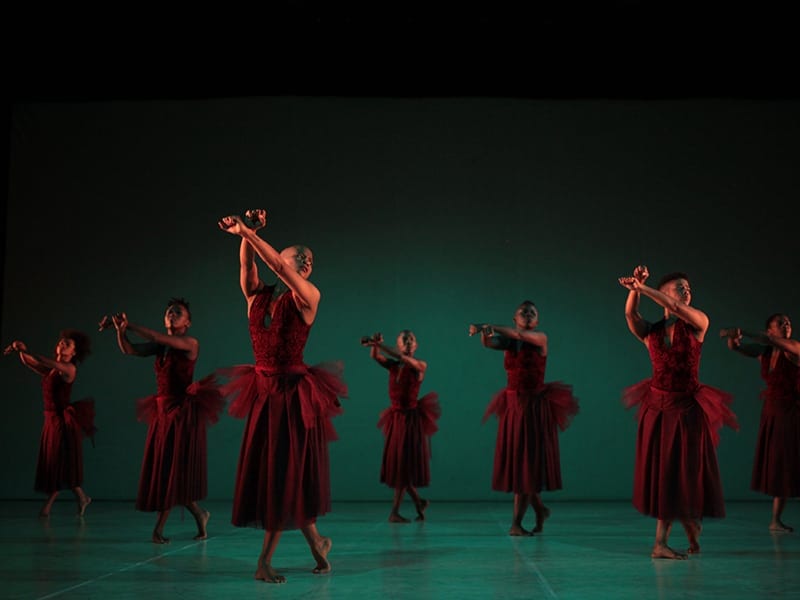 Having conquered the audience with her personal interpretations of Swan Lake (Romaeuropa 2013) and Carmen (Romaeuropa 2014), with Giselle Dada Masilo continues an artistic focus on the poetic reworking of the great narratives inherited from ballet and classical music as a means to portray the present and go directly to the heart of the audience.
11 dancers will be on stage, along with the Johannesburg dancer and choreographer herself, ready to bring a new energetic piece to life, in which the theme of forgiveness that drives the story of Giselle – who died of heartbreak after discovering that her beloved is promised to another woman – is translated into a story of betrayal, revenge, deceit and suffering. 
The fiery soul of this group of female spirits will be dancing to the specially composed music by fellow countryman Philip Miller, who previously worked with Masilo in the show Refuse The Hours by William Kentridge, her first appearance at Romaeuropa in 2012. Kentridge's drawings also set the scene for Masilo's Giselle. Classical Western instruments, accompanied by African rhytms prepare the revenge of a very brave choreographer against violence on all women.
Choreography Dada Masilo Music Philip Miller Disegni William Kentridge Assistant director David April Light Suzette le Sueur Costume David Hutt for Donker Nag Helder Dag (Act 1), Songezo Mcilizeli & Nonofo Olekeng for Those Two Lifestyle (Act 2) With Dada Masilo (Giselle), Kyle Rossouw (Albrecht), Tshepo Zasekhaya (Hilarion), Llewellyn Mnguni (Myrtha, Wilis' Queen), Liyabuya Gongo (Bathilde), Khaya Ndlovu (Giselle's mother) Men/Willis Thami Tshabalala, Thabani Ntuli, Thami Majela Women/Willis Nadine Buys, Zandile Constable, Ipeleng Merafe Musicians: Voice Ann Masina, Vusumuzi Nhlapo, Bham Maxwell Ntabeni, Tumelo Moloi Chords Waldo Alexander (electric violin), Emile de Roubaix (violin/viola), Cheryl de Havilland (violoncello) Shannon Armer (French horn), Tlale Makhene, Riaan van Rensburg (percussions), Gavan Eckhart (mixer) Debut DansensHus Oslo, Norvegia, 4 May 2017 Commissioners The Joyce Theater's Stephen and Cathy Weinroth Fund for New Work, the Hopkins Center, Dartmouth College, la Biennale de la danse de Lyon 2018, Sadler's Wells Additional commission La Batie-Festival de Geneve Additional support SAMRO FOUNDATION