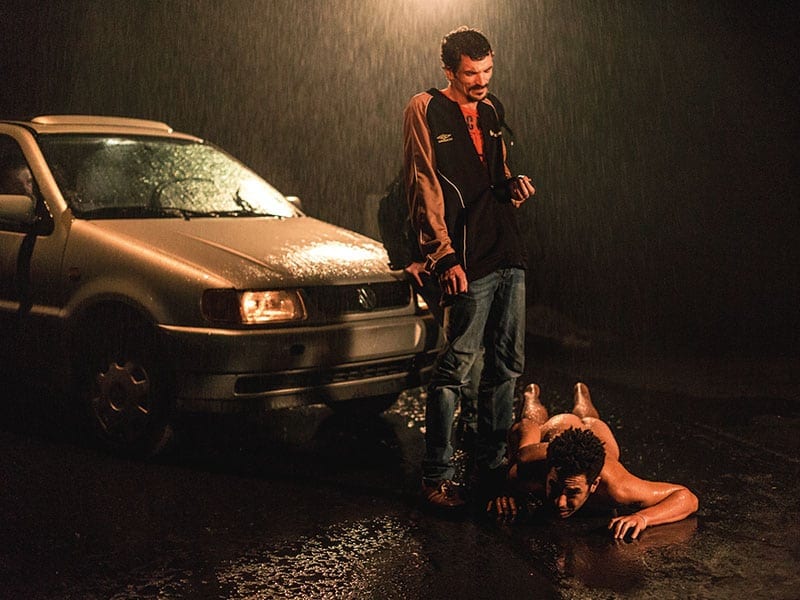 What is the relationship between staging and authenticity? Between action on stage and the concrete experience? And how can theatre come to meet and retrace life? These are the questions that have rendered the Swiss director, essayist and documentary-maker Milo Rau one of the most popular artists in Europe and in the world today.
The Repetition. Histoire(s) du Théâtre (I) appears as a new possibility for answering such questions and, at the same time, as a homage to the history of the most ancient art of humanity. Since its beginnings, the theatre has been a ritualised experience of the original sins and collective traumas. Facing the structure of tragedy through the form of crime games (Ihsane Jarfi's brutal homicide in 2012 in Liège), Rau brings six professional/non-professional actors who investigate the experience of tragedy in the post-industrial era.
The question of the representability of violence and of traumatic events on the stage, which has its roots in the origins and power of the theatre itself, becomes an instrument for questioning this art form and the way in which it meets the gaze of the spectator.

Language French and Flemish with subtitles Duration 90' without intermission Concept, Direction Milo Rau Text Milo Rau and ensemble Performers Sara De Bosschere, Sébastien Foucault, Johan Leysen, Tom Adjibi, Fabian Leenders, Suzy Cocco Research, Dramaturgy Eva-Maria Bertschy Dramaturgic collaboration Stefan Bläske, Carmen Hornbostel Set & costume design Anton Lukas Video Maxime Jennes, Dimitri Petrovic Light design Jurgen Kolb Technical director Jens Baudisch Production management Mascha Euchner-Martinez, Eva-Karen Tittmann Assistant director Carmen Hornbostel Assistant dramaturg François Pacco Assistant set designer Patty Eggerickx Fight choreography Cédric Cerbara Vocal coaching Murielle Legrand Musical arrangement Gil Mortio Public relations Yven Augustin Equipment Workshops and studios of the Théâtre National Wallonie-Bruxelles Produzione The International Institute Of Political Murder (Iipm), Création Studio Théâtre National Wallonie-Bruxelles Supported by Capital Cultural Fund Berlin, Pro Helvetia, Ernst Göhner Stiftung In collaboration with Kunstenfestivaldesarts, NTgent, Théâtre Vidy-Lausanne, Théâtre Nanterre-Amandiers, Tandem Scène Nationale Arras Douai, Schaubühne am Lehniner Platz Berlin, Théâtre De Liège, Münchner Kammerspiele, Künstlerhaus Mousonturm Frankfurt a. M., Theater Chur, Gessnerallee Zürich, Romaeuropa Festival With the support of ESACT Liège Foto © Michiel Devijver Photo gallery © Hubert Amiel