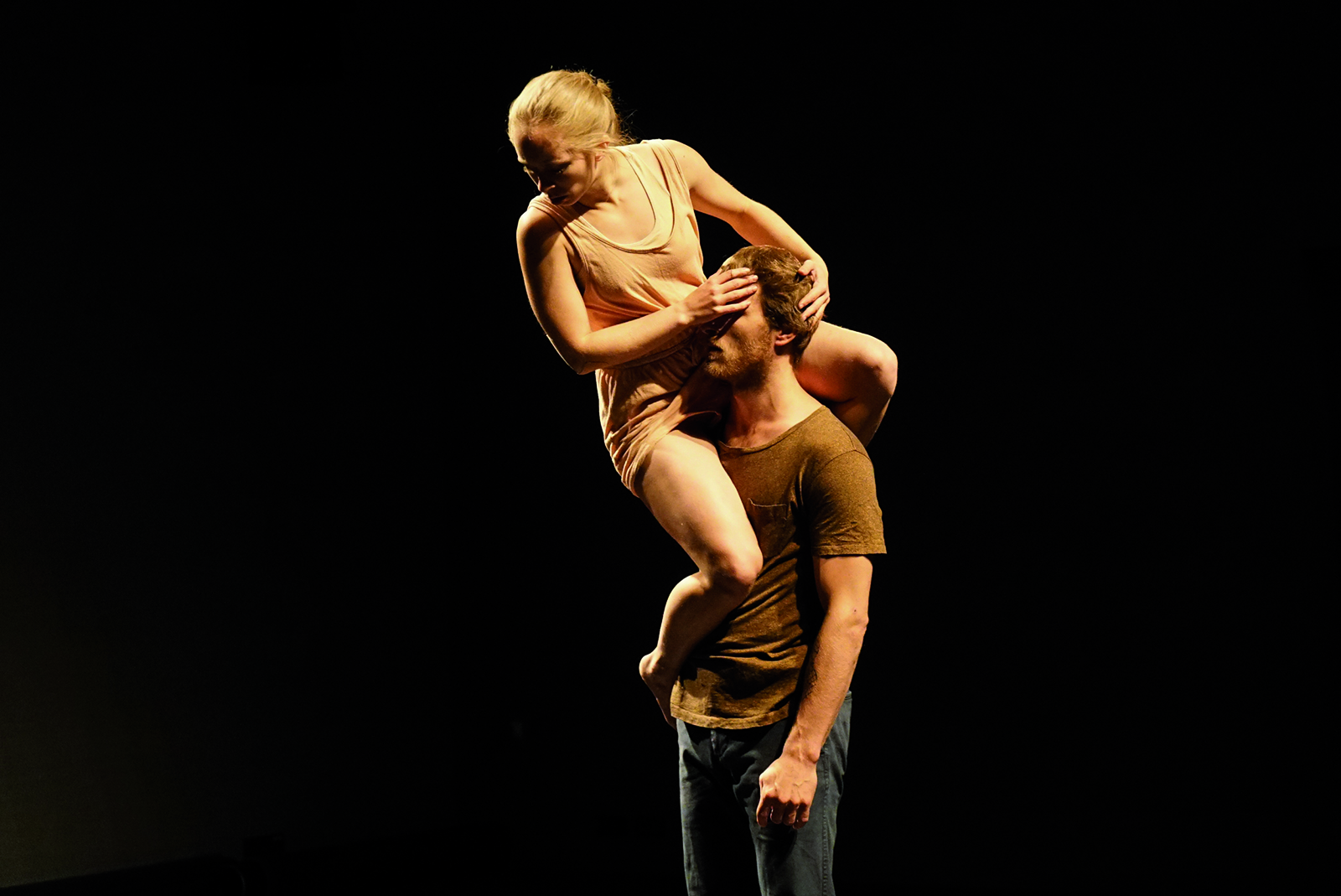 performance on the intimacy and inner struggles that we experience in making decisions- whether concrete or metaphysical. Two performers on stage, a circus acrobat and a dancer, build a physical dialogue through a constant exchange of weight, quality of movement and physical trajectories.
Kim-Jomi Fischer (1985) and Marta Alstadsæter (1990) met in 2015. Their different background, one is a contemporary dancer and one a circus-artist, sparked into a blooming collaboration. Since their first encounter they have been creating their own movement vocabulary, diving into the possibilities and qualities they find within they interplay. They create work that goes beyond the frames of their original disciplines but that starts from the physical communication between them.
In 2017 the duo was invited by Dansateliers to take part in One Night's Dance. Here they created the short duet As much as it is worth. In 2018 they further developed their existing piece Engel that premiered as an eveninglength piece in Harstad, Noorwegen and Podium Bloos, Breda. In 2018, Kim & Marta were awarded with the BNG Bank Dansprijs voor the concept of Engel. As part of this prize they toured the piece along with DansClick 18-19. Engel was then selected for Aerowaves Twenty19, and will continue touring nationally and internationally in 2019.
Concept & Choreography: Marta Alstadsæter & Kim-Jomi Fischer
Performers: Marta Alstadsæter & Kim-Jomi Fischer
Music: Rutger Zuydervelt (Machinefabriek)
With contributions by:
Voice – Kim-Jomi Fischer, Marta Alstadsæter
Drums – Paal Nilssen-Love
Mastering – Marlon Wolterink
Text based on excerpt from Anil Seth on 'Guardian science weekly big unknown: what is consciousness'
Light design: Loes Schakenbos
Technique: Edwin v Steenbergen
Dramaturgy & Advice: Petra Eikelenboom, Piet Rogie, Merel Heering
Costumes/Scenography: Marta Alstadsæter & Kim-Jomi Fischer
Publicity image: Anna v Kooij
With special thanks to: Vincent Kollar, Jasper v Luijk, Erik Kaiel, Andreas Eilertsen
Video: Paul Sixta | Trailer: Paul Sixta
Left picture: ©Tom Rune Angell-Storo? juliussen | Centre Picture: ©Anna van Kooij | Right Picture: ©Alexander van der Linden

You may be interested