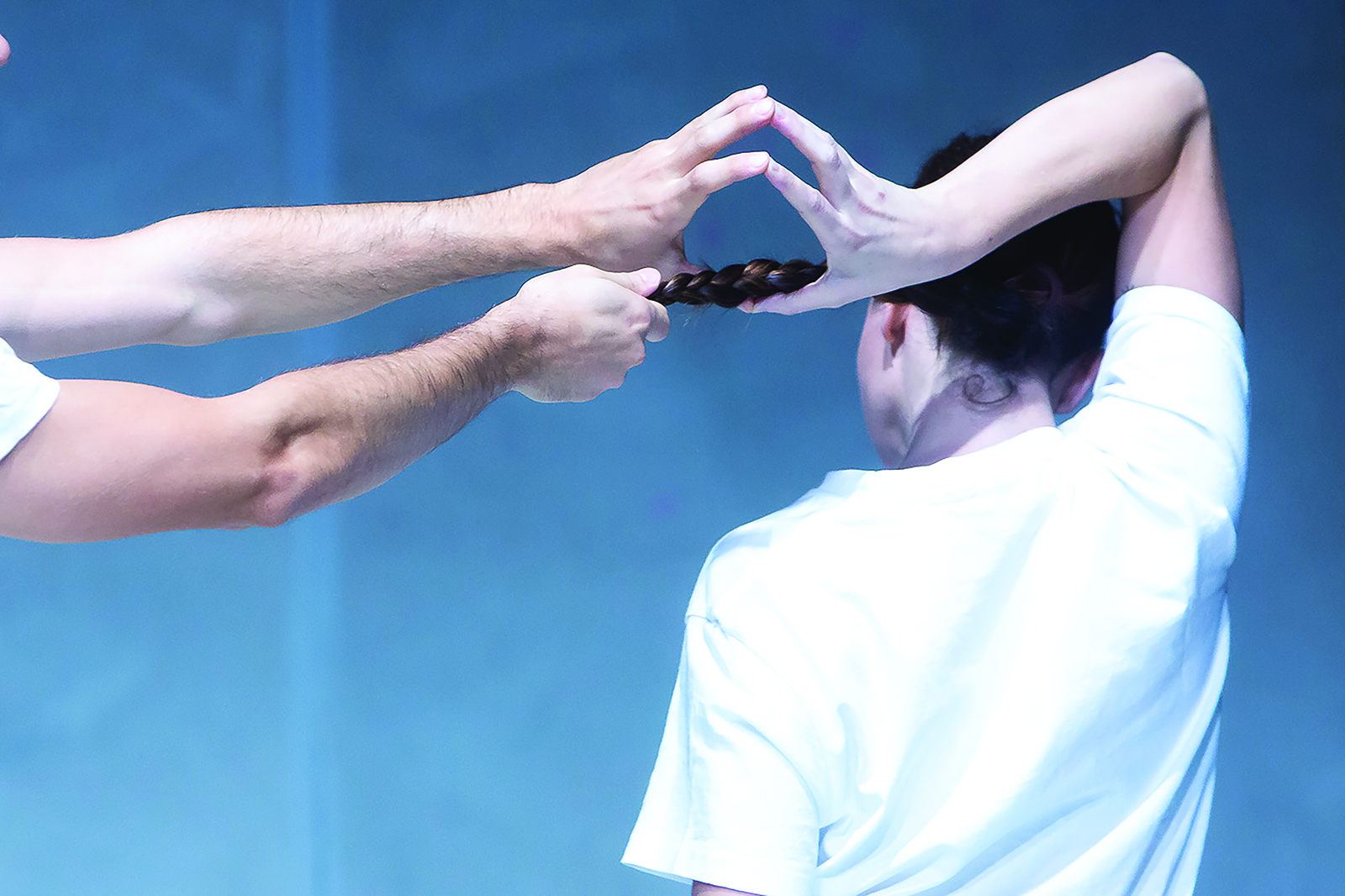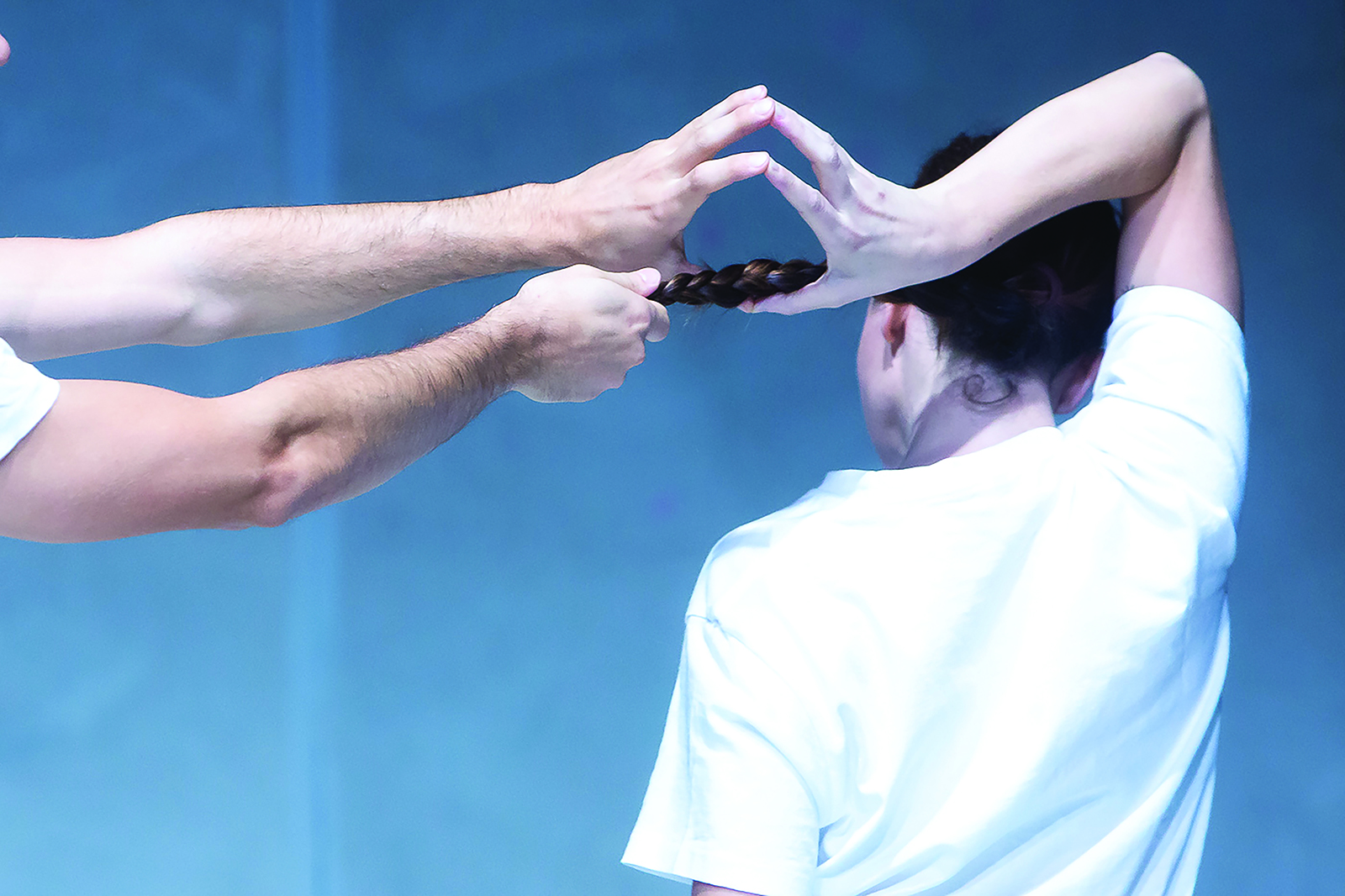 Two figures speak in a language that belongs only to them, in a space-time that eludes us. They mix and interweave remnants of words and reminiscences of English and move forward in their conversation according to established terms of dialogue. We recognize attitudes, words, intonations, but the understanding is constantly blurred. They use their hands to connect, to dialogue, to create meaning: these are hand-objects, hand-masks, hand-prostheses that awaken and sculpt the imagination on their way. The languor and the delicacy of this pantomimic gesture encourage the appearance of the fantastic. In a dadaist impetus, Stand still you ever-moving spheres of heaven unrolls a long white linoleum, minimalist microcosm of imagination in motion. Visual and sound poem charged with surreal spurts, the piece brings into play the possibilities of imagination.
Chiara Taviani –  She made her first studies at the Princess Grace Academy of Monaco (Fr) and the Spid Academy in Milan (It), then at the Coline formation in Istres where she met and collaborated with choreographers such as: Emmanuel Gat, Edmond Russo and Shlomi Tuizer, Mathilde Monnier, Georges Appaix, Thieu Niang Thierry, Salia Sania and Seydou Boro, Lisi Estaras Ballets C de la B … She later became a performer in various Italian companies including Balletto Civile Michela Lucenti. In 2011, she founded C&C Company, collaboration with Carlo Massari. Today they have different creations to their credit: Maria Addolorata, 012, Corpo e Cultura and Tristissimo. In 2014-2015 she follows the Prototype II research and creation program at Royaumont Abbey. She is currently collaborating with Henrique Furtado, Alexandra Grimal (La vapeur au-dessus du riz) and Marion Alzieu (Total Eclipse).
Henrique Furtado Vieira – Dancer, performer and choreographer, Henrique lives and works between Portugal and France. Engineer in Energy and Environment, he follows his artistic training in several French institutions (INSA Lyon, Extensions – CDC Toulouse, Royaumont abbey). He works as an interpreter for Bleuène Madelaine, Eric Languet, Aurélien Richard, Céline Cartillier, Tino Sehgal and Vera Mantero. In addition, he is influenced throughout his route by several encounters with Sophie Perez and Xavier Boussiron, João Fiadeiro, among others. He is currently working with Aloun Marchal (Bibi Ha Bibi) and Chiara Taviani (Stand still you ever-moving spheres of heaven) in the creation of performances where styles and genres overlap, and where vocal presence has a prominent place.
Conception, interpretation, costumes and make-up: Chiara Taviani and Henrique Furtado P. Vieira
Lighting design: Eduardo Abdala (sometimes replaced by Manuel Abrantes during touring)
Dramaturgical support: Céline Cartillier, Antonio Ianniello
Odissi dance transmission: Livia Porzio
Vocal support: Francisco Brazão
Textual support: Miguel Loureiro
Administration and production: Vera Nunes, Aline Berthou and UOT Organizzazione Teatrale
With the kind participation of Vera Mantero
Coproductions: Espaço do Tempo (PT), ACASA Scenario Pubblico (IT), Teatro Municipal do Porto (PT), Temps d'Images / DuplaCena (PT), Periferie Artistiche – Centro di Residenza Multidisciplinare della Regione Lazio / Twain (IT) ///
Support: Fundação GDA (PT), Apoio à Internacionalização: Fundação Calouste Gulbenkian (PT) ///
Residency support: Estúdios Victor Cordón (PT), Devir Capa (PT), Companhia Olga Roriz (PT), EKA Palace (PT), KLAP (FR), La Liseuse (FR), Entrepont (FR), MAD (MC) ///
Thanks to Montaine Chevalier, Blanca Tolsá Rovira, Camilla Montesi, Luís Rosário, Inês Cartaxo, Hugo Coelho, Pia Krämer, Emma Terno, Emmanuel Tussore ///