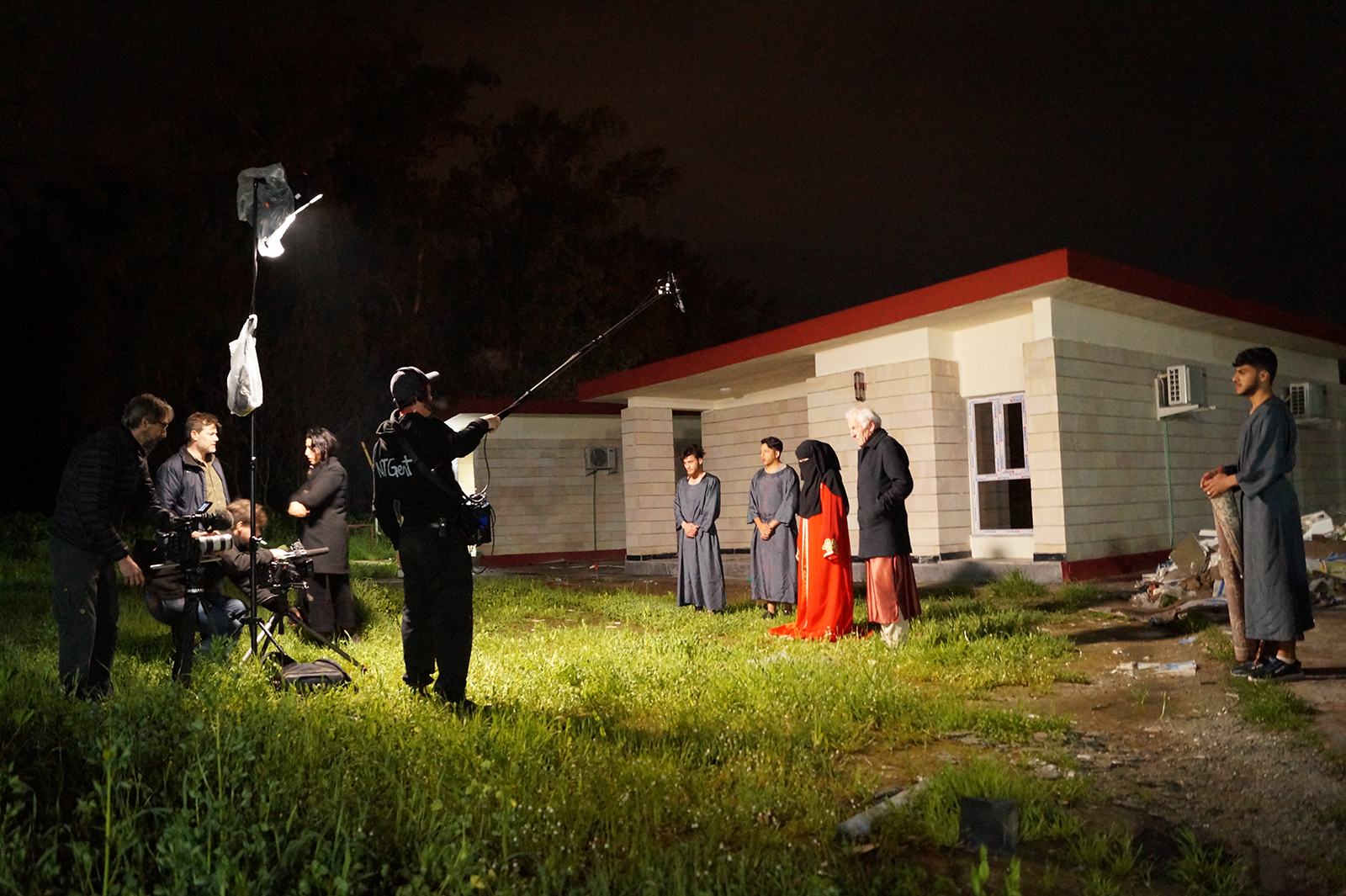 With Orestes in Mosul Milo Rau confronts the Oresteia, setting it in the context of the war against ISIS, the Syrian-Iraqi conflict and the treatment reserved for jihadi veterans. The Swiss director has set his show in the barracks of the Peshmerga fighters in Kurdistan and in the central square of Mosul – an emblematic site for having hosted the ISIS command and for being a theatre of executions. The performance, drawing on testimony and video footage, brings together militants, poets and local citizens. Hovering between reality and representation, his urgent and current theatre-tribunal reopens the discourse on violence, compassion and forgiveness.
Milo Rau – Critics called him «the most influential» (DIE ZEIT), «most awarded» (Le Soir), «most interesting» (De Standaard) or «most ambitious» (The Guardian) artist of our time: The Swiss director and author Milo Rau (born 1977), artistic director of the NTGent beginning in the season 2018/19. Rau studied sociology, German and Romance languages and literature in Paris, Berlin and Zurich under Pierre Bourdieu and Tzvetan Todorov, among others. Since 2002, he has put out over 50 plays, films, books and actions. His productions have appeared at all of the major international festivals, including the Berlin Theatertreffen, the Festival d'Avignon, the Venice Biennale Teatro, the Wiener Festwochen and the Brussels Kunstenfestivaldesarts, and have toured more than 30 countries worldwide. Rau has received many honours: the Peter-Weiss-Prize 2017, the 3sat-Prize 2017, the 2017 Saarbrucken Poetry Lectureship for Drama and, in 2016, the prestigious World Theatre Day ITI Prize, as youngest artist ever after Frank Castorf and Pina Bausch. In 2017, Milo Rau was voted "Acting Director of the Year" in the critics' survey conducted by the Deutsche Bühne. In 2018 he received the European Theatre Prize, and most recently in 2019 he was awarded the first honorary doctorate by the Theatre Department of Lunds Universitet (Sweden). Rau is also a television critic, lecturer and a very productive writer.
With: Duraid Abbas Ghaieb; Susana AbdulMajid; Elsie de Brauw; Risto Kübar; Johan Leysen; Bert Luppes; Marijke Pinoy
On video
Actors: Baraa Ali, Khitam Idress, Khalid Rawi
Musicians: Suleik Salim Al-Khabbaz, Saif Al-Taee, Firas Atraqchi, Nabeel Atraqchi, Zaidun Haitham, Rabee Nameer
Chorus: Ahmed Abdul, Razzaq Hussein, Hatal Al-Hianey, Younis Anad Gabori, Mustafa Dargham, Abdallah Nawfal, Mohamed Saalim, Rayan Shihab Ahmed, Hassan Taha
Text: Milo Rau & ensemble
Based on: the Oresteia by Aeschylus
Direction: Milo Rau
Dramaturgy: Stefan Bläske
Set: ruimtevaarders
Costume design: An De Mol
Light design: Dennis Diels
Film: Moritz von Dungern,Daniel Demoustier
Film editing: Joris Vertenten
Musical arrangement & composition: Saskia Venegas Aernouts
Directing assistant: Katelijne Laevens
Production manager: Noemi Suarez Sanchez
Stage manager: Marijn Vlaeminck
Technical production: Oliver Houttekiet
Sound: Dimitri Devos
Video technician: Stijn Pauwels
Light technician: Dennis Diels, Geert de Rodder
Stage technician: Jeroen Vanhoutte
Dresser: Nancy Colman, Micheline D'hertoge
Dramaturgy assistant: Eline Banken
Second directing assistant: Bo Alfaro Decreton
Intern dramaturgy: Liam Rees
Creation subtitles: Eline Banken
Running subtitles: Katelijne Laevens, Noemi Suarez Sanchez
Music
Roland Orzabal: Mad World
Suleik Salim Al-Khabbaz & Harif Ma'ad: Ala Adhafi
Thanks to: Ali Yousif Al-Baroodi, Karwan Bazeen, Freddy Decreus, Anne-Christine Duhn, Salih Elias, Joke Emmers, Diana Faisal, Major general Najim Al-Jabouri, Yasameen Al-Jafari, Quassim Khidir, Thomas Kössler, Tom Lanoye, Stella Martany, Rabee Nameer, Zeinab Al-Naser, Anneleen Ophoff, Sardar M.A. Saeed
Mohamad Al-Saffar, Rebaa Sahadi, Armin Smailovic, Mays Tark Algayyar, Rudi Vranckx, Karim Wasfi, General Muqdad Zanel
and
the whole team of NTGent, Goethe Institute Erbil, Al Hadbaa Hotel Mosul, Nineveh Operations Command, Management of the Fine Arts Institute for Boys in Mosul, General directorate of the Ministry of Education of Nineveh, The Soprano Centre for Arts in Mosul, Qantara Cultural Café Mosul
Co-production: Tandem Arras Douai
With the support of Belgian Tax Shelter & Romaeuropa Festival
A Production of NTGent & Schauspielhaus Bochum
© 2019
With the support of the Flemish government and the City of Ghent.
This performance was realised with the support granted thanks to the Belgian Tax Shelter system.

You may be interested