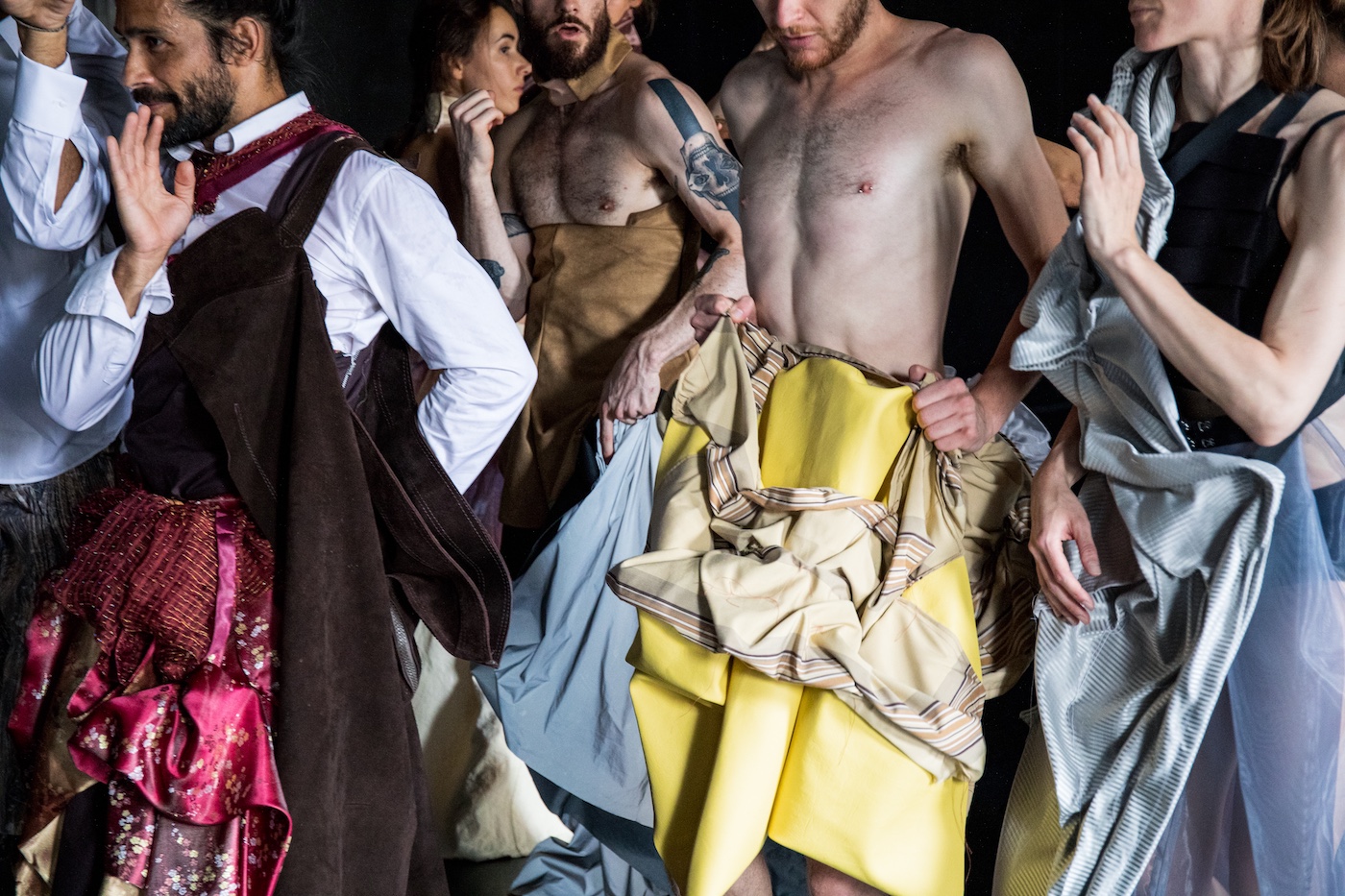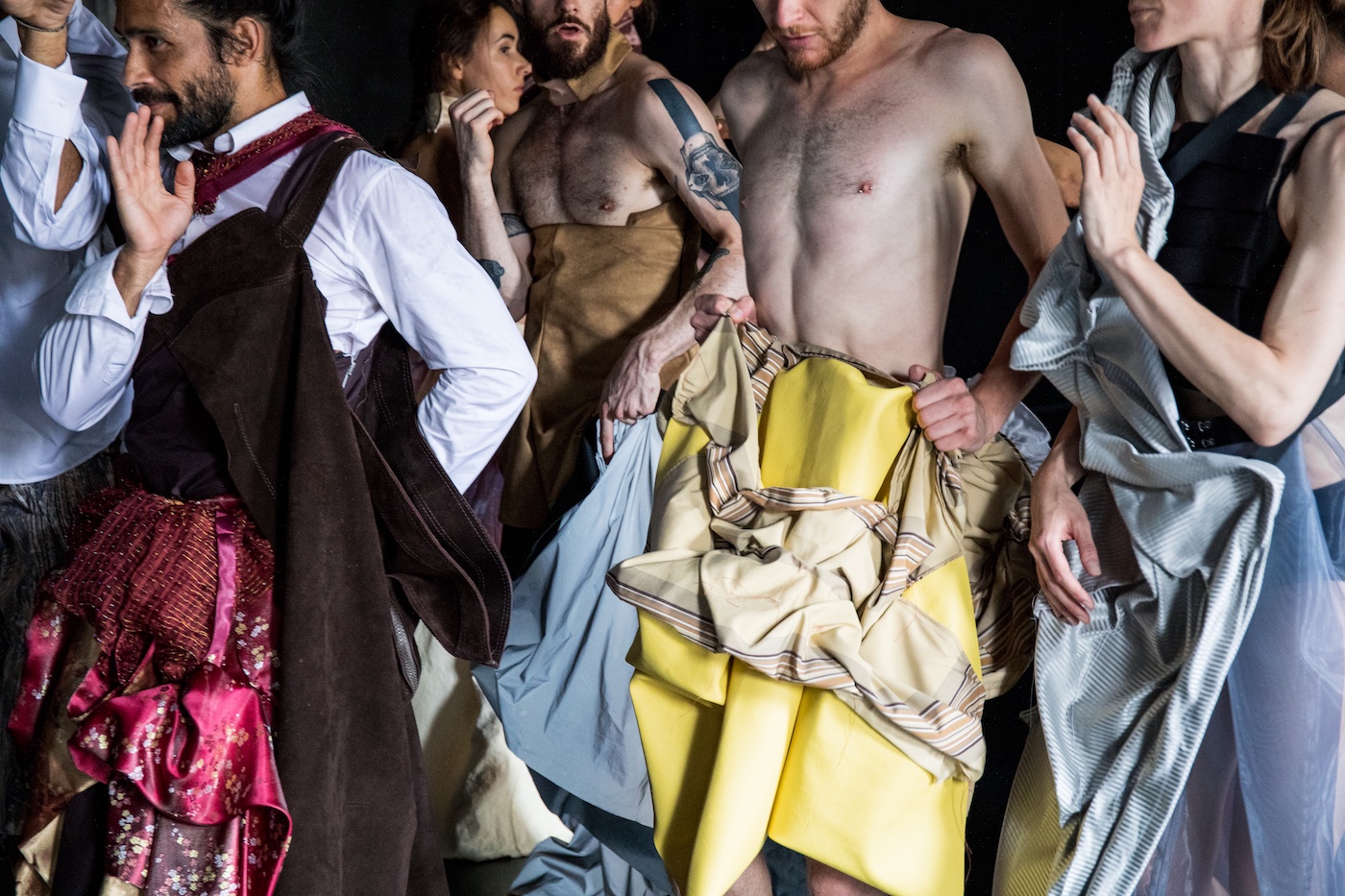 Always interested in the relationship between musical and choreographic structures, Emanuel Gat returns to the REf with his new creation LOVETRAIN2020: a contemporary "musical" built on the successes of Tears for Fears. Through the cult band of the eighties, an icon of the British new wave with its timeless pieces (Mad World, Shout, Everybody Wants to Rule The World, Change, Sowing The Seeds Of Love), the choreographer dives into the "vibe" and utopian thrust of an era and explores the expressive and emotional possibilities arising from the intertwining between dance and pop music: 14 dancers on stage warm themselves up for a real explosion of power.
Emanuel Gat was born in Israel in 1969. His first encounter with dance was at the age of 23 during a workshop led by Israeli choreographer Nir Ben Gal. Few months later he joined the Liat Dror Nir Ben Gal Company with whom he toured internationally. He started working as an independent choreographer in 1994. In the next ten years, Emanuel participated as a choreographer in multiple projects, including Al-kuds (1996- 1998) in collaboration with the musician and author Mariano Weinstein; Good Year, a piece for nine dancers commissioned by the Kibbutz Dance Company on an original music piece written by himself, as well as Two Stupid Dogs (2002), a piece for five dancers accompanied by the Arab rap group MWR, a commission of Israe?l / Je?suralem Festival. In 2004, he founded his company Emanuel Gat Dance, before choosing to settle in France at the Maison Intercommunale de la Danse in Istres, in 2007. With his independent company Emanuel Gat Dance, he created several pieces that met international success. Winter Voyage and The Rite of Spring created in 2004 at Festival d'Uze?s were represented more than 350 times all over the world. Emanuel then composed a piece for eight dancers on the Requiem de Mozart: K626, created in 2006 at Festival de Marseille. The next year, Emanuel choreographed 3 for 2007, a program composed of three pieces: My Favorite Things, a solo interpreted by Emanuel on music by John Coltrane; Petit torn de danc?a, a duet on French medieval music, and Through the Center, a piece for eight dancers on electronic music by Squarepusher. Silent Ballet, a piece in silence for eight dancers, was the first created in France and presented in Festival Montpellier Danse in 2008. A year later, Emanuel came back on stage with his fetish interpreter, Roy Assaf, to create the duet Winter Variations. In 2011, he created once again a group piece, Brilliant Corners, for ten dancers, for which he created the soundtrack as well. Emanuel Gat became associated artist of the 33rd edition of Festival Montpellier Danse in 2013. With his company, he developed the project Up Close Up, proposing two creations: The Goldlandbergs and Corner Etudes; a photographic installation It's people, how abstract can it get and a choreographic event, Danses de Cour. The next year, Emanuel reinvested the Agora with Plage Romantique, a piece for nine dancers.
In 2016, after three editions in association with Festival Montpellier Danse, Emanuel created SUNNY, a piece for ten interpreters and the musician Awir Le?on live on stage. In parallel, he worked with young dancers from the region in the professionalization program Le Rouge et le Noir, presented during the festival in different public spaces. In 2017, Emanuel presented his second project as part of his residency at Montpellier Danse, which included two productions: a unique collaboration with the Ballet de l'Opera de Lyon, TENWORKS (for Jean-Paul), a program of ten short pieces mixing dancers from both companies; and DUOS, a series of duets presented at different public locations around the city of Montpellier. In 2018, Emanuel collaborated with the prestigious Ensemble Modern and created Story Water at the Cour d'Honneur during Festival d'Avignon. Gathering 12 dancers, 13 musicians and a conductor, Story Water examines the space between dance and music, with De?rives 2 by Pierre Boulez for the first time in the choreographic field. The score is also composed of Fury II by Rebecca Saunders and FolkDance, co-composed by the Ensemble's musicians and Emanuel Gat. From the season 2018-19, Emanuel Gat is associated choreographer at the National Theater of Chaillot in Paris, for three years.
Emanuel Gat is regularly invited by companies and structures for which he creates or transmits pieces. He worked for the first time with Ballet de l'Ope?ra de Paris in 2009, for which he created the piece Hark!. In France, he also choreographed pieces for Ballet du Rhin (Observation Action in 2010), the Ballet National de Marseille (Organizing Demons in 2012), the Ballet de Lorraine (Transposition #1 and Transposition #2 in 2013) and the Ope?ra de Lyon (Sunshine in 2014). He is also a guest choreographer for prestigious international companies. In 2010, he created Satisfying Musical Moments for the Sydney Dance Company, The Revised and Updated Bremen Structures for the Tanztheater Bremen and In Translation for the Candoco Dance Company (a company including dancers with disabilities), Pre?ludes et Fugues for the Ballet du Grand The?a?tre de Gene?ve in 2011, Morgan's Last Chug for the Los Angeles Dance Project at the invitation of Benjamin Millepied, Time Themes for Royal Swedish Ballet in 2013, Ida? for Cedar Lake (NY) in 2014, and LOCK for Vancouver's Ballet British Columbia in 2017, among others.
LOVETRAIN2020 – an Emanuel Gat creation for 14 dancers
Music by Tears for Fears

Choreography and lights: Emanuel Gat
Costumes: Thomas Bradley
Costumes realization: Thomas Bradley, Wim Muyllaert
Technical direction: Guillaume Février
Created with and performed by:Eglantine Bart, Thomas Bradley, Robert Bridger, Gilad Jerusalmy, Pe?ter Juha?sz, Michael Loehr, Emma Mouton, Eddie Oroyan, Rindra Rasoaveloson, Ichiro Sugae, Karolina Szymura, Milena Twiehaus, Sara Wilhelmsson, Jin Young Won.
Production by Emanuel Gat Dance
Company Manager: Marjorie Carre?.
Production coordinator: Antonia Auday
Co-production:Festival Montpellier Danse 2020, Chaillot – The?a?tre national de la Danse, Sadler's Wells London, Arsenal Cite? musicale – Metz, Theater Freiburg, avec le soutien de Romaeuropa Festival. Emanuel Gat Dance be?ne?ficie du soutien du Ministe?re de la Culture et de la Communication – DRAC Provence-Alpes-Co?te d'Azur au titre de compagnie conventionne?e, de la ville d'Istres, de la Re?gion Sud – Provence-Alpes-Co?te d'Azur et du Conseil De?partemental des Bouches du Rho?ne. Cre?e? a? l'Agora – cite? internationale de la danse a? Montpellier.