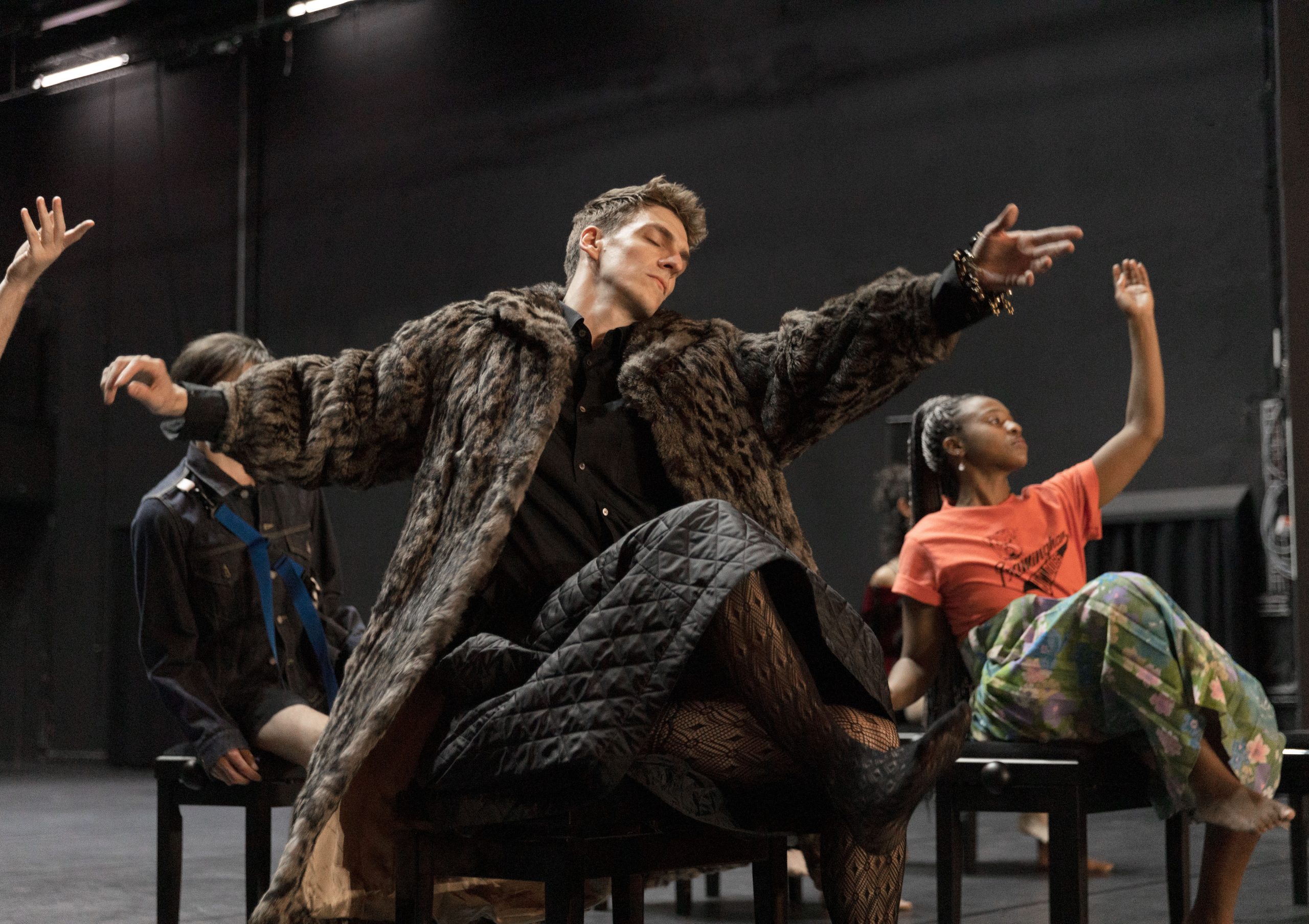 With his research on history, the construction and interpretation of different forms of contemporary dance presented in the performative art spaces and in museums all over the world, Trajal Harrell is one of the most important American dancers and choreographers of our day.
Romaeuropa Festival 2021 presents his work with The Köln Concert, built on the famous music of the homonymous composition by Keith Jarret. Conceived at the peak of the pandemic, as a response to the rules of physical distancing on the stage, the show feeds on pure devotion to dance and juxtaposes the "human warmth" that characterizes the masterpiece improvisation recorded by Jarrett in 1975, to the humanity of the seven dancers (including Harrell) who inhabit and animate the scene, in a deeply delicate atmosphere: poetic, lyrical, opened – not quite by chance – by two different songs by Joni Mitchell.
The American choreographer Trajal Harrell gained global recognition with his series of works Twenty Looks or Paris is Burning at the Judson Church, and is now a regular guest on the international dance and visual arts circuit. The unique style of Trajal Harrell's works is a result not just of the unusual way in which he is influenced by dance languages that might seem very distant from each other, such as Voguing, Postmodern Dance and Butoh, but also and above all of the fragility and humor that pervade all his works. Aesthetically, his pieces are always an homage to the people standing on stage. He clothes them in carefully selected fabrics, draws major inspiration from developments in haute couture (which he sometimes uses directly on stage), and his highly personal style of movement turns his performers into unusual and autonomous beings. He also performs in most of his productions himself. In recent years, his work has not just been increasingly adopted in the visual arts world; he has also directed a succession of powerful productions for the theater.
These include for example his adaptations of Sophocles' Antigone, or the free adaptation he developed of Shakespeare's Romeo and Juliet, which is also part of the repertory of the Schauspielhaus. With The Ko?ln Concert to the music of Keith Jarrett and Joni Mitchell, Harrell's newly founded dance company of the Schauspielhaus enters the stage.
by Trajal Harrell
music by Keith Jarrett e Joni Mitchell
Used by agreement with ECM Records
With: Titilayo Adebayo, Maria Ferreira Silva, Trajal Harrell, Nojan Bodas Mair, Thibault Lac, Songhay Toldon, Ondrej Vidlar
Staging, choreography, set, soundtrack and costumes: Trajal Harrell
Music: Keith Jarrett, Joni Mitchell
Lighting: Sylvain Rausa
Dramaturgy: Katinka Deecke
Audience Development: Mathis Neuhaus
Theatrical pedagogy: Manuela Runge
Production Assistance: Maja Renn
Design assistance: Ann-Kathrin Bernstetter, Natascha Leonie Simons
Costume assistance: Ulf Brauner, Miriam Schliehe
Stage Manager: Michael Durrer
Internal Production: Moritz Lienhard
Design Intern: Reina Guyer
Touring Management & International Relations: Björn Pätz, ART HAPPENS
Production: Schauspielhaus Zürich
PH_© Reto Schmid