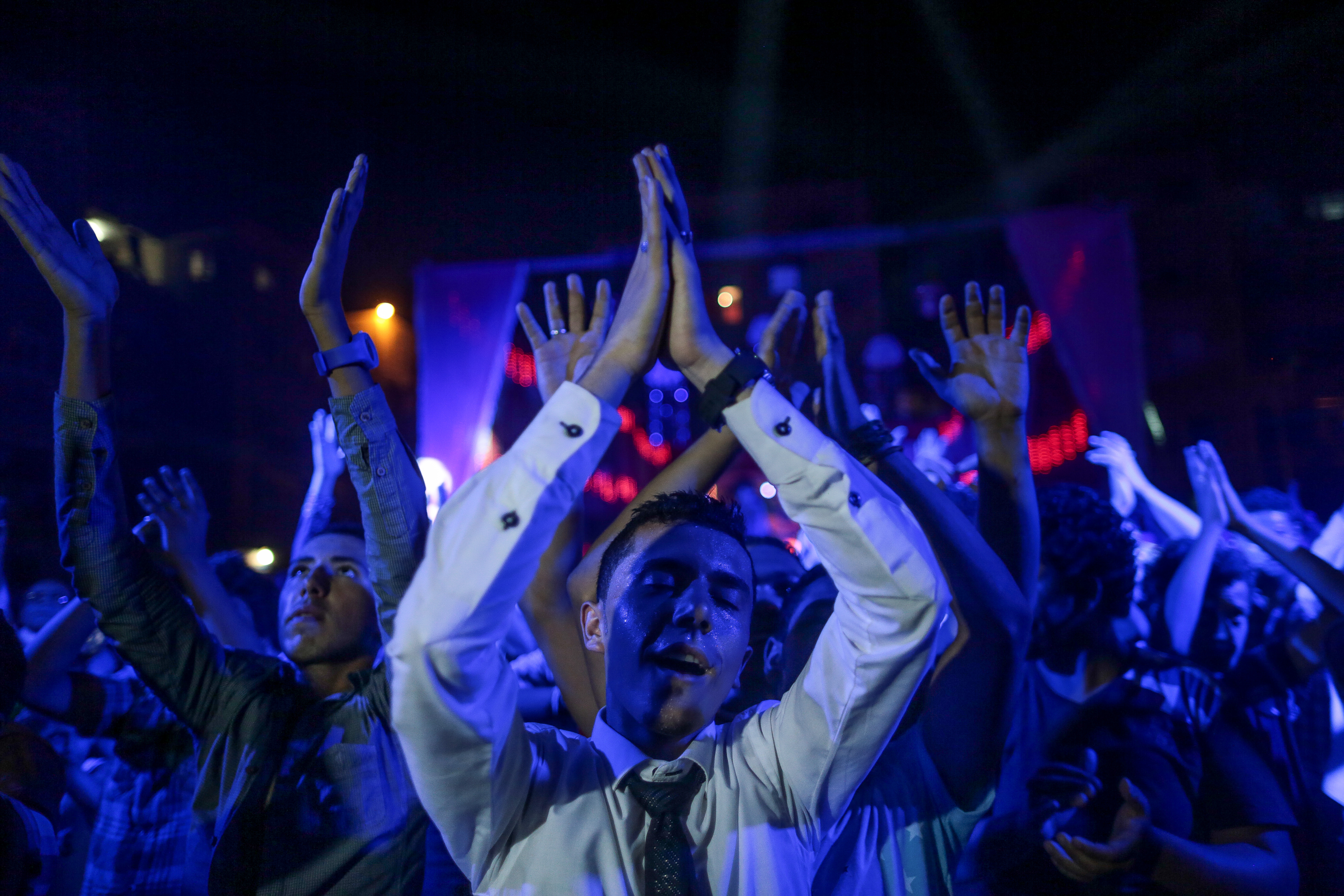 After living for many years between Paris and Cairo, choreographer Olivier Dubois brings to the stage his singular vision of today's Egypt through a play for 4 dancers and 3 musicians. The project is developed in collaboration with the artistic center B'sarya, located in Alexandria. Central to Itmahrag is the Mahraganat, a musical style also known as 'electro chaabi', invented by young Egyptians in the popular neighborhoods of Cairo and grown into the voice of an entire generation:  a rhythm that takes over the streets, taxis, wedding and fashionable parties of all Egypt. An "incendiary" dance as described by Dubois himself, which burns and heats and restores impulse to the life of the younger generations.
Compagnie Olivier Dubois – Compagnie Olivier Dubois (COD) was founded in 2007. Today, it is one of the most prolific companies worldwide, boasting an eighteen-piece repertoire that ranges from solo to group pieces for up to 22 performers. Besides creation, the work of the company revolves around key activities including teaching, promoting art-related professions (the company has around 65 dancers), professional integration and staging performances for amateurs such as Mille et une danses, which was created in 2017 as a part of La Nuit Blanche in Paris and was performed by 300 amateur dancers under the canopy of Les Halles. Dubois's attachment to the African continent goes back many years, starting with workshops conducted in numerous African countries (e.g. Morocco, Senegal, Mauritania, Egypt, Mali) and with shows such as Souls, a piece for 6 dancers from 6 African countries, presented in 2013 at the Ecole des Sables in Senegal and at the Falaki Theatre in Cairo (the show toured until 2017). Mon élue noire, his 2015 solo for the dancer Germaine Acogny is currently still on tour.
B'sarya – A  new facility inaugurated in Alexandria in March 2017, that aims to identify and develop young and emerging talent  by providing workshops, supporting creation and producing events in dance, film making, theatre and the visual arts. In May 2017, B'sarya partnered with Momkin – espaces de possibles and NOUT for Art and Media Production, to organise the 7th edition of the Nassim el-Raqs festival, an interdisciplinary site-specific choreography festival in Alexandria. In February 2019, B'sarya launched its own production space in a 570 sqm venue in downtown Alexandria. The new facility offers a sound-recording studio, a jam room, three workshop rooms and a multi-purpose main hall that will host visual arts exhibitions, music gigs and discussions/talks. Attached to the facility are three furnished bedrooms to accommodate artists in residency.
Creation 2021
Choreography for 4 dancers and 3 musicians
Artistic Direction and Choreography: Olivier Dubois
Creation Assistant: Cyril Accorsi
Interpretation
Musicians: Ali Elcaptin, Ibrahim X, Shobra Elgeneral
Dancers: Ali Abdelfattah, Mohand Qader, Moustafa Jimmy, Mohamed Toto
Music
Composer: François Caffenne & Ali elCaptin
Musician & singers: Ali elCaptin, Ibrahim X, Shobra Elgeneral
Technical Director: François Michaudel
Light Designer: Emmanuel Gary
Set Design: Olivier Dubois & Paf atelier
Production: COD – Compagnie Olivier Dubois
Itmahrag is implemented in partnership with B'Sarya for arts in Egypt
Coproductions: Le CentQuatre-Paris / Chaillot – Théâtre national de la Danse / Biennale de la danse de Lyon 2021 / Théâtre Paul Eluard (TPE) de Bezons, scène conventionnée d'intérêt national « Art et Création » – danse / Escales Danse, scène conventionnée d'intérêt national « Art et Territoire » – danse / Maison de la Culture d'Amiens – Pôle européen de création et de production / Théâtre de Nîmes – scène conventionnée d'intérêt national – Danse contemporaine / Les Halles de Schaerbeek / JuliDans Amsterdam Festival / RomaEuropa Festival / La Filature, Scène nationale de Mulhouse / Scène conventionnée de Limoges / Festival Paris l'Eté / Festival euro-scene Leipzig, Germany
Partners: D-CAF Orient Production / The Arab World Institute in Paris / Arab Arts Focus & Studio Emad Eddin Stiftelsen / La SPEDIDAM, société de perception et de distribution qui gère les droits des artistes-interprètes en matière d'enregistrement, de diffusion et de réutilisation des prestations enregistrées / Région Île-de-France / TOD'S
Coproductions B'Sarya for Arts
The training phase was co-funded by the European Union in collaboration with EUNIC. With the support of the French Institute in Paris.
Olivier Dubois is an associate artist at CENTQUATRE-PARIS
Olivier Dubois Company is supported by the French Ministry of Culture
 Olivier Dubois is an associate artist at Théâtre Paul Eluard (TPE) de Bezons, scène conventionnée d'intérêt national « Art et Création » – danse, from 2019, and at Théâtre de Nîmes – scène conventionnée d'intérêt national – Danse contemporaine from 2020