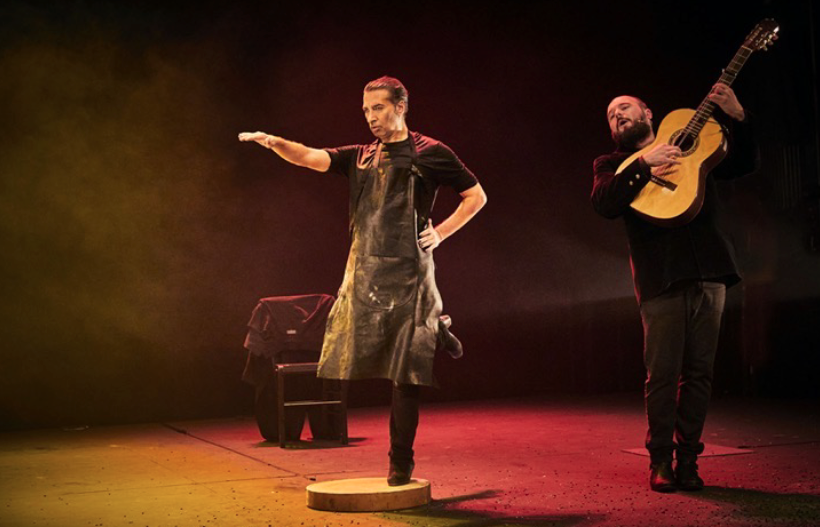 Dancer and choreographer Israel Galván returns to set Romaeuropa Festival on fire with his contemporary reinterpretation of flamenco. Created together with musician Niño de Elche, Mellizo Doble is a surrealist explosion of all the traditional models linked to this practice: an encounter between the energy of the body and that of voice and song, articulated in a space devoid of frills, sets and costumes yet invaded by a cumbersome and incendiary cultural heritage.
The duo seems to dispel the carnal and human myth that accompanies this iconic dance, bringing it back to its technical, almost mechanical roots: «When the theatre burns, and skin and flesh go up in flames, we can make out, under the bones, two machines.(…) Flamenco is a son of the age of machines, and began with the steam motor, textile factories and the railway, a companion against the grain of the industrial revolution. This is why there is a misunderstanding between text and what is happening: where the public sees spontaneity, there is a strict and regulated language». Israel Galvan invites the public to participate in how this machine's interior works, in an open competition between technique and flesh, and in which the distance between sweat and tears, between man and machine becomes so very close.
Mellizo Doble is a crystalline, lively, edgy and timeless show, elegantly suspended between classicism and contemporary languages.
Creation and Performance: Israel Galván & Niño de Elche
Choreography and Dance: Israel Galván
Music and vocals: Niño de Elche
Technical director: Pablo Pujol
Sound: Pedro León, Manu Prieto
Lighting: Benito Jiménez, Ruben Camacho
Stage manager: Balbi Parra
Management: Rosario Gallardo
Distribution: Austin Rial Eshelman (Rial & Eshelman)
Production: IG Company
In collaboration with: Teatro Conde Duque Madrid
Supported by: INAEM