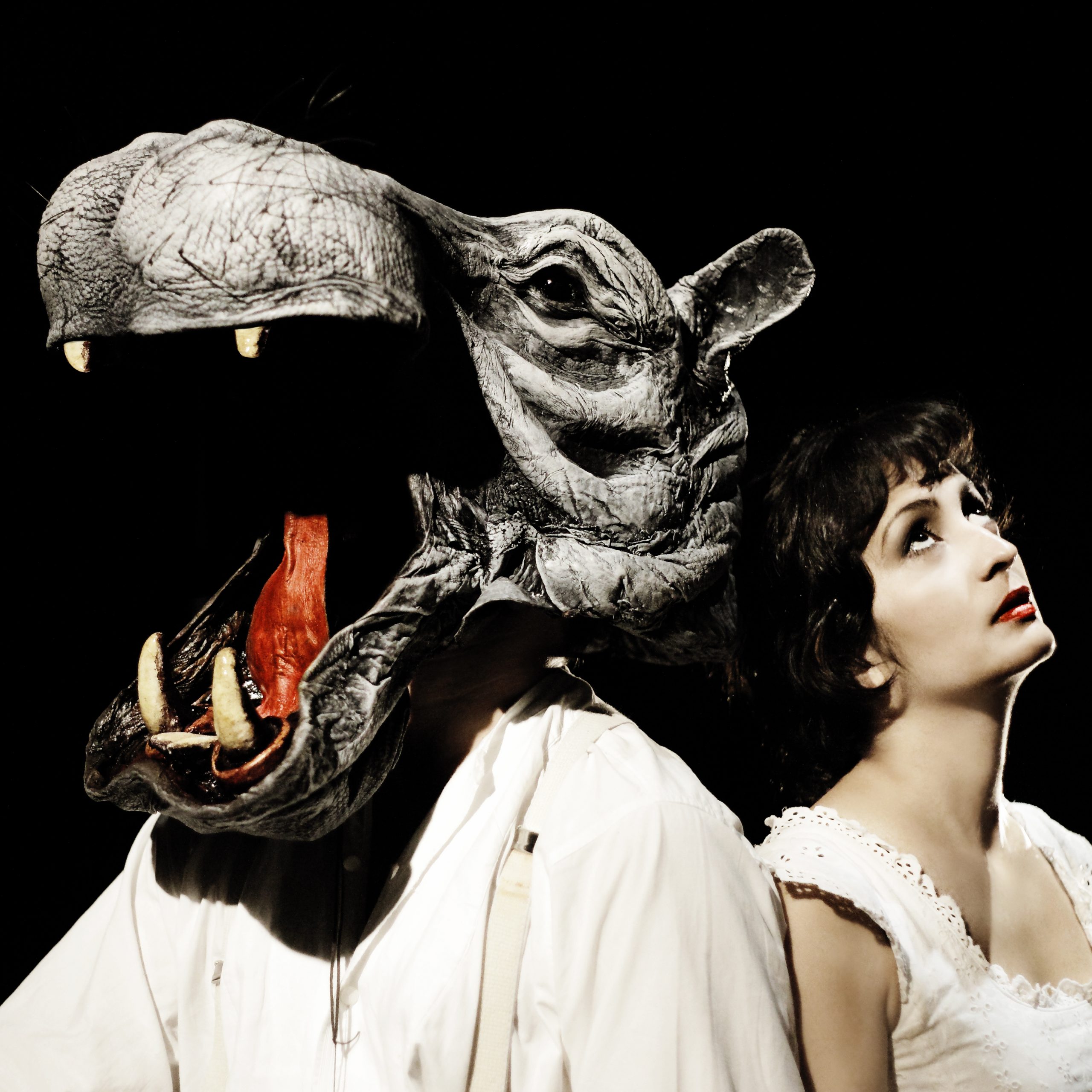 One of the most acclaimed and eclectic international companies returns to REF Kids & Family. With thirty-six years of history behind them, Finzi Pasca have conquered audiences all over the world with their perfect fusion of dance, theater, acrobatics and circus. Theirs is a course dotted with notable achievements, including appearances at three Olympic ceremonies, two shows for Cirque du Soleil, and six works already in the repertoire of the Mariinskij Theater in St. Petersburg. Bianco su Bianco is a story of growth and redemption, of love and friendship, inhabited by the magical sensibilities of Helena and Goos. It is a theatrical performance where actors interact with the audience, where we laugh and are moved, where heroes are fragile and where life's obstacles can be overcome through the power of dialogue, encounter and magical bonds.
The distinctive poetics of the Compagnia Finzi Pasca took shape from the concepts of the Theatre of the Caress and the Invisible Gesture. Developed over the course of 37 years, these concepts have consolidated a unique aesthetic and a very personal style of creativity and production, together with a philosophy of training for the actor, acrobat, musician, dancer and technician – a way of inhabiting the space. Theatre, dance, acrobatics, circus, opera and documentary: all come together in the work of the Compagnia Finzi Pasca. The company was founded by Antonio Vergamini, Daniele Finzi Pasca, Hugo Gargiulo, Julie Hamelin Finzi (†) and Maria Bonzanigo in 2011, continuing the work of the Teatro Sunil and of Inlevitas. Throughout its history the company has created and produced more than 35 shows. Its creators staged 3 Olympic Ceremonies (Turin 2006 and Sochi 2014, both Olympic and Paralympic Games), 2 shows for the Cirque du Soleil: Luzia in 2016 and Corteo in 2005 (for the latter, 8.4 million spectators in a 10-year world tour), 6 operas, of which Aida and Verdi's Requiem are officially part of the Mariinsky Theatre (Saint Petersburg) yearly programme; Carmen and Pagliacci at the Teatro San Carlo in Naples, L'Amour de loin (Love from Afar) for the English National Opera (London) and Einstein on the Beach that opened the 2019/2020 season at the Grand Théâtre in Geneva. Among the big world events, in 2017 it produced Montréal Avudo, a multimedia show that combined video mapping, lights and water fountains for the city of Montreal (249,000 spectators in 4 months) and in 2019 Abrazos for the fair Feria de León in Mexico, a special event aimed at families (200,000 spectators). Moreover, its creative team was part of the Fête des Vignerons 2019 (Winegrowers Festival), an event that takes place four times in a century in Vevey (Switzerland), seen by 375,000 spectators. In 2020 the Compagnia Finzi Pasca staged the artistic part of the inauguration of the largest concert organ in Russia, at the Zaryadye Concert Hall in Moscow: an immersive installation  where 24 of the best organists in the world took it in turns to play for 24 hours non-stop (approximately 10,000 visitors). Five of the company's shows are currently on tour: Per te. (2016), Bianco su Bianco (2014), La Verità(2013), Donka – A Letter to Chekhov (2010, restaged in 2018) and Icaro (1991). A new touring show is going to premiere on September 2020 at the LAC (Lugano Arte Cultura) in Lugano (Switzerland). Other international projects are in the making.
Author, Director, Co-creator of lighting, choreographies and Firefly Forest Daniele Finzi Pasca 
Creative director and Producer Julie Hamelin Finzi 
Composer, Sound designer and Choreographies co-creator Maria Bonzanigo 
Scenographer, Props master and Firefly Forest co-creator Hugo Gargiulo 
Executive producer and Creative team member Antonio Vergamini 
Costume designer Giovanna Buzzi
Lighting co-designer and Firefly Forest co-creator Alexis Bowles 
Firefly Forest co-creator Roberto Vitalini – bashiba.com 
Assistant Director Geneviève Dupéré 
Make-up designer and Project manager Chiqui Barbé 
On Stage Helena Bittencourt and Goos Meeuwsen
Tour Technical director Marzio Picchetti
Technicians Pietro Maspero and Jacopo Baggio
Project manager Chiqui Barbé
Technical director Alexis Bowles
General stage manager Geneviève Dupéré
Production accountant Amal Meroni
Technical co-director, Assistant lighting designer and Firefly Forest co-creator Marzio Picchetti
Lighting technician Nicolò Baggio
Lighting technician Marco Finzi Pasca
Assistant Executive producer Tanja Milosevic
Administrative assistant Anna Casari
Photographer and Graphic designer Viviana Cangialosi
Administrative and Accounting consultant Lorenzo Ortelli 
Interns: Lisa Foletti (Set design and technical department) Luana Biadici (Sound and technical department) Camilla Papiri (Communications), Elisa Valenti and Nadia Giacomini (Costumes).
International Development:
Julie Hamelin Finzi International Development
Sarai Gomez Assistant International Development
Laurent Rozencwajg Assistant International Development
Scenography and Props:
Jorge Añon Masks design and making
Matteo Verlicchi Technical designer
Lisa Foletti Assistant
Sound Consultants :
Fabio Lecce and Maxime Lambert
Costume:
Sartoria Slowcostume Costume making
Ambra Schumacher Assistant costume designer
Elisa Stramaccioni Costume electric system creation
Acknowledgments:
Alida Andreoli, Morena Antonini, Isa Altin, Antonella Bonzanigo, Lia Bonzanigo, Rocco Bonzanigo, Rodolfo Canal (Selecta), Gianfranco Helbling, Canton of Ticino, Claudio Chiapparino & Dicastero Eventi City of Lugano, Palestra Excalibur, Stefano Fabio, Juana Gargiulo, Famiglia Garzoni & Gran Hotel Villa Castagnola, Lisa and Mario at Giovani Viaggi, Paul Glass, Roberto Grassi, Mauro Guggia, Ristorante La Veranda, LuganoinScena, Vittorio Maspoli, Elisa Mosle, Lorenzo Ortelli, Fausto Ortelli, Giovanni Pedrazzini, Massimo Pedrazzini, Marcello Peduzzi, Olivier Peyronnaud & Maison de la Culture de Nevers et de la Nièvre, Piazzale Milano, Rolando Picchetti, Fabrizio Pongelli, Pro Helvetia, Guido Santini, Beatriz Sayad, Alessandro Seralvo & Cornercard, Elena Stoll, Rafael Stoll, Saverio Stoll, Lorenzo Stoll, Rocco Talleri, Anita and Walther Sievi, Teatro Sociale Bellinzona – Bellinzona teatro, Cristiana Vanini, Claudio Vitalini, Vanessa Zicari, our families and friends.