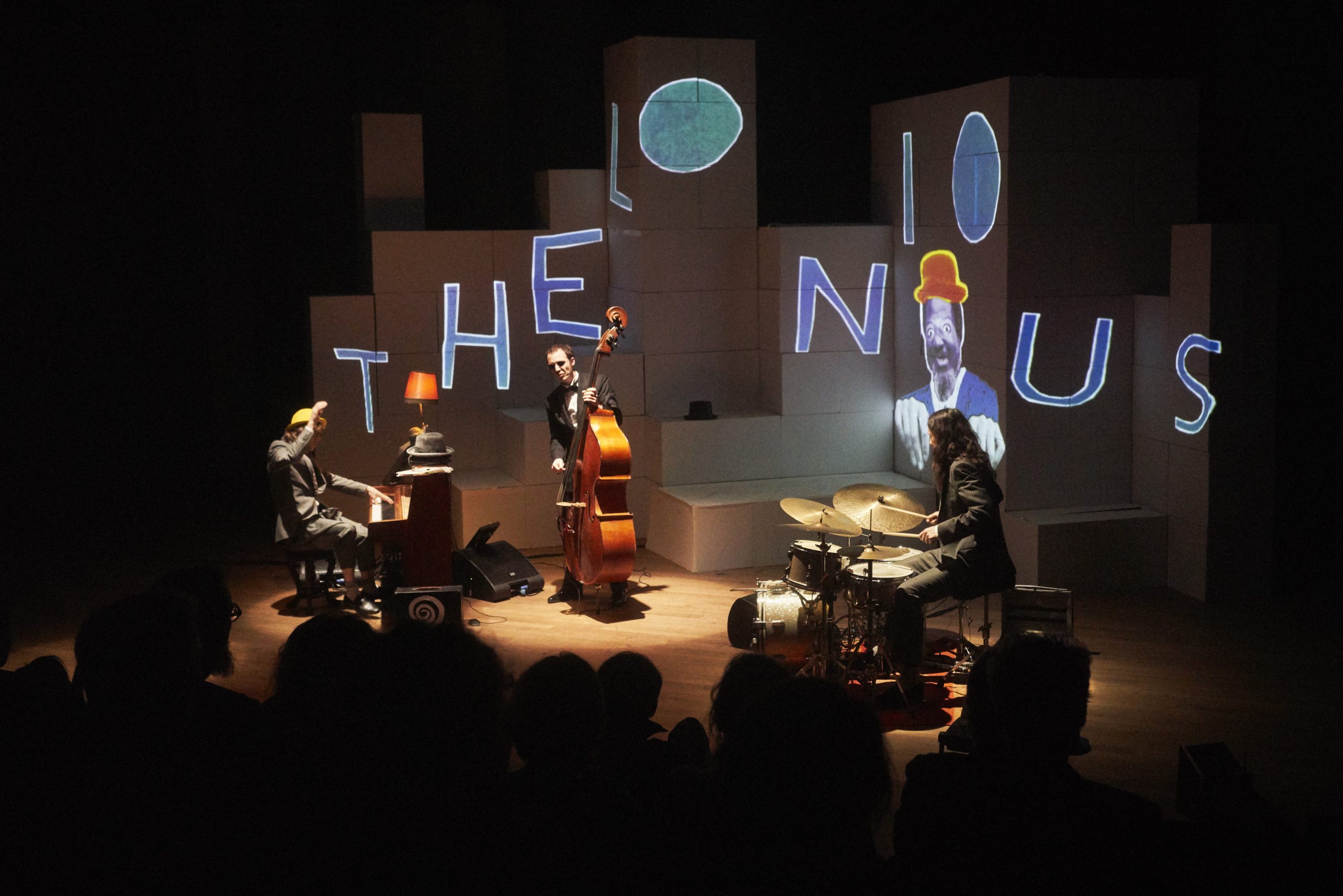 The Flemish Zonzo Compagnie returns to the REF ready to give life to a novel experience through which to convey contemporary music to an audience aged 6 and above. At the heart of this fun and poetic new production is the great jazz music of Thelonious Monk, a stubborn genius with compositions characterized by surprising harmonies and exciting rhythms. The musicians of the adventurous jazz trio De Beren Gieren transport us to New York, immersing us in sounds, animations and video images- all to discover the universe of this musical hero.
Zonzo Compagnie is an international trendsetter when it comes to music projects for young audiences. It does so with BIG BANG Festival, an adventurous music festival that has found a fixed spot for its unique concept in Belgium, France, Greece, The Netherlands, Spain, Portugal, Iceland, Estonia, Ireland, Luxembourg, Norway, Denmark and Canada. BIG BANG Festival was awarded the EFFE award as Europe's most innovative festival. Zonzo Compagnie also creates performances that take music as their point of departure in an extraordinary way. They enchant their audience with intriguing portraits of composers such as John Cage, Miles Davis, J.S. Bach, Luciano Berio and Thelonious Monk, surprise with wonderous sound installations, stir emotions with gorgeous songs and leave an impression with their multimedial setup. In their Antwerp home base, Zonzo Compagnie is also the proud owner of the Zonzo Records label, under which it has issued a series of dashing albums.
Direction: Benjamin Vandewalle
Drums: Simon Segers o Frederik Meulyzer
Piano: Fulco Ottervanger o Seppe Gebruers
Bass: Lieven Van Pee
Video: Nele Fack/Studio Sandy
Costumes: Johanna Trudzinski
Technician: Pat Caers
A production by Zonzo Compagnie in coproduction with Handelsbeurs, Krokusfestival, KAAP and De Grote Post.
With the support of Flanders and the Creative Europe Programme of the European Union.