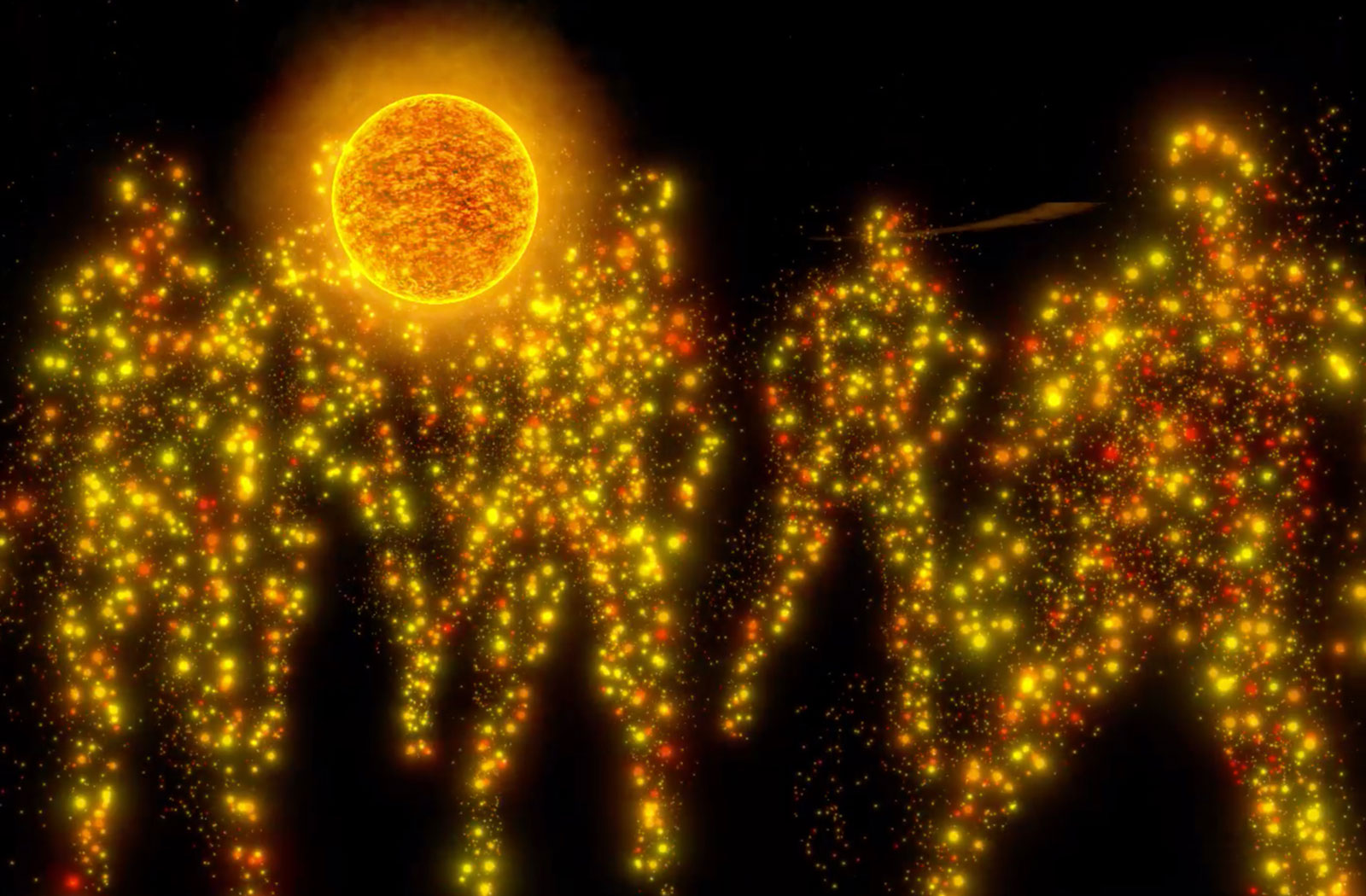 Choreographed and directed by the English artist Alexander Whitley, Celestial Motion II is a VR installation inspired by the world of solar physics. Wearing  "HTC Vive" headsets two users are invited to experience a cosmic landscape inhabited by a cast of virtual dancers whose movements have been recorded using "motion capture" technology and manipulated with incredible visual effects by the creative developer Luca Biada by Fenyce. The motion tracking technology allows to recreate the bodies in clouds of luminous particles, constellations and trails of stars, ethereal figures that move in the cosmos on electroacoustic music by Daniel Wohl. To introduce this journey towards the sun the words of the famous scientist and conductor Jim Al-Khalil.
Bio
A Sadler's Wells New Wave Associate, Alexander has received critical acclaim for his works investigating the impact of technology, such as artificial intelligence, on contemporary human experience and his ground-breaking use of interactive technology to redefine the parameters of choreography. His works for AWDC using interactive technology include stage productions: Pattern Recognition (Sadler's Wells commission) and The Measures Taken (Royal Opera House commission); the performance-installation: Strange Stranger (York Mediale and Sadler's Wells co-commission); and VR experiences: Celestial Motion (Daydream) and Celestial Motion II multi- player VR (HTC Vive) created in collaboration with The Guardian VR studio. He has also collaborated on digital works for The National Theatre, Scottish Ballet, Marshmallow Laser Feast and New Movement Collective.
Credits
Director & Choreographer: Alexander Whitley
Producer: Donna Meierdiercks, Alexander Whitley Dance Company
Creative Technologist: Luca Biada/Fenyc
Music: Daniel Wohl Text: – Alexander Whitley & Shehani Fernando
Voiceover: Jim Al-Khalili OBE (theoretical physicist)
Dancers: Tia Hockey, Caitlin Taylor, Victoria Roberts, Hannah Ekholm, David Ledger, Michael Marquez, Leon Poulton
The Guardian VR Studio
Director of original VR concept: Shehani Fernando
Producer of original VR concept: Anetta Jones
Executive Producer of original VR concept: Francesca Panetta
Produced by TheGuardian and adapted for Vive by the Alexander Whitley Dance Company with support from HTC Vive and Arts Council England.
Based on 8 Minutes by Alexander Whitley Dance Company, an original commission by Sadler's Wells. 
Connected projects: 8 Minutes – Contemporary dance production by Alexander Whitley Dance Company (commissioned by Sadler's Wells Theatre) Celestial Motion: VR experience for Daydream – Produced by The Guardian VR with Alexander Whitley Dance Company & Fenyce
Presentato nell'ambito del programma "Being Present" U.K_Italy 2020 promosso dal British Council