UN POMERIGGIO MINIMALISTA DENTRO LE NOTE DI EINSTEIN ON THE BEACH
E così eccoci arrivati al gran finale del Romaeuropa Festival 2022, l'ultima occasione per salutarci, per stare ancora insieme. Per farlo abbiamo pensato ad un intero pomeriggio di ascolto e di condivisione alla scoperta di uno dei massimi capolavori del Novecento. Questo gran finale è anche un'opportunità di scoprire la musica di Einstein on the Beach, una delle più importanti opere composte da Philip Glass e conosciuta soprattutto per la sua versione spettacolare diretta da Bob Wilson.
La versione che Romaeuropa vi propone il 20 novembre a partire dalle ore 17:00 è molto particolare e coinvolge tre icone della composizione musicale contemporanea: Ictus, il Collegium Vocale Gent e l'icona della musica folk Suzanne Vega.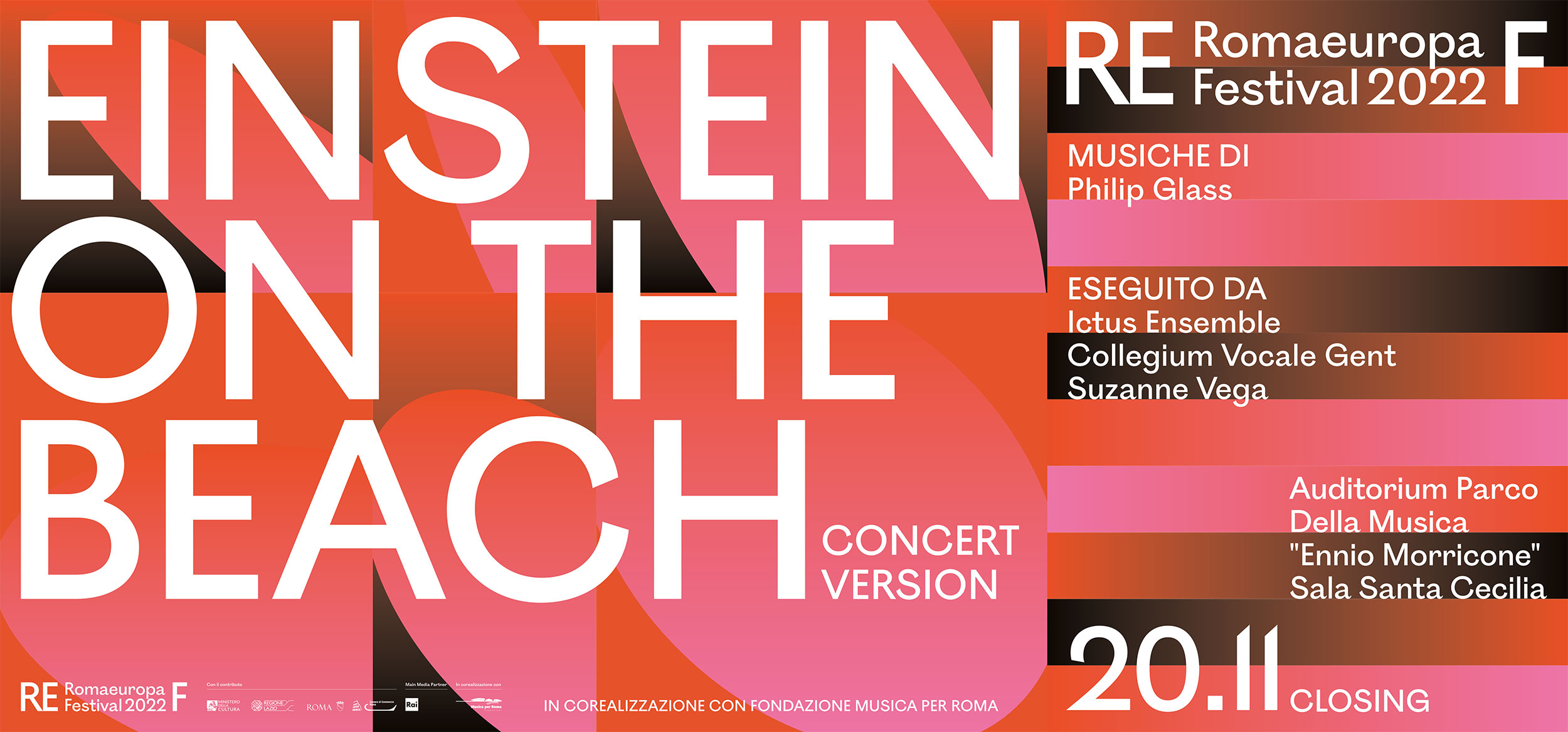 Un vero e proprio progetto basato sull'esecuzione musicale, quindi, così come lo ha immaginato l'esemble Ictus, compagno di questa edizione del festival (vi ricordiamo la loro esecuzione delle note di Drumming per lo spettacolo di Anne Teresa De Keersmaeker o quelle di O Sentimental Machine di François Sarhan e William Kentridge). 
«Presentiamo un approccio musicale puro all'intera partitura della leggendaria opera Glass/Wilson in cui le parti strumentali e canore virtuose e la struttura cristallina del pezzo sono esaltate da un approccio site-specific e da un sofisticato sound design» racconta l'ensemble «Il fulcro di questa produzione è la partitura musicale stessa e il suono musicale del libretto. Optiamo per un'esibizione di lunga durata (molto vicina alla partitura completa composta per l'opera vera e propria). In questo modo vogliamo creare un bagno sonoro minimalista di oltre 3 ore di durata che si ricollega alla freschezza e alla radicalità del primo minimalismo. Le porte della sala da concerto saranno aperte per tutta la sua durata (il pubblico è libero di entrare e uscire), il divario tra palcoscenico e pubblico si offusca grazie all'intervento visivo di Germaine Kruip per essere visto come un'installazione di arte contemporanea».
Duecento minuti di musica che rappresentano una vera e propria sfida fisica e mentale per i musicisti coinvolti, disegnando un tempo e uno spazio di condivisione con il pubblico, strutturato dal suono ma caratterizzato da una fruizione libera e personale.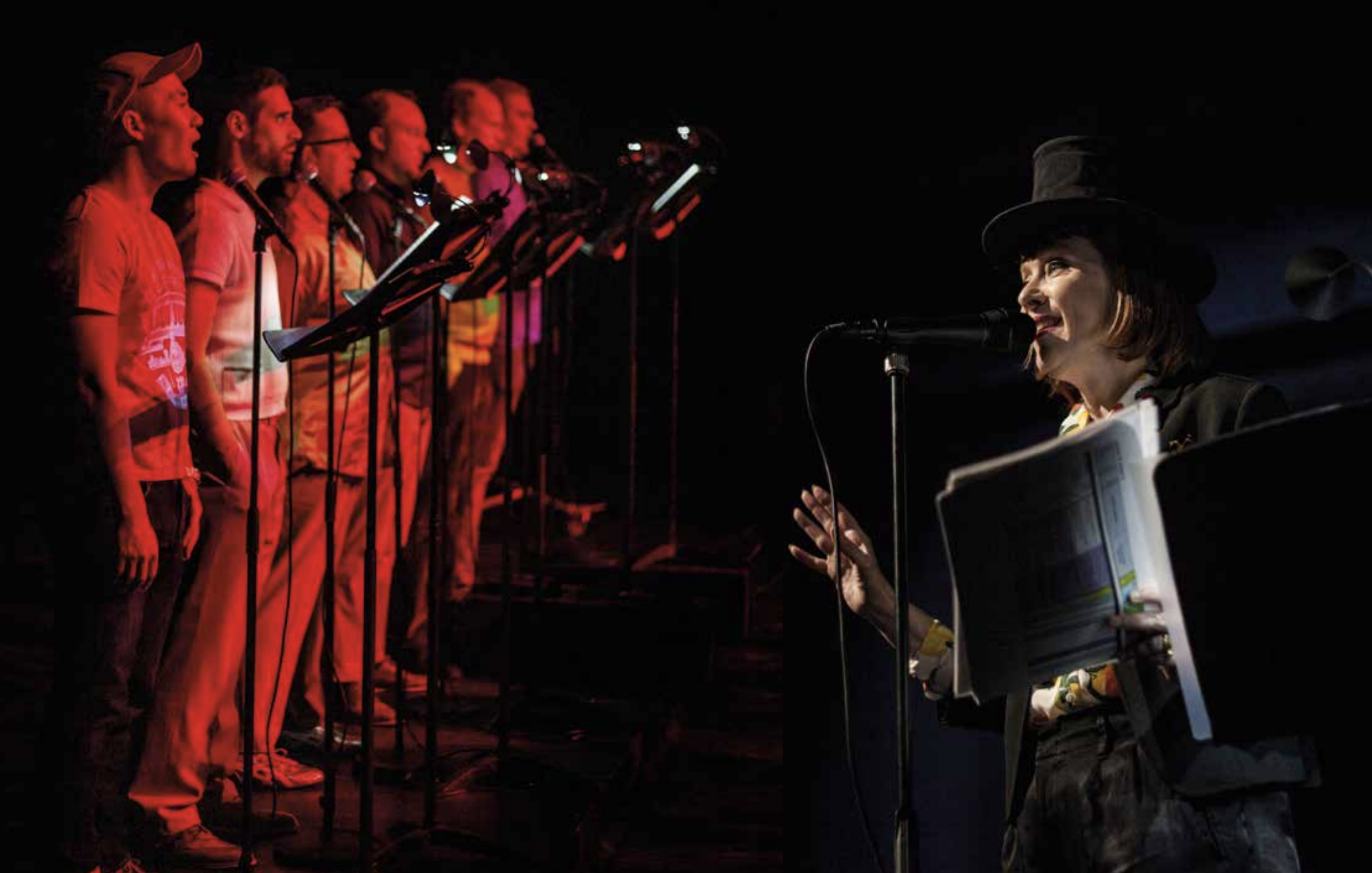 Sul palco anche il Collegium Vocale Gent e Suzanne Vega: «Suzanne ha fornito una lettura personale del libretto originale. Ampiamente conosciuta per i suoi brani in cima alle classifiche negli anni Ottanta come Tom's Diner e Marlene on The Wall, Vega ha collaborato nell'ambito dei musical e della letteratura di New York e lo stesso Glass ha arrangiato il suo terzo album Fifty-Fifty. In questa versione di Einstein on the Beach lei agisce come un narratore multi-personaggio facendo emergere il collage di voci racchiuso nei testi di Christopher Knowles, Samuel M. Johnson e Lucinda Childs per fornire un'unità drammaturgica a tutte le componenti. Sarà la creazione musicale stessa ad essere esposta. Mostreremo le musiciste e i musicisti al lavoro, in un tempo e uno spazio condivisi con il pubblico, strutturato dalla musica stessa. Li vedremo eseguire parti diverse della composizione da diverse posizioni del palco, circonderanno il pubblico e trasformeranno la sala di concerto in un ambiente visivo e uditivo immersivo. Strutturando lo spazio in questo modo, come originariamente previsto, persino le immagini di Robert Wilson e Lucinda Childs sembreranno dietro l'angolo».
Ci vediamo domenica e vi ricordiamo che è previsto il blocco del traffico per la domenica ecologica a partire dalle ore 16:30 e fino alle 20:30.
Ci vediamo in Auditorium!
ENG
---
We have reached at last the grand finale of Romaeuropa Festival 2022, our last chance to greet each other, to be together again.
To do so, we thought of a whole afternoon of listening and sharing at the discovery of one of the biggest masterpieces of the 900s.
This grand finale is also an opportunity to discover the music of Einstein on the Beach, one of the most important works composed by Philip Glass and mostly known for its spectacular version directed by Bob Wilson.
The version Romaeuropa is going to show on November 20th starting from 5pm is very peculiar and involves three icons of contemporary musical composition: Ictus, il Collegium Vocale Gent and icon of folk music Suzanne Vega.
An actual project based on musical execution, as the Ictus Ensemble, companion of this edition of the festival, imagined it (We remind you of their execution of the notes of Drumming for the show by Anne Teresa De Keersmaeker or the ones of O Sentimental Machine by François Sarhan and William Kentridge).
« We present a pure musical approach to the entire score of the legendary Glass / Wilson opera in which the instrumental and virtuoso vocal parts and the crystalline structure of the piece are enhanced by a site-specific approach and sophisticated sound design», says the ensemble. «The focus of this production is the musical process itself, virtuosity, music making. We will show the musicians at work, in a time and space shared with the public. We opt for a long-lasting performance (very close to the complete score composed for the opera itself). In this way we want to create a sound bath in duration that reconnects to the freshness and radicality of the first minimalism. The door of the concert hall will be open for its entire duration (the public is free to enter and exit), the gap between stage and audience is blurred thanks to the visual intervention of Germaine Kruip to be seen as a contemporary art installation».
Two hundred minutes of music representing a real mental and physical challenge for the musicians involved, and drawing a time and a space of sharing with the audience, structured by the sound but characterised by a free and personal fruition.
On stage together with Ictus, the Collegium Vocale Gent and Suzanne Vega: « Suzanne provided a personal reading of the original libretto. Widely known to her on chart-topping songs in the 1980s such as Tom's Diner andMarlene on The Wall, Vega collaborated in New York musicals and literature and Glass himself arranged her third album Fifty-Fifty.
In this version of Einstein on the Beach she acts as a multi-character narrator bringing out the collage of voices contained in the original texts by Christopher Knowles, Samuel M. Johnson e Lucinda Childs to provide a dramaturgical unity to all the components. The musical creation itself will be exposed. We will show the musicians at work, in a time and a space shared with the audience, structured by that very music. We will see them execute different parts of the composition from different positions on stage, they will surround the audience and transform the concert hall in a visual and auditory immersive environment. Organising the space this way, as originally planned, even the images of Robert Wilson and Lucinda Childs will seem just around the corner».
See you on Sunday!