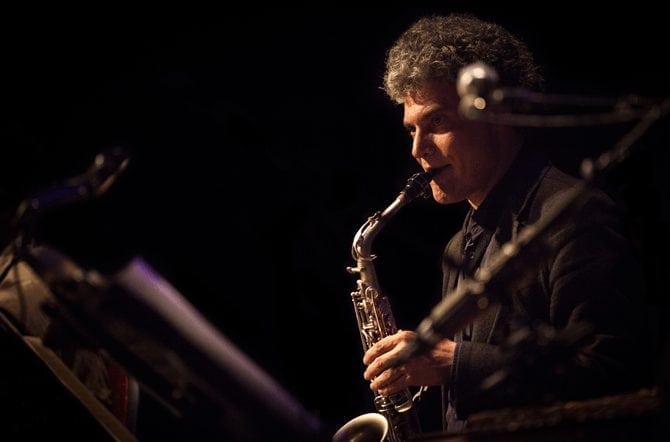 FABRIZIO CASSOL | AKA MOON
MUSICIANS FROM EGYPT, SYRIA, TURKEY, FRANCE, BELGIUM, U.S.A.
In 'AlefBa', a show whose title recalls the first two letters of the alphabet, Fabrizio Cassol together with his group, Aka Moon, animate an ancient dream as well as a contemporary experiment – to invent an alphabet in order to express ourselves, but everyone using his or her own language, and to be able to understand each other. A Belgian composer and saxophonist, Cassol loves intercultural adventures, where music becomes a vehicle for cultural exchanges between people. Last year at Romaeuropa he presented 'Coup Fatal' in collaboration with Alain Platel, a show dedicated to Central African music (that of Congo in particular), which resulted in an electrifying short circuit with Händel and Bach's Baroque music. Cassol is the leader of Aka Moon, a group of extraordinary musicians from Turkey, Egypt, Syria, United States, Iraq and Belgium who play traditional instruments such as the oud, the flute, percussions, violin and saxophone along with basses, electric guitars and drums. Each one of the musicians 'speaks' his own music, paying at the same time close attention to the other members of the group and participating in their dialogue. Afro-arab, jazz, Tzigane, funky inflections merge in a great ensemble where male falsettos, polyrhythm, improvisation and patches of vocal polyphony emerge as an oasis along a track in the middle of the desert. The same musical structure, where different and distant traditions find a balance that changes according to different pieces, as if they were sound images put together in a caleidoscope, reveals Cassol's distinctive style. Not only does he manage to amalgamate different musical cultures, but he also makes this encounter free, risky, and spontaneous.
---
Artistic direction, Composition, Sax Fabrizio Cassol Drums Stéphane Galland
Fender bass Michel Hatzigeorgiou Guitar Emmanuel Bailly Violin Tcha Limberger
Flute, Sing Malik Metayer Derbouka Ahmet Misirli Yldirim Oud, Sing Khaled Aljaramani, Mustapha Hejab
Sing Khaled Alhafed Trumpet Santour Amir el Saffar Artistic advisor Fawaz Baker
Photo © Fabrice Giraud

Produced by Royaumont Foundation / Transcultural Music Program Coproduced by Festival International d'art lyrique d'Aix-en-Provence, Marseille Provence 2013 / European Culture Capital 2013, KVS (Belgium), Bozar (Belgium) Supported by SACEM, French Institute in Cairo