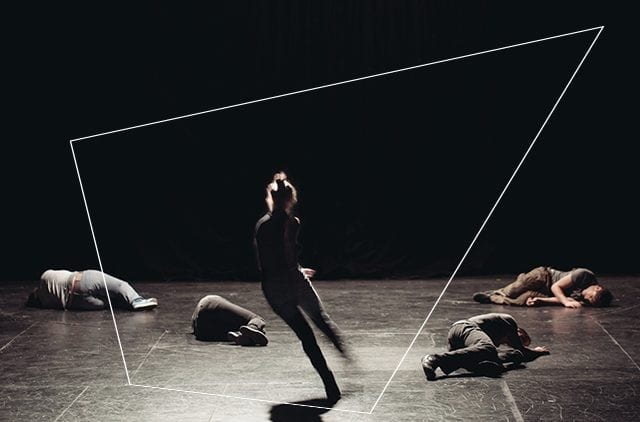 6 pm | foyer | WARMING UP con Christos Papadopoulos
The Romaeuropa Festival has entrusted the opening of the second day dedicated to Aerowaves to talented Greek choreographer Christos Papadopoulos and his company Leon & The Wolf. Born in 1976, Papadopoulos studied both theatre and dance, moving from the Greek National Theatre's Academy of Dramatic Arts to the School for New Dance Development in Amsterdam. It was in the Netherlands that he formed his own company, rapidly capturing the attention of the press and the public.
Elvedon is inspired by one of Virginia Woolf's more complex and experimental novels: Waves. The flow of conscious used by the writer to tell the story of six childhood friends from adulthood to old age, the lack of paragraphs and chapters, the energy of the written word, capable of flowing like a waterfall while simultaneously acquiring a specific rhythm, are used by Papadopoulos as a way to reflect on the concept of "time". Six dancers model the scene through a flow of constant, repetitive gestures, a constant oscillation of arms and feet.
The almost industrial sequence of these movements, part of a choreography that is both geometric and hallucinatory, becomes a metaphor of the constant changing of existence and nature. Through the resistance of the dancers' bodies, the pulsing, rhythmic energy of this post-modern ritual, Papadopoulos slowly leads us towards a state of ecstasy, a flash that reveals the passing of time.
---
Duration 40′
Concept, Choreography Christos Papadopoulos
Original music Coti.K
Lighting design Miltos Athanasiou
Costumes Aggelos Mendis
Dancers Nandi Gogoulou, Ermis Malkotsis, Amalia Kosma, Georgios Kotsifakis, Epameinondas Damopoulos, Hara Kotsali
Inspired by the novel Waves by Virginia Wolf
Production Christos Papadopoulos, Leon and Wolf dance company
Part of the network Aerowaves Twenty 16 network
Photo © Patroklos Skafidas
---