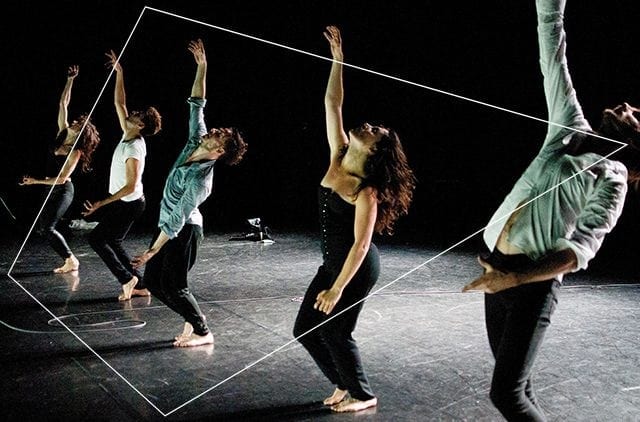 The second appointment with Olandiamo, a focus event dedicated to new Dutch dance, is literally a leap in the dark. The Black Piece, by Ann Van den Broek, a choreographer who received a prestigious "Swan Award" (Zwaan) from the VSCD (Dutch Association of Theatre and Concert Hall Directors) in 2015, is in fact performed in the dark.
With her company WArd/waRD founded in 2000 after intense work as a dancer, Ann Van den Broek won over audiences in the Netherlands, Belgium and the rest of Europe thanks to her clear and accessible choreographies. Movement, sound, live videos and images coexist in her artistic production, which combines conceptual reflections and an impulsive aesthetic concept.
In The Black Piece, a choreography inspired by the book Black, The History of a Colour by Michael Pastoureau, the five WArd/waRD performers dance on a dark stage. The audience's view is controlled by Van den Broek, lighting up fragments of the stage, dividing actions and dramatic scenes. All around is the sound of steps, gasps, moans and the songs written specifically for the show by singer Gregory Frateur, tracing out an acoustic landscape in which the imperceptible space takes shape. But in this game of dark and light, blackness and colour, the fundamental role is played by the video images: cameraman Bernie van Velzen is on stage filming and projecting the images of the dancers in movement and the objects scattered around the stage. The result is a shift between performance and the film narration: do the events shown on the video really correspond to what's going on on stage? How much can our senses deceive us?
---
Duration 80′
Concept, Direction, Choreography, Hand lamp Ann Van den Broek
With Louis Combeaud, Frauke Mariën, Nik Rajšek, Emma Seresia e altri
Direction, Camera Bernie van Velzen
Assistant Marie De Corte, Judit Ruiz Onandi
Musical composition Arne Van Dongen
Vocal Performance Gregory Frateur
Scenes Ann Van den Broek, Bernie van Velzen
Costumes Ann Van den Broek, Judith Van Herck
Make-up Jos Brands
Advice Marc Vanrunxt
Technical team Frank van Schie
Director of production Mirjam Zwanenbirg
Head office Ruth Bruyneel
Spread Ilse van Dijk
International Booking Line Rousseau/A propic
Debut 19 settembre 2014, Korzo theater, The Hague
Photo © Maarten Vanden Abeele
---