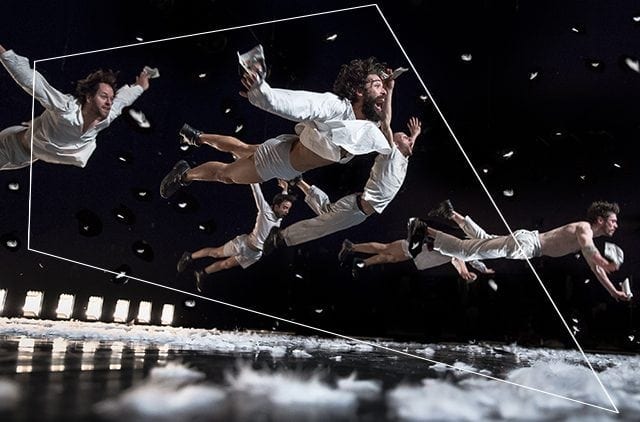 On its debut in 1999, In Spite of Wishing and Wanting met with an enthusiastic welcome all over the world, earning the attention of critics and spectators interested in the languages of contemporary dance, as well as that of a new, young audience, as reported in the New York Times in 2000. The show not only confirmed the extraordinary talent of Flemish WimVadekeybus, but appeared to be an exception to the normal production of UltimaVez, the dance company founded by the choreographer and film maker in 1986 after working with Jan Fabre for two years.
The artist used an exclusively male cast to express the drive of male desire. The stage, almost completely bare for the first time, seemed like a raw nerve in which the ten impetuous, wild, ingenuous and playful performers dialogued with the music written specifically for the show by David Byrne, ex-leader of Talking Heads, and with a surreal film (The Last Words) inspired by the tale of Argentinian author Julio Cortàzar.
Set in our memories and in history as one of Vandekeybus' most important shows, In Spite of Wishing and Wanting is back on stage at the Romaeuropa Festival with a new cast of ten young dancers asked to reinterpret the themes of desire, dreams and passion. The result is an animal-like fantasy, masterfully conducted in a blend of media and languages, in which the male element shows its fragility and harmony, dissolving every tension in an enchanting and poetic show that once again confirms Vandekeybus' position in the Olympus of international contemporary dance.
---
Duration 110′
Direction, choreography, scenography Wim Vandekeybus
Original music, soundscape David Byrne "Fuzzy Freaky" remix DJ Food
Dancers Rob Hayden, Eddie Oroyan, Yassin Mrabtifi, Guilhem Chatir, Grégoire Malandain, Luke Jessop, Luke Murphy, Flavio D'Andrea, Knut Vikström Precht, Cheng-An Wu, Baldo Ruiz
Assistant choreography Iñaki Azpillaga, German Jauregui
Artistic assistant Greet Van Poeck
Costumes Isabelle Lhoas assistita da Isabelle De Cannière
Technical coordination Davy Deschepper
Lights Francis Gahide, Davy Deschepper
Sound Bram Moriau
Stage manager Tom de With
Production Ultima Vez
Coproduction KVS (Bruxelles, BE) Coproduzione 1999 Teatro Comunale di Ferrara, Festival d' estiú Barcelona Grec '99, Luzerntanz e KVS
Ultima Vez is supported by the Flemish Government and the Flemish Community Commission in Brussels (BE). 

Photo © Danny Willems
---