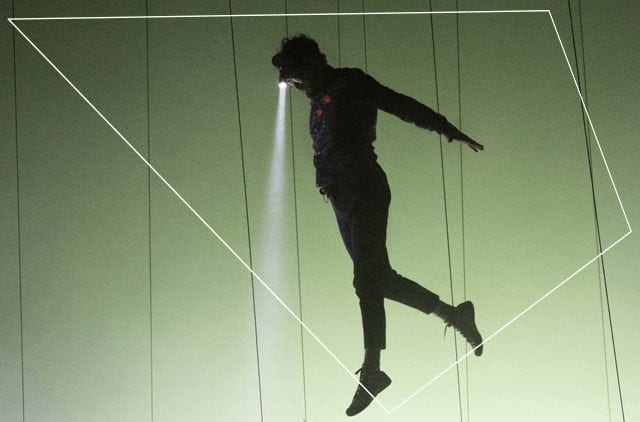 Pierre Rigal, born in 1973 in France, has followed an utterly unusual path to becoming one of the most exceptional choreographers and artists on the European and international scene. An athlete specialised in the 400m sprint and 400m hurdles, with a degree in economics and a master's degree in film studies, Rigal first took an interest in the world of stage art and dance at the age of 23. Following an in-depth period of study alongside choreographers such as WimVandekeybus, Bernardo Montet and NaceraBelaza, he developed an iconoclastic method of approaching dance, characterised by a re-contextualisation of the codes of dance into magic, new circus and an intelligent use of crafts and new technology. All these elements are already apparent in his first work, entitled Erection, co-directed with AurélienBory, for which he founded his company dernière minute in 2003, currently associated with the Maison de la Culture in Bourges.
Pierre Rigal's third solo and national debut at the Romaeuropa Festival, Mobile, is constructed precisely around dance, acrobacy and visionary illusions. Here the stage becomes a metaphor for existence. Like a cave explorer, the artist delves into a world without gravity in which huge cardboard figures of animals, commercial items, cityscapes and houses float like fragments of memory and undecipherable signals of a bizarre future. Representing the conflict between imagination and materialism in contemporary society, these figures inhabit a world without coordinates, a world that reminds us of childhood, where the body is forced to float, a victim of its own desires, relationships and passions. Who moves the puppet strings of our existence? What keeps us tied to the constant obstacle course of life?
---
Concept, choreography, scenography, interpretation Pierre Rigal
Original music live Nihil Bordures
Lights, general direction Frédéric Stoll
Artistic collaboration Mélanie Chartreux
Dramaturgy vollaboration Taïcyr Fadel
Photography, scenes, props Sylvain Mille
Machine design Thomas Tallon, Frédéric Stoll
Interior design Basile Harel
Sound George Dyson
Flight Gilles Montaudié
Harness flight Marc Bizet
Production Sophie Schneider assisted by Nathalie Vautrin
Production compagnie dernière minute Coproduction Maison de la Culture de Bourges with the support of théâtre Garonne – scène européenne (Toulouse)
The compagnie dernière minuteis funded under the contribution from the Ministère de la Culture et de la Communication / Préfecture de la région Midi-Pyrénées, Région Midi-Pyrénées e Ville de Toulouse. The compagnie dernière minute is supported by Fondation BNP Paribas for all its projects.
Photo © Pierre Grosbois