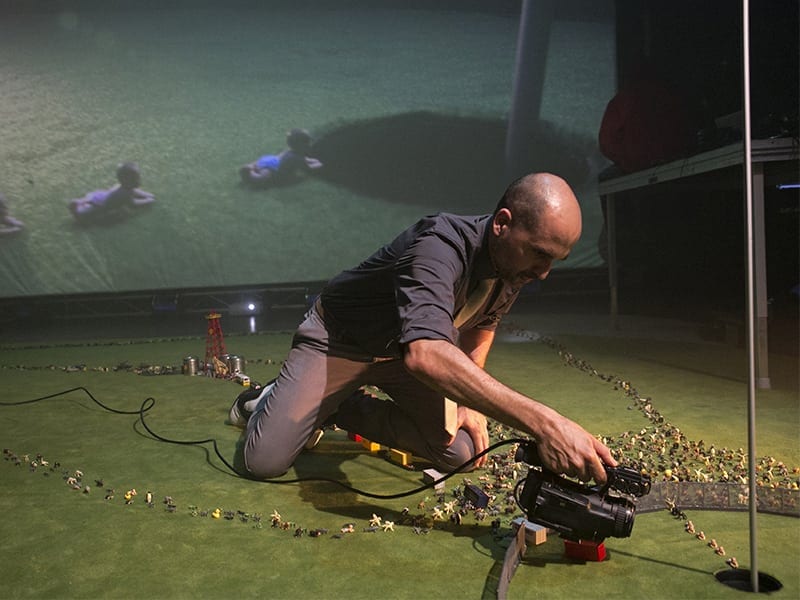 Melilla. Some men play golf while behind them dozens of immigrants, like Hitchcock's Birds, balance precariously at the top of a fence, trying to climb over. This photograph, taken by José Palazón, in an unusual combination with the film The Birds, is the inspiration for Catalan company Agrupación Señor Serrano's (Silver Lion Award at the 2016 Biennale Teatro) Birdie.
It portrays a miniature stage, inhabited by thousands of stuffed animals, moved by three performers and with every detail filmed by video cameras. The resulting images are in turn projected onto a screen, altered by hand, or played in real time together with fragments Hitchcock's film or data and information found on the web.
Analysed in every detail, set next to new visual material, Palazón's photograph becomes both the starting point and destination of a visionary treaty on the migration between the movement of the galaxies, the flows of Internet, golf and the threat of flocks of birds. Always careful of the dangers that can hide inside an image, Agrupación Señor Serrano creates a hyper-media portrait of a present torn between flows of goods and new walls.
A show by Agrupación Señor Serrano Concept Àlex Serrano, Pau Palacios, Ferran Dordal Cast Àlex Serrano, Pau Palacios, David Muñiz Voice Simone Milsdochter Project manager Barbara Bloin Lights, Video Alberto Barberá Sound, Soundtrack Roger Costa Vendrell Concept video Vicenç Viaplana Scale models Saray Ledesma, Nuria Manzano Costume Nuria Manzano Production assistant Marta Baran Scientific consultant Irene Lapuente, La Mandarina de Newton Project consultant Víctor Molina Legal consultant Cristina Soler Direction Art Republic Distribution for Italy Ilaria Mancia Production Grec 2016 Festival de Barcelona, Agrupación Señor Serrano, Fabrique de Théâtre - Service des Arts de la Scène de la Province de Hainaut, Festival TNT - Terrassa Noves Tendències, Monty Kultuurfaktorij, Festival Konfrontacje Teatralne Support Cultural Office of Spain's Embassy in Brussels, Departament de Cultura de la Generalitat de Catalunya, Centre International de Formation en Arts du Spectacle de Bruxelles, Instituto Nacional de las Artes Escénicas y la Música (INAEM), Institut Ramon Llull Sponsor for animal's miniatures Safari Ltd Photo © Pasqual Gorriz