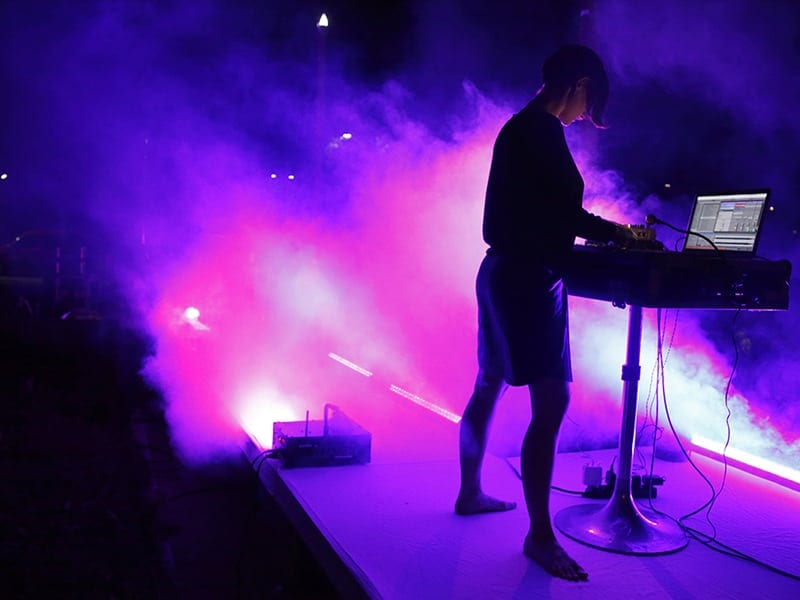 Directed by Fiorenza Menni (founder of the Teatrino Clandestino company, and actress for the Teatro delle Albe and Fanny & Alexander), the Ateliersi company presents, in collaboration with the Associazione Parenti delle Vittime della Strage di Ustica, De Facto. The Ustica plane crash that shook Italy on 27 June 1980 is still an unresolved case, a bottomless hole in which a fragment of national history collapses.
De Facto is inspired by the judicial order filed in 1999 by Judge Rosario Priore, and accompanies the legal language of this document with live electronic music and video equipment that looks like it comes from the dawn of home computers.
With all the specific details and every element of contingency removed, Priore's text (which states: «The life of 81 innocent citizens was taken by an action that was a true act of war, a de facto and undeclared war») appears to be a timeless message addressed to all. De Facto is an Electronic Poetry Work that digs in the past to find signals of our present.
By, With
Fiorenza Menni, Andrea Mochi Sismondi
 With 
Francesca Pizzo
Composition, Musical execution 
Caterina Barbieri
 Video
Giovanni Brunetto
Sound 
Vincenzo Scorza
Communication, Promotion 
Tihana Maravic, Federica Patti
Organisation, Administration 
Elisa Marchese
Technical direction 
Giovanni Brunetto Vincenzo Scorza
Illustration, Graphics 
Diego Segatto 
Production
Ateliersi
 In collaboration with
 Associazione Parenti delle Vittime della Strage di Ustica
Photo ©
Luca Del Pia