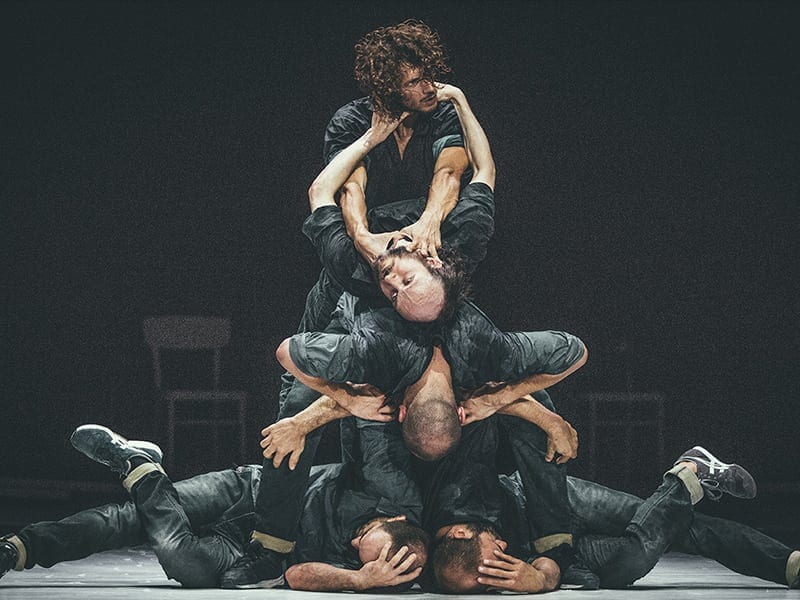 Fractus V marks choreographer and dancer Sidi Larbi Cherkaoui's return to Romaeuropa Festival. The conflict between information and manipulation is the theme of the choreography created by the encounter with the words of linguist and philosopher Noam Chomsky.
They will be performed on stage, alongside Sidi Larbi himself, by four dancers from very different geographical origins and backgrounds and an equally large group of musicians in a hybrid blend of Japanese drums, Korean sounds, Congolese voices and Indian sarods. How neutral really is our mentality? And how much do we really engage with social injustice today?
Cherkaoui continues his investigation that, permeated by a desire for cultural mingling, started from his early work with the Les Ballets C de la B Company by Alain Platel before earning him an international reputation as one of the most famous names in contemporary dance. Today he is artistic director of the Flanders Royal Ballet, and continues to be a relentless explorer of geographies, disciplines and cultures. Fractus V is a new insight into the many ways contemporary society communicates, as well as another attempt to reinvent its identity.
Choreography
 Sidi Larbi Cherkaoui
With 
Sidi Larbi Cherkaoui, Dimitri Jourde, Johnny Lloyd, Fabian Thomé, Patrick Williams Seebacher (TwoFace)
 Live music 
Shogo Yoshii, Woojae Park, Soumik Datta, Kaspy N'dia
Music composition 
Shogo Yoshii, Woojae Park, Sidi Larbi Cherkaoui, Johnny Lloyd, Soumik Datta
 Rehearsal director, Choreography assistant 
Jason Kittelberger
Scene
Herman Sorgeloos, Sidi Larbi Cherkaoui 
Vocal coach
Christine Leboutte, Steve Dugardin
Dramaturgy 
Antonio Cuenca Ruiz  
Costume design 
Sumire Hayakawa 
Light design 
Krispijn Schuyesmans
Production
 Eastman (Antwerp)
Coproduction
Mercat de les Flors, deSingel International Arts Campus (Antwerp), Migros Culture Percentage Dance Festival Steps (Zurich), Sadler's Wells (London), Tanztheater Wuppertal, Baerum Kulturhus (Oslo), Tanzhaus Nrw (Düsseldorf), Schauspiel Köln, National Arts Center (Ottawa), Wexner Center for the Arts at the Ohio State University (Columbus) and more to be confirmed 
Support 
Vlaamse Overheid, Fondation BNP Paribas and more to be confirmed
 Acknowledgements
Circuit-Est centre chorégraphique (Montréal), Espace Marie Chouinard (Montréal), Royal Ballet Flanders (Antwerp), Graner/Mercat de les Flors de Barcelona, Kazutomi 'Tsuki' Kozuki, Elias Lazaridis, Karthika Naïr, Guy Cools, Office Eastman, Technical team deSingel, ASICS Onitsuka Tiger (Japan)
Eastman is resident at
deSingel International Arts Campus (Antwerp) 
Photo ©
Filip Van Roe