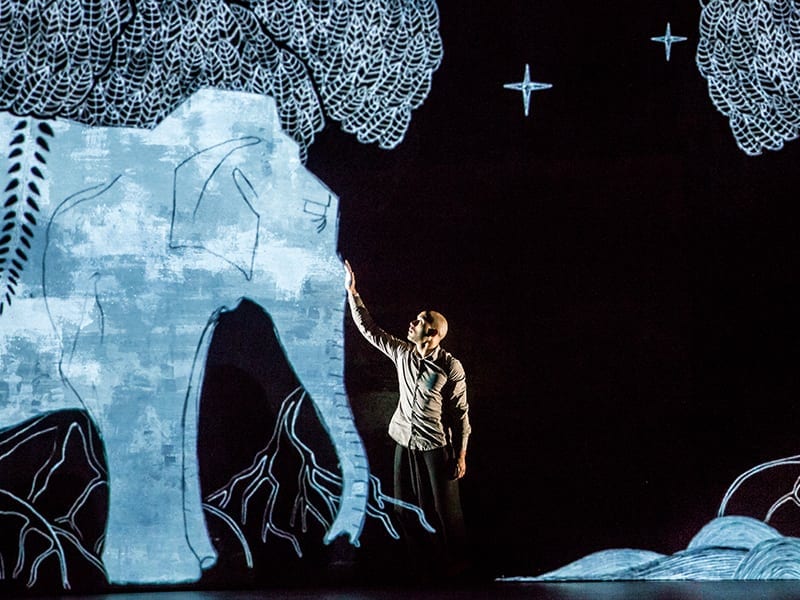 Akram Khan Company will be inaugurating the first edition of REf Kids, a series of events dedicated by Romaeuropa Festival to families and children of all ages.
Inspired by the international success of Desh, an autobiographical show with which the famous Anglo-Bangladeshi choreographer and dancer opened the festival in 2012, Chotto Desh (Small homeland) is a daydream that between dance, music, text and video animations, recounts the most delicate phases of an individual's growth, the relationship with their parents, and the search for their own identity.
The story of a boy who dreams of becoming a dancer, that of a son who rebels against his father's desire, the myth of a child capable of enraging the gods of the forest by stealing their honey, are interwoven on stage in the interpretation of a single young dancer who, in Khan's unmistakable style, mixes classic Indian (Kathak) and contemporary Western dance. Dreamlike animations of huge elephants, nice crocodiles, butterfly clouds, trees, flowers and plants interact with the dancer. A fun and exciting way to grow up a little, or to rediscover what it's like to be a child.
Artistic direction, Original choreography
Akram Khan
 Direction, Adaptation 
Sue Buckmaster (Theatre-Rites)
 Music composition 
Jocelyn Pook
 Light design 
Guy Hoare
Story 
Karthika Naïr, Akram Khan
 The grandmother tale in Chotto Desh is by 
The Honey Hunter
 written by 
Karthika Naïr, Sue Buckmaster, Akram Khan
 Choreography assistant 
Jose Agudo
Dancers
 Dennis Alamanos, Nicolas Ricchini 
 Voice of Akram in Italian
Jacopo Venturiero
 Voice of Father in Italian
Marco Gambino
Voice of Grandmother in Italian
Susanna Paisio
Voice of Jui in Italian
Sara Lutfor 
Italian advisor
Jacopo Venturiero
 Accent advisor
Leesa Gazi 
Script translation
Roberto Minardi
Producer 
Claire Cunningham per AKCT
 Original visual design 
Tim Yip
 Original animation 
Yeast Culture
 Original costume supervisor 
Kimie Nakano
Sound design
Alex Stein
 Sound engineer 
Steve Parr
Costume restyling consultant 
Martina Trottmann
 Technical production 
Sander Loonen (Arp Theatre)
Sound, AV
Matthew Armstrong
Technical direction 
Zak Macro
 Rehearsal direction 
Amy Butler
Stage direction 
Anne-Marie Bigby
 Painted Head sequence 
Damien Jalet con Akram Khan
Bleeding Soles
 written by 
Leesa Gazi
 Singers 
Melanie Pappenheim, Sohini Alam, Jocelyn Pook (voice/viola/piano), Tanja Tzarovska, Jeremy Schonfield
Co-commission
MOKO Dance, Akram Khan Company, Sadler's Wells London, DanceEast, Théâtre de la Ville Paris, Mercat de les Flors Barcelona, Biennale de la danse de Lyon 2016, Stratford Circus Arts Centre
Support
Arts Council England
The company acknowledges the artist who contributed to the original production of DESH by Akram Khan Company