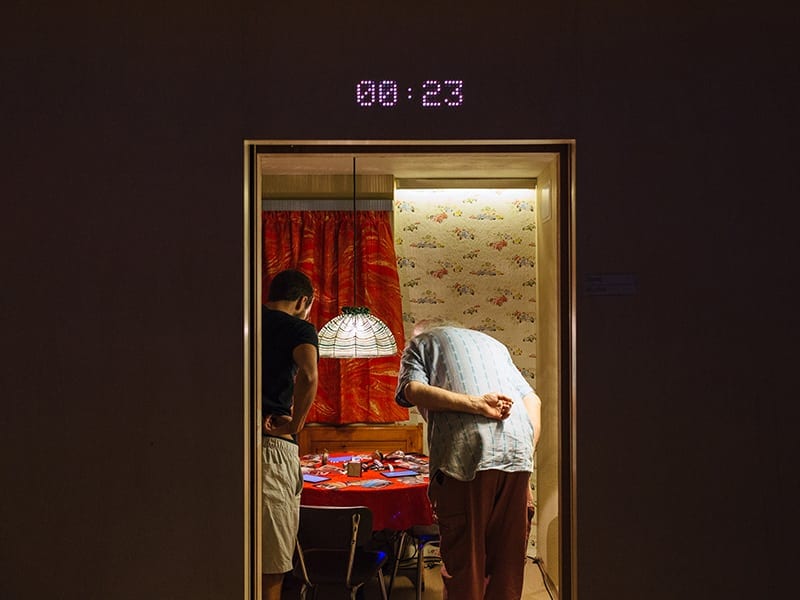 With its shows created through interviews and research conducted in the field, Swiss company Rimini Protokoll – directed by Stefan Kaegi – could be defined as the founder of the "reality trend" that has been animating the European theatre scene since the early 2000's.
Introduced in collaboration with Short Theatre as a preview of the Romaeuropa Festival 2017, Nachlass is a delicate investigation of how life ends. Rimini Protokoll invites us into the rooms of eight ordinary people who have chosen for different reasons to prepare for their own death: an elderly couple looking back on their youth; a woman who manages to make a childhood dream com e true before she dies; a father talking to his daughter; a scientist who describes the technical aspects of dying; a man born in Turkey who sees his passing as a way to return home.
Eight self-portraits of people who have chosen to talk about their existence through an absence; eight spaces in which we are free to move around and explore memories, listen to their stories, and see their gestures. Nachlass reminds us that after each death, life continues to blow like a gentle breeze, teaching the living how to look at their own existence.


Concept Rimini Protokoll (Stefan Kaegi / Dominic Huber) Video Bruno Deville Dramaturgy Katja Hagedorn Sound Frédéric Morier Creation assistants Magali Tosato, Déborah Helle (stagista) Set assistants Clio Van Aerde, Marine Brosse (stagista) Technical concept, Construction Théâtre de Vidy, Losanna Debut 14 settembre 2016 per Théâtre de Vidy Production Théâtre de Vidy, Losanna Coproduction Rimini Apparat, Schauspielhaus Zürich, Bonlieu Scène nationale Annecy et la Bâtie-Festival de Genève within the programme INTERREG France-Suisse 2014-2020 Maillon, Théâtre de Strasbourg-scène européenne, Stadsschouwburg Amsterdam, Staatsschauspiel Dresden, Carolina Performing Artss Sostegno Fondation Casino Barrière, Montreux. Le Maire de Berlin - Chancellerie du Sénat - Affaires culturelles Tour support Pro Helvetia - Fondation suisse pour la culture