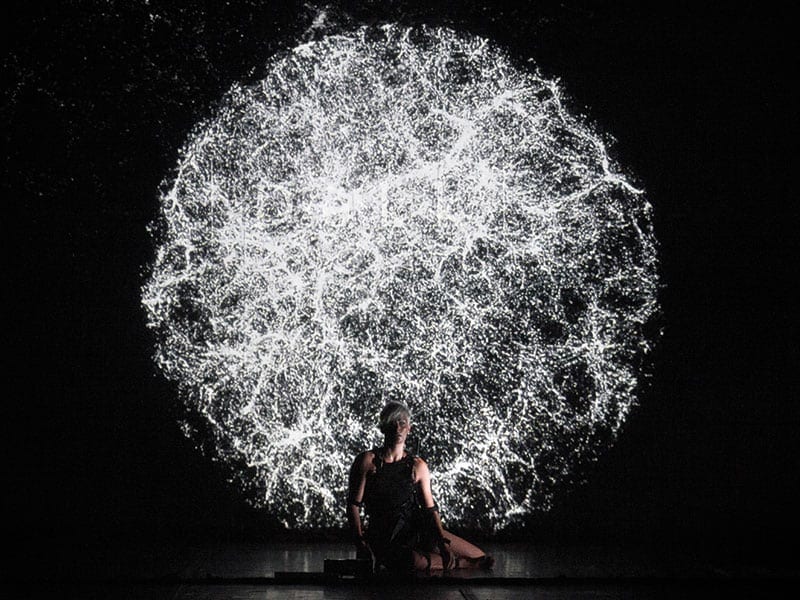 The Italian studio founded in 2007 by Luca Camellini and Mattia Carretti, fuse* is not just a group of creative minds, but an ensemble of researchers and media artists involved in the production of performances and installations, as well as in the creation of multimedia experiences, software and technological platforms and in the intersection between virtuality and architecture.
After presenting Ljós as part of REf16, fuse* returns with Dökk, a new journey into the unconscious where worlds and universes are born and dissolve, aimed at the constant search for a balance between light and dark.
Dökk – the Icelandic work for 'Darkness' – is, not surprisingly, the title given to this performance constructed via a circular narration capable of transforming the stage into a place of the mind in which spatial-temporal coordinates are lost, only for reality to be reconstructed according to one's imagination.

Duration 50' Production fuse* Artistic direction, Executive production Mattia Carretti, Luca Camellini Concept Mattia Carretti Choreographic composition, Performer Elena Annovi Software supervision Luca Camellini Software Paolo Bonacini, Matteo Mestucci, Samuel Pietri Sound design Riccardo Bazzoni Hardware engineering Matteo Mestucci Production director Filippo Aldovini Concept development assistant Giulia Caselli Scientific advisor Margherita Carretti Collaborators Mark van de Korput, Clizia Welker, Enrico Viola Light designn Marcello Marchi Dökk is developed on the openFrameworks platform e use the system MOCAP Perception Neuron by NOITOM Special thanks to Virgo Consortium for sharing the EAGLE's simulation data and the CAT Centro Armonico Terapeutico for allowing us to record a music expression's session with the Spazio Me's kids In collaboration with La Corte Ospitale - Progetto residenziale 2016 Photo © Emmanuele Coltellacci