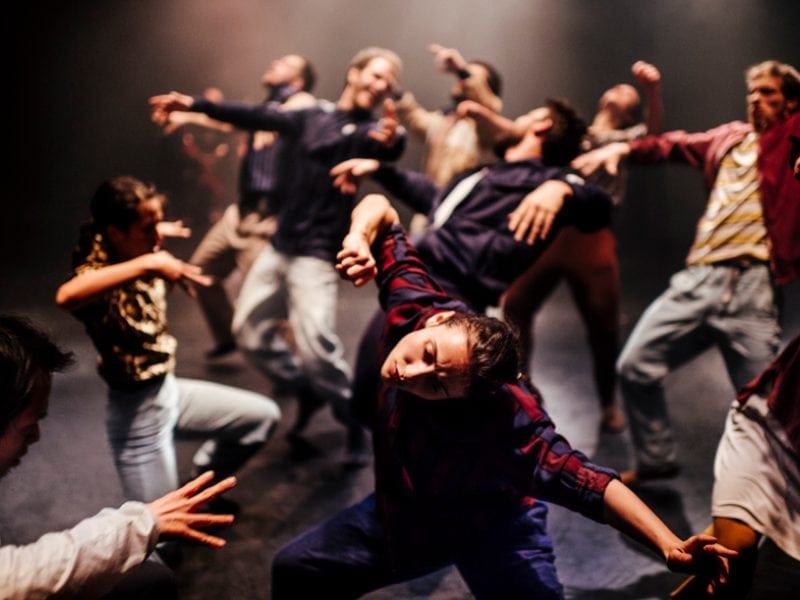 «A wild waltz for the end of time», as defined by The Guardian, Grand Finale is Hofesh Shechter's hotly anticipated return to Romaeuropa Festival. Internationally celebrated choreographer presents a work that both looks back and breaks new ground, through his distinctive and exhilarating brand of dance, theatre and music-gig combined.
Grand Finale is at once comic, bleak and beautiful, evoking a world in freefall, full of anarchic energy and violent comedy. Performed by a ten-strong tribe of dancers and accompanied by a live band of 6 musicians, Shechter's pulsating score is combined with a richly theatrical set by Tom Scutt in this bold and ambitious new work.
Dancing on the edge of the world to the sound of the apocalypse might sound dystopic, but with the sense of black humour which is the choreographer's signature, it hides a light and confident optimism. It is Shechter's talent, to analyse and both exorcise today's demons at the same time.


Duration 100' (including interval) Choreography, Music Hofesh Shechter Set, Costume designer Tom Scutt Lighting Designer Tom Visser Music Collaborators Nell Catchpole, Yaron Engler Associate artistic director Bruno Guillore Design Assistant (Set + Costume) Rosie Elnile Dancers Chien-Ming Chang, Robinson Cassarino, Frédéric Despierre, Rachel Fallon, Mickaël Frappat, Yeji Kim, Kim Kohlmann, Erion Kruja, Attila Ronai, Hannah Shepherd Musicians James Adams, Chris Allan (band leader), Rebekah Allan, Mehdi Ganjvar, Sabio Janiak, Desmond Neysmith Additional Music 'Merry Widow Waltz' by Franz Lehar, as performed by the London Philharmonic Orchestra and by arrangement with Glocken Verlag Limited, Andante Cantabile String Quartet No.1 and Suite No. 4 in G Major by Pyotr Tchaikovsky and 'Russian Tune' by Vladimir Zaldwich Produced by Hofesh Shechter Company and commissioned by Georgia Rosengarten Commissioning Partners Sadler's Wells, Théâtre de la Ville-Paris / La Villette-Paris, Brighton Dome and Festival Co-commissioned by Colours International Dance Festival Stuttgart, Les Théâtres de la Ville de Luxembourg, Romaeuropa Festival, Theatre Royal Plymouth and Marche Teatro / Inteatro Festival together with Danse Danse Montréal, HELLERAU - European Center for the Arts Dresden in cooperation with Dresdner Musikfestspiele, Dansens Hus Oslo, Athens and Epidaurus Festival, HOME Manchester, Scène Nationale d'Albi Grand Finale is generously supported by the International Music and Arts Foundation Hofesh Shechter Company is supported using public funding through Arts Council England Hofesh Shechter Company benefits from the support of BNP Paribas Foundation for the development of its projects. Production photo © Rahi Rezvani Rehearsal photo © Victor Frankowski