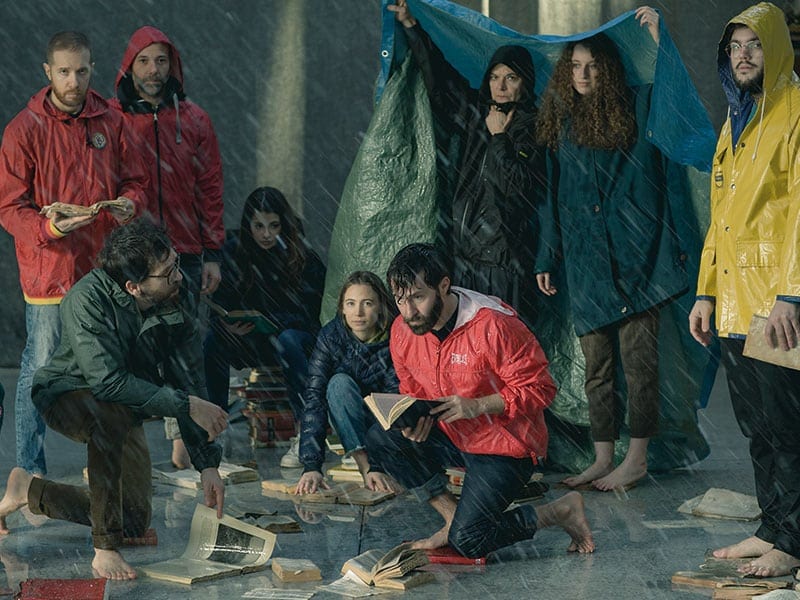 The Italian company Anagoor has come to international attention thanks to its crystalline aesthetic able to combine the performing art and hypermedia scene while simultaneously constructing a literary, theatrical device, permeated by references to classical art and contemporaneity.
After having presented Virgilio Brucia at REf15, the company returns to the stage with the long-awaited production integrated with the chapters of the Oresteia – the Agamemnon, the Slaves and The Conversion. Vision, song and oration contribute to the construction of a performance that maintains the structure and the texts of Aeschylus' tragedy, if only to find within its plot and interstices – as well as in the thought of its author – the roots of today's western condition.
For Anagoor, Oresteia is, in fact, the story of a world in revolt, inviting us to question ourselves about the concept of 'revolution'; a theatre able to provoke thought, to rewrite a new idea of justice and the sacred today.
WARNING: the show uses stroboscopic lights. Duration 4h with intermission Agamennone 2h15' Schiavi + Conversio 1h 30' On Aeschylus' Oresteia Dramaturgy Simone Derai, Patrizia Vercesi Translation from Greek Patrizia Vercesi, Simone Derai Line of thoughts S. Quinzio, E. Severino, S. Givone, W.G. Sebald, G. Leopardi, A. Ernaux, H. Broch, P. Virgilio Marone, H. Arendt, G. Mazzoni With Marco Ciccullo, Sebastiano Filocamo, Leda Kreider, Marco Menegoni, Gayané Movsisyan, Giorgia Ohanesian Nardin, Eliza G. Oanca, Benedetto Patruno, Piero Ramella, Massimo Simonetto, Valerio Sirnå, Monica Tonietto, Annapaola Trevenzuoli Voice of the messenger Pierdomenico Simone Dance Giorgia Ohanesian Nardi Music, Sound design Mauro Martinuz Sound assistant Ludovico Dal Ponte Gustav Mahler's Kindertotenlieder n.1 played by Massimo Somenzi Set, Costume design Simone Derai Costumes Serena Bussolaro, Christian Minotto Accessories Christian Minotto, Massimo Simonetto, Silvia Bragagnolo Mobile sculpture Istvan Zimmermann and Giovanna Amoroso - Plastikart Studio Video Simone Derai, Giulio Favotto Video: camera, cinematography, post-production Giulio Favotto Video: concept, editing, direction Simone Derai Light design Fabio Sajiz Technical assistance Mattia Dal Bianco Project assistant Marco Menegoni Assistant director Massimo Simonetto Direction Simone Derai Organisation Annalisa Grisi Management, Promotion Michele Mele Production Anagoor 2018 Supported by Fondation d'entreprise Hermès within the framework of the New Settings Program Co-production Centrale Fies, Teatro Metastasio di Prato, TPE – Teatro Piemonte Europa, Teatro Stabile del Veneto With the participation of Theater an der Ruhr With the support of the Compagnia di San Paolo Techinical sponsors Lanificio Paoletti, Printmateria, 3DZ Thanks to Hellenic Ministry of Culture and Sports, Archaeological Museum of Olympia, Italian Cultural Institute of Athens, Lottozero / textile laboratories Photo © Andrea Pizzalis Photo gallery © Giulio favotto