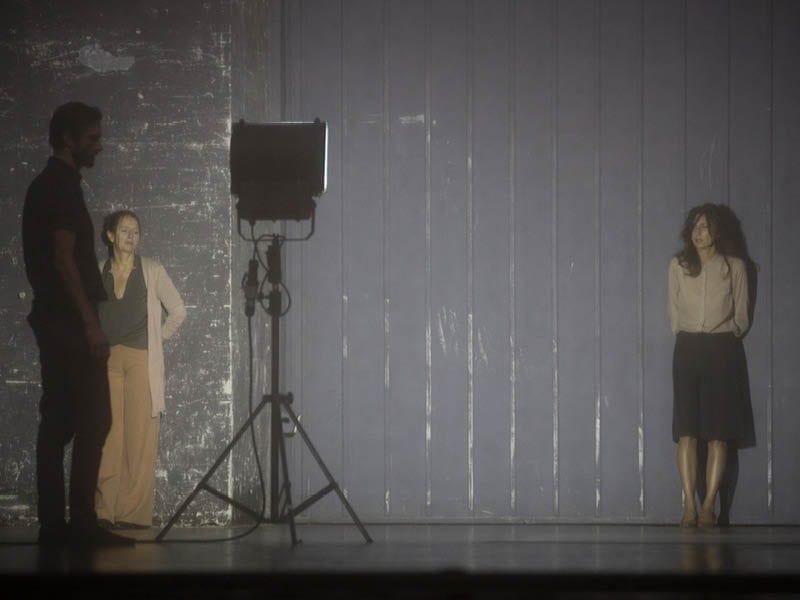 After Reality (2012), 2013's Ce ne andiamo per non darvi altre preoccupazioni (We're Leaving So You Don't Have To Worry Anymore) and Il cielo non è un fondale (The Sky Is Not a Backdrop) from 2016, Daria Deflorian and Antonio Tagliarini – winners of the 2014 Ubu prize awarded for innovation in drama – return to REf with Quasi niente (Almost Nothing), a new production inspired by Michelangelo Antonioni's Red Desert.
On stage are three women and two men working around the figure of Giuliana, wife and mother, played in the film by a young Monica Vitti. It is she, 'a wild woman in elegant clothing', who takes charge of that marginality that has always attracted the two artists, who are fundamental to reading the whole world. Because Quasi niente speaks to us not only of discomfort, of fragility, of cracks in reality but also of the childhood of a woman that the world no longer seems interested in hearing.
In the background is a sick society, devoid of imagination and crushed by the 'capitalist realism' that has suppressed every past and mortgaged every future. It is up to the theatre, with its 'impotent fantasising' to act once again as a hinge between inside and out, between the image and the real lying beneath.
Durata 90' Project Daria Deflorian e Antonio Tagliarini Inspired by the movie Il deserto rosso by Michelangelo Antonioni Dramaturgy collaboration, Direction assistant Francesco Alberici With Francesca Cuttica, Daria Deflorian, Monica Piseddu, Benno Steinegger, Antonio Tagliarini Project collaborators Francesca Cuttica, Monica Piseddu, Benno Steinegger Artistic advisor Attilio Scarpellini Buono a nulla text by Mark Fisher Light, Space Gianni Staropoli Sound Leonardo Cabiddu, Francesca Cuttica (Wow) Costumes Metella Raboni Translation and French subtitles Federica Martucci Technical direction Giulia Pastore Organisation Anna Damiani International distribution Francesca Corona / L'Officina Production A.D., Teatro di Roma - Teatro Nazionale, Teatro Metastasio di Prato, Emila Romagna Teatro Fondazione Co-production théâtre Garonne, scène européenne Toulouse, Romaeuropa Festival, Festival d'Automne à Paris / Théâtre de la Bastille - Paris, LuganoInscena LAC, Théâtre de Grütli - Genève, La Filature, Scène nationale - Mulhouse Support Istituto Italiano di Cultura di Parigi, L'arboreto - Teatro Dimora di Mondaino, FIT Festival - Lugano Photo © Claudia Pajewski