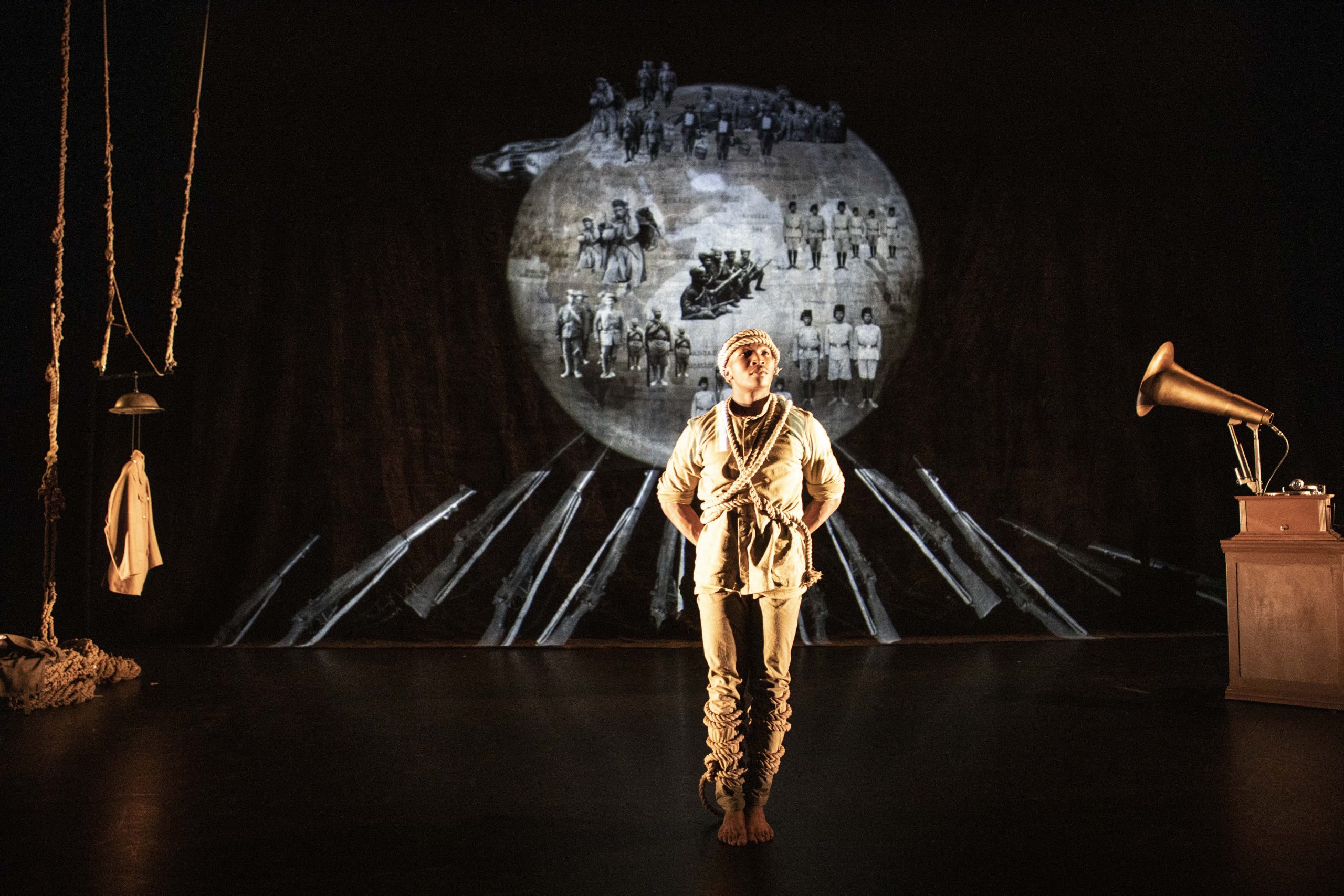 The Akram Khan Dance Company returns to open the new edition of Ref Kids & Family with Chotto Xenos, a re-creation dedicated to children and their families of the latest acclaimed piece by the Anglo-Bengali dancer and choreographer (REf19). Re-interpreted by Sue Buckmaster, former creator of the splendid Chotto Desh, Chotto Xenos intertwines the magnificent choreography by Akram Khan, lighting by Guy Hoare, costumes by Kimie Nakano and the evocative images of Lucy Cash brought to life by Domenico Angarano's soundscape which was inspired by Vincenzo Lamagna's original soundtrack. Staged in turn for each of two extraordinary dancers, Guilhem Chatir or Kennedy Junior Muntanga, as they accompany the young audience in a time-travel journey that explores stories often forgotten and lost about the colonial soldiers of World War I, a journey that shines new light on our present and hope for our future.
Sue Buckmaster is the Artistic Director of Theatre-Rites and the fourth generation of theatre practitioners in her family. She has many years of experience as a director, puppetry specialist and teacher, and has worked with a wide variety of companies including the National Theatre, Royal Shakespeare Company, Young Vic and Complicite.  In 2015, as well as directing Chotto Desh she has created Beasty Baby; a co-production between Polka Theatre and Theatre-Rites for 3 to 6 year olds, which ran from October 2015 to January 2016. Sue has created ten theatre and eleven site-specific productions for Theatre-Rites. Under her artistic leadership the company has been commissioned by a number of high profile venues and festivals including the Barbican, Salzburg Festival, Unicorn Theatre, Ruhrtriennale Festival and the Vienna Festival. Together with choreographer Arthur Pita, Sue directed the award-winning Mischief, originally co-produced in 2007 by Sadler's Wells, Theatre-Rites and the Dance Touring Partnerships.
XENOS
Artistic direction and original choreography AkramKhan
CHOTTO XENOS
Direction and Adaptation Sue Buckmaster (Theatre-Rites)
Set Design Ingrid Hu | Lighting Design Guy Hoare |
Original music Domenico Angarano, inspired by the music of Vincenzo Lamagna for XENOS Sound Design Domenico Angarano & Phil Wood | Costume Design Kimie Nakano | Film & Projection Design Lucy Cash | Choreographic assistant Nicola Monaco |
Rehearsal directors Nicolas Ricchini & Amy Butler |
Dancers Nicolas Ricchini / Guilhem Chatir
In order of their first appearance, the archive images used in the Chotto Xenos are copyright of: National Portrait Gallery, London (image 3), ECPAD/collection Mick Micheyl – Jean-Baptiste Tournassoud / Photographe: Jean-Baptiste TOURNASSOUD (images 4, 5 & 6), MOREAU Albert/ECPAD/Défense (image 8), CORDIER/ECPAD/Défense (image 9), IWM (images 12 & 31). Others are without copyright.
We thank the artists, collaborators and co-producers who contributed to the original production of XENOS by Akram Khan Company.
Co-production by: DanceEast Ipswich, The Point Eastleigh, Stratford Circus Arts Centre, Théâtre de la Ville – Paris
Created with the support of: Capital Group
Chotto Xenos e XENOS sono entrambi commissionati da 14-18 NOW: WW1 Centenary Art Commissions, supportati dal National Lottery Heritage Fund, dall'Arts Council England e dal Department for Digital, Culture, Media and Sport
Supported by Arts Council England
A special thank to Nigel Hinds, Jenny Waldman, Sarah Goodfellow, Liz Robertson, Tania Wilmer, Ashlie Nelson, Sacha Lee, Elizabeth Wolton, Susannah Burke, Brendan Keaney, Helen Dawson, Ole Birkeland, Ruth Little, Emma Bellerby, students and teachers of Canon Barnett Primary School and Elmhurst Primary School, Di'mond Sharma-Joseph, Nathan White.