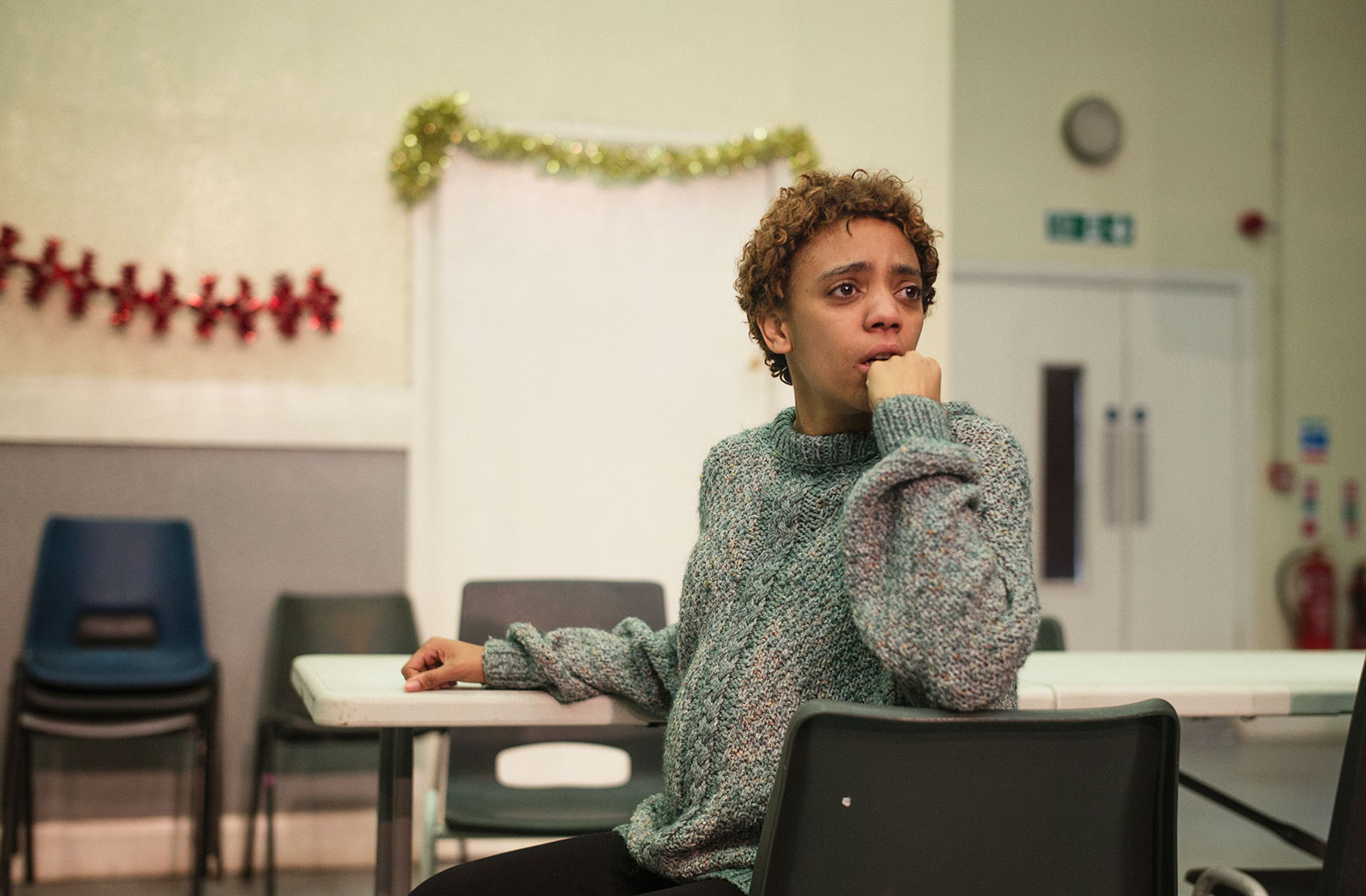 Shortly before Christmas, a shelter center offers (perhaps) temporary accommodation to a group of individuals: a man with his elderly mother, a pregnant woman, her companion, two migrants … They are together, forced into the same living space for an indefinite period, a limbo in which life is a constant expectation: that of useful administrative procedures in order to escape elsewhere. Tensions and conflicts, promiscuity and shame, precariousness and tenderness substantiate this intersection of lives plunged into poverty yet linked by the love that explodes in small daily rituals, in the search for salvation of oneself and of others. Born in 1985 Zeldin has involved families living in emergency shelters in Love's trials for over two years. But his show is not a documentary or a political accusation. With a delicate, ironic, moving look, the British director invites us to perceive the tragic and miraculous nature of life. His realism, writes Le Monde, «does not trace reality but condenses it, intensifies it».
Bio
Alexander Zeldin is a British writer and director for theatre and film. Alexander made work in Russia, South Korea and the Middle East as well as at the Naples Festival, before, between 2011-2014, developing a number of his own works as a teacher at East 15 Acting School, where he met several of the actors and creative team that collaborate with him today. At this time, he also worked as an assistant director to Peter Brook and Marie-Helene Estienne. His critically acclaimed playBeyond Caring, which told the story of several temporary workers meeting on a night shift in a meat factory, had its world Premiere at the Yard Theatre in Hackney in 2014, before transferring to the Temporary Theatre at the National Theatre in 2015. In 2015 Alexander was the recipient of the Quercus Trust Award and was appointed as Associate Director at Birmingham Repertory Theatre.Beyond Caringtoured the UK and a new US production, re-developed for the US by Alexander and produced by Lookingglass Theater in conjunction with David Schwimmer's company Dark Harbour Stories, opened in Chicago in April 2017. Alexander's play LOVE opened at the National Theatre in December 2016, before transferring to Birmingham Rep. A French tour is planned for 2018 and Love has also been made into a film by the BBC and Cuba Pictures. In 2017, he was named Artist in Residence at the National Theatre and in 2018, was the winner of the Arts Foundation twenty-fifth anniversary Fellowship for Literature. Love performed in France in November 2018, in Paris and Valence.
Alexander Zeldin is presenting his new play Faith, Hope & Charity in September 2019 at the Dorman Theatre, National Theatre of Great Britain.
Credits
Director: Alexander Zeldin
With: Amelda Brown, Naby Dakhli, Janet Etuk, Amelia Finnegan, Oliver Finngenan, Joel MacCormack, Hind Swareldahab, Grace Willoughby, Daniel York Loh
Set and Costume Designer: Natasha Jenkins
Lighting Designer: Marc Williams
Sound Designer: Josh Anio Grigg
Movement: Marcin Rudy
Associate Director: Elin Schofield
Associate Costume Designer: Caroline McCall
A coproduction: The National Theatre of Great Britain e Birmingham Repertory Theatre
In association with: Odéon-Théâtre de l'Europe (Paris) e Festival d'Automne à Paris
Premiére: 13 Dicembre 2016 al Dorfman Theatre (London)
Love è stato creato al Dorfman Theatre – National Theatre di Gran Bretagna, nel Dicembre 2016, ed è andato in scena al The Birmingham Repertory Theatre nel Gennaio 2017.  Dopo essere stato ripreso al Queen's Theatre, Hornchurch, di Londra nell'Ottobre 2018, lo spettacoo è stato in scena all'Odéon-Théâtre de l'Europe – ateliers Berthiers di Parigi e, nel Novembre 2018, alla Comédie de Valence. Il testo originale è stato pubblicato da Bloomsbury Methuen Drama nel 2016
In co-realization with
Teatro di Roma