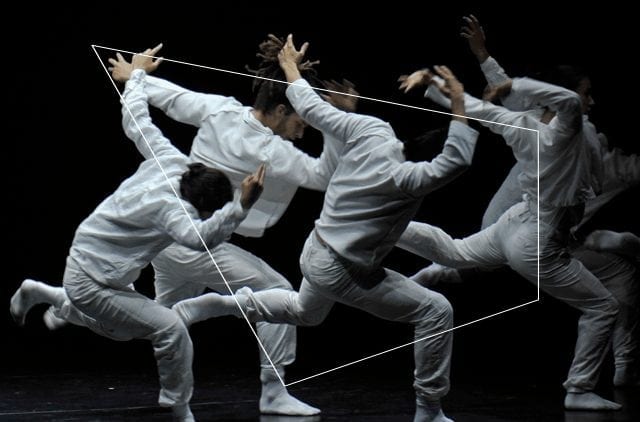 «I am a 40 year old man looking for a thrill», recites the off-stage voice of Hofesh Schechter in the first pièce of his new show, Barbarians. And in fact, the work by this British choreographer of Israeli origin – who has already attended Romaeuropa with In your Rooms, Political Mother and Sun – seems to want to overwhelm the spectator's senses.
Disorientating changes of scene, a soundtrack between classical and electronic music that literally shakes the audience, a cutting use of lights and group choreography with frantic, hammering rhythms are the elements that have made his company famous all over the world. Schechter constructs his aesthetic concept starting from a blend of Middle Eastern folk dance – also cultivated with Ohad Naharin's Batsheva Dance Company – and North European dance, adding anthropological, psychological and political reflections in a visionary and dream-like setting.
Presented for the opening of the 31st Romaeuropa Festival, Barbarians is an exploration of the themes of intimacy, passion and the banality of love: from the clashing, electronic voice of the first part, The Barbarians in love, written for six dancers and set to music by François Couperin, entirely focussed on the relationship between instinct, cultural values and Shechter's own personal life, to the following pièce tHE bAD, which uses dub step rhythms with heavy percussion to let the tribal aspects of the first choreography to explode into a dance for 5 dancers clothed in gold.
The work closes with Two completely different angles of the same fucking thing, created by Shechter together with ex-choreographers for the Bruno Guillore company, Winifred Burnet-Smith and Hannah Shepherd.
Romaeuropa presents barbarians by Hofesh Shechter within the Theatron European Network. The performance is going to be followed and enhanced with labs, workshops, dedicated communication and promotion campaigns in order to involve new audiences -especially young ones- in an unusual way.
---
Duration 115' with interval
A trilogy by Hofesh Shechter 
Performed by Hofesh Shechter Company
Part I: the barbarians in love
Dancers: Chien-Ming Chang, Attila Ronai, Frédéric Despierre, Kenny Wing Tao Ho, Yeji Kim, Maëva Berthelot
Choreography and Music: Hofesh Shechter
Lighting Collaborator: Lawrie McLennan
Voice: Victoria with NataschaMcElhone
Additional Music: François Couperin,Les Concerts Royaux, 1722: Jordi Savall& Le Concert Des Nations, (2004)
 Part II:tHEbAD
Dancers: Attila Ronai, Erion Kruja, Kenny Wing Tao Ho, Chien-Ming Chang, Maëva Berthelot
Choreography and Music: Hofesh Shechter with the original cast Maëva Berthelot, Sam Coren, Philip Hulford, Kim Kohlmann andErion Kruja
Lighting Collaborator: Lawrie McLennan
Costume Maker: Amanda Barrow
Additional Music: Mystikal, Pussy Crook: Tarantula (2001) Hesperion XX, Jodi Savall,Paavin of Albarti (Alberti):Elizabethan Consort Music 1558 – 1603 (1998)
Part III:Two completely different angles of the same fucking thing
Dancers: Yeji Kim and FrédéricDespierre
Choreography and Music: Hofesh Shechter with the original cast Winifred Burnet-Smith, Bruno Guillore and Hannah Shepherd
Lighting Collaborator: Lawrie McLennan
Additional Music: Abdullar Ibrahim, Maraba Blue: Cape Town Flowers (1997) Hesperion XX, Jordi Savall, In Nomine V a 5 (White): Elizabethan Consort Music 1558-1603 (1998) Bredren and MC Swift, Control: Control (2014) Hofesh Shechter
Technical Manager Paul Froy and Richard Godin
Re-lighter Alan Valentine
Sound Engineer Richard Young
Stage Manager Holly Gould
Co-commissioned by Sadler's Wells London, Les Théâtres de la Ville de Luxembourg, Théâtre de la Ville – Paris, Berliner Festspiele – Foreign Affairs, Maison de la Danse- Lyon, Festival d'Avignon, HOME Manchester, Festspielhaus, St Pölten (including a working residency) andHessischesStaatsballett, Staatstheater Darmstadt / Wiesbaden (including a working residency

Hofesh Shechter Company
Board of Directors: Robin Woodhead (Chair), Theresa Beattie, Jules Burns, Andrew Hillier QC, Karen Napier
Founding Patrons: Angela Bernstein CBE, Robin Pauley, Bruno Wang
Artistic Director: Hofesh Shechter
Executive Producer: Henny Finch
Administrative Director: Colette Hansford
Executive Assistant: Fionna McPhee
Associate Artistic Director: Bruno Guillore
Producer: Niamh O'Flaherty
Head of Development: Sam Morley
Head of Production and Touring: Adam Hooper
Participation Producer: Lucy Moelwyn-Hughes
Rehearsal Assistants: FrédéricDespierre
Administration and HR Manager: Lee Bamford
Company & Projects Manager: Melanie Zaalof
Administrator: Emily Gatehouse
Hofesh Shechter Company is supported using public funding by the National Lottery through Arts Council England.
Hofesh Shechter is an Associate Artist of Sadler's Wells and Hofesh Shechter Company is Resident Company at Brighton Dome.

Photo © Gabriele Zucca