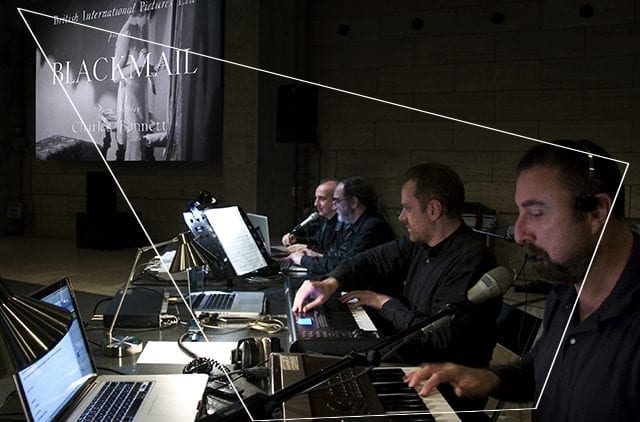 8 pm |MACRO Testaccio – La Pelanda | Music Insid(i)e with Riccardo Amorose curated by Nuova Consonanza

EDISON STUDIO | IVO NILSSON
DANIELE ROCCATO | ALFRED HITCHCOCK
Known as "Ricatto" in Italy, Alfred Hitchcock's film Blackmail (1929) is both the first sound film and the last silent film in the history of British cinema. Filmed at Elstree studios, it switched from one to the other during production on the director's own request. Blackmail was also the first trial of direct dubbing, making it clear why the film is so important and its link to sound production and listening.
Edison Studio, a group formed of acclaimed electro-acoustic composers Mauro Cardi, Luigi Ceccarelli, Fabio Cifariello Ciardi and Alessandro Cipriani, is well aware of this and, ninety years later, is presenting an original, live sound track for the silent version of the film. They will be accompanied in the project, commissioned by the Societàdei Concerti Barattelli de L'Aquila, by two special guests: Ivo Nilsson on the trombone and Daniele Roccato on the double bass.
The tension and sense of anxiety that characterises all the characters in the famous thriller become the starting point for developing a live cinema show designed to sweep away all the clichés of music for images.?Using objects, traditional and unexpected instruments, with the Blackmail Project the group has created an inter-media show which blends videos, concert, recorded and live sound. The result is a highly personal reinterpretation of the film, capable of shedding new light not only on the facts narrated but also on the figure of one of the most important directors in the history of cinema.
---
Duration 75′
Music, Live electronics Edison Studio
(Mauro Cardi, Luigi Ceccarelli, Fabio Cifariello Ciardi, Alessandro Cipriani)
Special guests Ivo Nilsson trombone Daniele Roccato contrabbass
Movie: Director Alfred Hitchcock
Screenplay Benn W. Levy, Alfred Hitchcock, Michael Powell
Interpreters Anny Ondra (Alice White)
Production Edison Studio – Roma
Support Società Italiana degli Autori e Editori per il progetto SIAE – Classici di Oggi