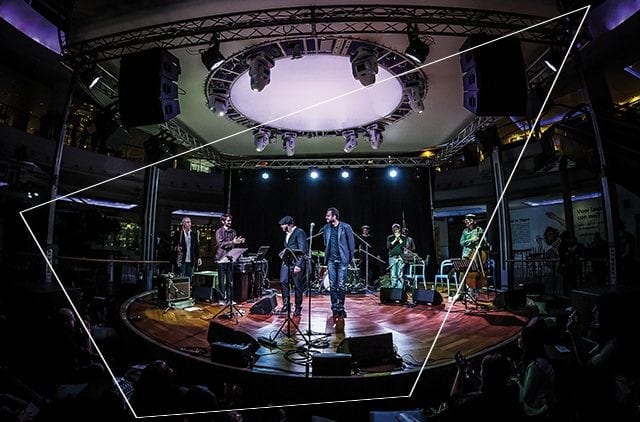 Tuesday 15th and Wednesday 16th| 8 pm | foyer | Music Insid(i)e with Massimo Acanfora Torrefranca curated by Nuova Consonanza
Raiz, aka Gennaro Della Volpe, is certainly no stranger to collaborations exploring the distances between sounds and music from different cultural universes: from the electronic music of Massive Attack to the rock of Gianni Maroccolo, from singer-songwriter Pino Daniele to the experimentation of the Asian Dub Foundation. It comes as no surprise then that the leader of Almamegretta is the voice of New Ghetto Songs, created together with composer Yotam Haber and LCP Ensemble directed by Daniele Del Monaco.
A project that uses some of the melodies from the Roman Jewish community and represents them in a live performance for orchestra, voice and electronic incursions. The starting point is more than ten hours of recordings made from 1940 to 1960 by Italian musicologist Leo Levi, aiming to record the Jewish experience through music and sound, combined with a transcription of the liturgical songs by Maestro Elio Piattelli, which are still performed today by the Coro del Tempio Maggiore in Rome. These songs are passed from generation to generation, changing, acquiring new meaning or remaining carefully guarded and passed on.
This repertoire has been completely reinterpreted by Haber, Del Monaco and his LCP Ensemble, adding the voice of Raiz, who has re-read and rewritten the texts of the songs for the occasion. The result is a reinvention and recreation of the past and the way in which some music reaches the present day.
---
Duration 70′
Production Non Luoghi Musicali/Centro Commerciale Campania
Photo © Alfredo Buonanno