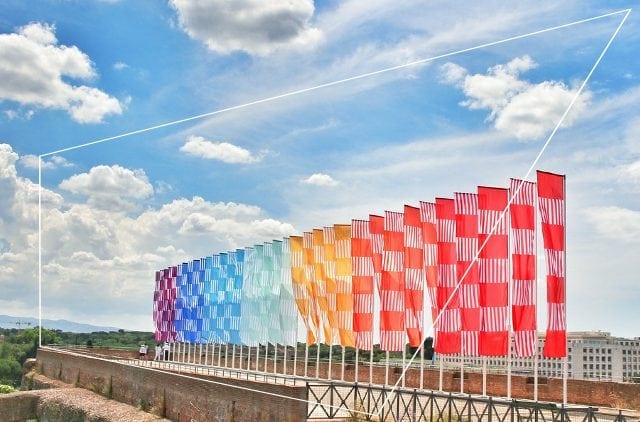 Contemporary art and archaeology are two converging experiences that suggest a new way of looking at cultural heritage and an opportunity to bring ancient and contemporary together. The resulting contrast regenerates the ancient space, awakening curiosity in the public.
Contemporary works are transformed when viewed through an unexpected filter, especially where the work, whether a sculpture, video, installation or performance, is placed in direct comparison with its monumental surroundings.
The Par tibi, Roma, nihil itinerary is built around three theme areas: memory, in which the ancient space and its remains are transformed into a linguistic workshop; history, in which the ancient ruins become a permeable frontier, welcoming the future languages of art; and space, specifically the Palatine hill, seen in an entirely new way through the eyes of contemporary artists.
MAKING OF
---
---
EXHIBIT
FRANCESCO ARENA | KADER ATTIA | ELISABETTA BENASSI | DANIEL BUREN
GIORGIO ANDREOTTA CALÒ | LORIS CECCHINI | ETIENNE CHAMBAUD | ISABELLE CORNARO
MICHAEL DEAN | GABRIELE DE SANTIS | GIULIO DELVÈ | MARIA ADELE DEL VECCHIO
FLAVIO FAVELLI | PIERO GOLIA | PETRIT HALILAJ | DAVID HORVITZ
KAPWANI KIWANGA | JANNIS KOUNELLIS | MARKO LULIC | MASBEDO
TRIS VONNA MICHELL | ROSALIND NASHASHIBI | VALERIO ROCCO ORLANDO  |
ALESSANDRO PIANGIAMORE | GIANNI POLITI | MICHAL ROVNER | MARINELLA SENATORE |
PASCALE MARTHINE TAYOU | ADRIAN TRANQUILLI | SISLEJ XHAFA | GUIDO VAN DER WERVE | CHEN ZHEN
 
PERFORMANCES
EMILIANO MAGGI / 23rd June | SISSI / 21st July | TOMASO DE LUCA / 28th July
MERIS ANGIOLETTI / 8th September | NICO VASCELLARI / 15th September
---
Concept Monique Veaute
Curated by Raffaella Frascarelli
Info > archeoroma.beniculturali.it
Tickets > coopculture.it
The schedule might change.