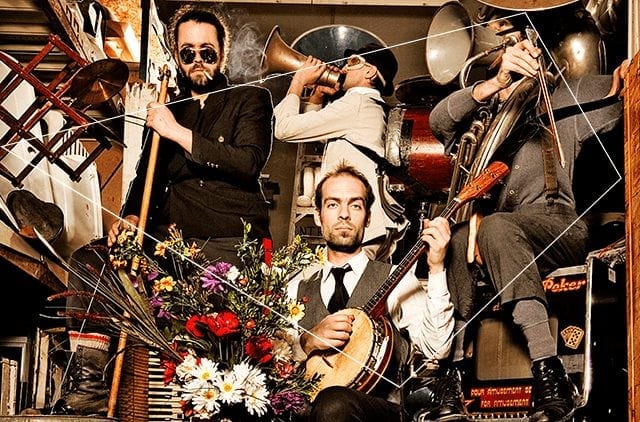 This is no mere tribute to Tom Waits. The live performance by Canadian L'orchestred'hommes-orchestres aka LODHO at the Romaeuropa Festival is, above all, a mad, entertaining and furious deconstruction of the pieces that made Waits an international rock legend.
Founded in 2002, the chameleon and undisciplined Canadian group defines itself as a "one-man band", ironically referring to a presumed lack of specific talents within the group apart from the ability to do and learn anything, all in one go. A DIY approach which has allowed L'orchestred'hommes-orchestres to move away from any kind of uniformity or standardisation in order to found a free, open and intentionally disorientating concept. It is no coincidence that, under the flag of innovating musical languages, the group has collaborated with artists from visual arts, music, theatre, dance and performance arts.
Using unlikely musical instruments and a clown-like atmosphere, Tom Waits is reinterpreted and captured in all his exuberant folly. With a suitcase for a drum, a wooden spoon between the teeth to add syncopation, fizzy sweets offering the scraping sensation of an analogue recording, bottles, pipes, oranges, guitars and violins all bringing out their intrinsic musical dimension.
However, the live show by L'orchestred'hommes-orchestres is also a performance that smacks of farce, in which the bodies of the musicians (piled one on top of another, contorted, caught in unimaginable actions) become the protagonists of a visual as well as musical show.
---
Duration 110′
Bruno Bouchard voice, man band, guitar, suitcase, spaghetti, violin
Jasmin Cloutier voice, guitar, banjo, megaphone, boots
Simon Drouin voice, harmonica, wood cutting, scissors, boxing gloves
Simon Elmaleh voice, bass, hammers, baby cot
Guests The New Cackle Sisters Gabrielle Bouthillier + Danya Ortmann voices, teapots, handkerchiefs
Photo © Jacynthe Carrier
---