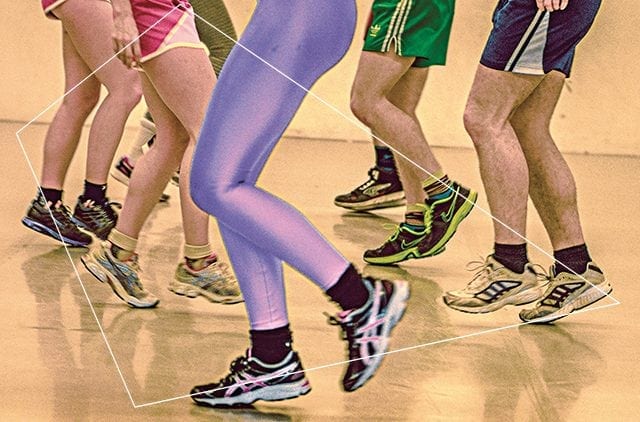 Having already attended the Romaeuropa Festival in 2015 with ODE TO THE ATTEMPT (a solo for meself), Jan Martens is back (as part of Olandiamo, a focus on Dutch dance by Romaeuropa) for the 2016 edition with his first group creation: THE DOG DAYS ARE OVER.
With an aesthetic concept that places choreographic language firmly in the tradition of performing arts, Martens has rapidly caught the attention of the press and the public, taking his place in the international panorama as one of the most courageous choreographers of his generation. His success is thanks to his ability to put the nature of the performance constantly in discussion, and the role that the spectator takes during his performance.
Hence, THE DOG DAYS ARE OVER is above all a challenge. Eight dancers face the audience in a single movement: a jump. But Jan Martens' skill in composition, capable of inserting repetition in a complex physical action, comes across most clearly in the group of dancers' relationship with the stage space: a hypnotic variation of geometries that creates an intimate and consuming atmosphere. Beyond the effort, overcoming the limitations and the sweat, beyond the sonorous rhythm created by the bodies, Martens invites us to explore the intimacy of these eight extraordinary protagonists.
The show is inspired by a quote from American photographer Philippe Halsman, famous for his portraits published in LIFE Magazine in 2958: "When you ask a person to jump, their attention is mostly taken up in the action of jumping itself, all the masks fall and their true nature appears".
---
Duration 70′
By Jan Martens
With Cherish Menzo, Piet Defrancq, Julien Josse, Laura Vanborm, Naomi Gibson, Nelle Hens, Steven Michel, Kimmy Ligtvoet Sostituti Morgane Ribbens, Ilse Ghekiere, Connor Schumacher, Amerigo Delli Bove Luci Jan Fedinger
Dramaturgy Renée Copraij
Technique Michel Spang
International spread Line Rousseau / a propic
Production ICKamsterdam, JAN
Coproduction Frascati Producties, SPRING performing arts festival, DansBrabant, La Briqueterie CDC du Val-de-Marne, tanzhaus nrw, TAKT Dommelhof
Support workspacebrussels, wp zimmer
Financing Flemish Authorities, Performing Arts Fund NL

Photo © Studio Rios Zertuche
---