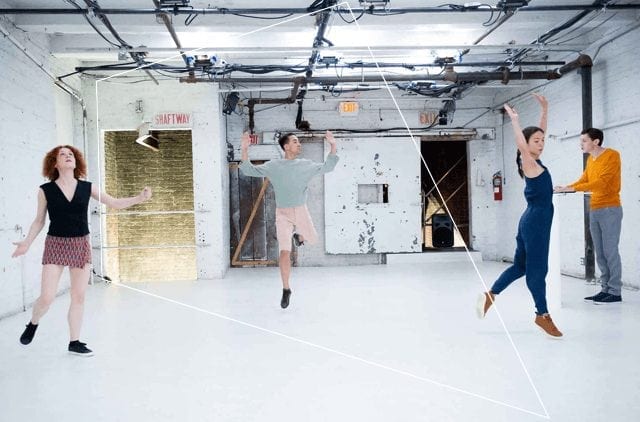 The encounter between Liz Santoro and Pierre Godard is an alchemy of scientific research and choreography. Santoro is an American dancer and choreographer who studied neuroscience at Harvard, graduating in psychology and biology in 2001.
Her career is exactly the opposite to Godard's, who graduated in applied mathematics in Grenoble before starting to work in a theatre initially as a technician, then as a lighting assistant, stage manager and finally director. A passion that continued as he completed his studies at the Sorbonne in Paris, followed by a PhD in IT, focussing in particular on probability models, at the LIMSI-CNRS laboratory.
Relative Collider is the duo's second work, capable of extracting visceral poetry and sensuality from rigorous choreographic sets. In a collision of structure and chaos, numbers and words, clear gestures and inscrutable, improvised expressions, Relative Collider reflects on the way that we give and receive attention. However, the analytical starting point is transformed on stage into an exciting and liberating puzzle.
Like pieces of an unknown gear, the dancers start moving their hands and feet, following the rhythm of a metronome. Mechanical and mathematical at the start, their movements soon develop into a choreography that expresses the causality of play, in which the body is in a constant state of transition.
---
Duration 45′
Concept Liz Santoro, Pierre Godard
With Pierre Godard, Cynthia Koppe, Liz Santoro, Lorenzo De Angelis
Sound  Brendan Dougherty
Costumes Reid Bartelme
Technical Director Sarah Marcotte
Producer Fanny Lacour
Production Le principe d'incertitude
Coproduction Théâtre de Vanves, L'Atelier de Paris – Carolyn Carlson, The Chocolate Factory, Abrons Arts Center
Support FUSED (French US Exchange in Dance), Point Ephémère, Jerome Foundation, DRAC Ile-de-France, Centre National de la Danse, ImPulsTanz Festival

Photo © Ian Douglas
'La Francia in scena', the artistic season of Institut français Italia, is based on the initiative of the Embassy of France in Italy, with the support of the Institut français e del Ministère de la Culture et de la Communication, of the Fondazione Nuovi Mecenati, of Sacem Copie Privée, of the European Commission (Creative Europe) and of the Ministero dell'Istruzione italiano dell'Università e della Ricerca – Afam (MIUR – Afam).

---