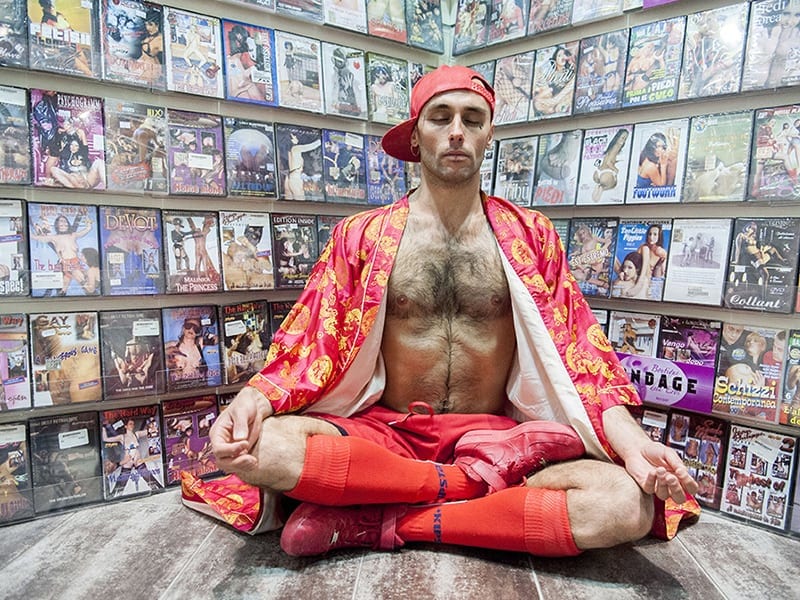 Founded by Erika Z. Galli and Martina Ruggeri, since 2005 Industria Indipendente has been heading an artistic research characterised by experimenting with different forms of expression while also embracing video, performing arts, music, fashion and new drama.
Precisely for its dramatic writing, used as a lens to frame and examine the contradictions of reality, the company has earned numerous awards and has established itself as one of the most interesting emerging figures in the panorama of innovative Italian theatre. Lucifer represents a new challenge for Galli/Ruggeri: here the dramatic writing goes beyond the words to be incarnated as bloody matter in the music performed live by DJ Lady Maru and the body of Piergiuseppe di Tanno, the only actor on stage.
The myth of Lucifer, as viewed by classical and contemporary culture, is torn and lacerated into pure reflections on nature and human weaknesses. The only interlocutor with Tanno, a nude and defenceless yet inhuman body, is only an egg (or several eggs): here is life caught in its original perfection, the cosmic source, a perfect cell or an empty container through which to stage every human attempt to live in the world.
By Erika Z. Galli, Martina Ruggeri With Piergiuseppe Di Tanno, Lady Maru Original music Lady Maru Lights Daniele Spanò, Luca Brinchi Costume Clara Tosi Pamphili Production Industria Indipendente Coproduction Carrozzerie | n.o.t Residence Armunia, Città del Teatro (Cascina), Corsia Of (Perugia), Angelo Mai (Roma) In collaboration with short theatre Foto © Martina Leo