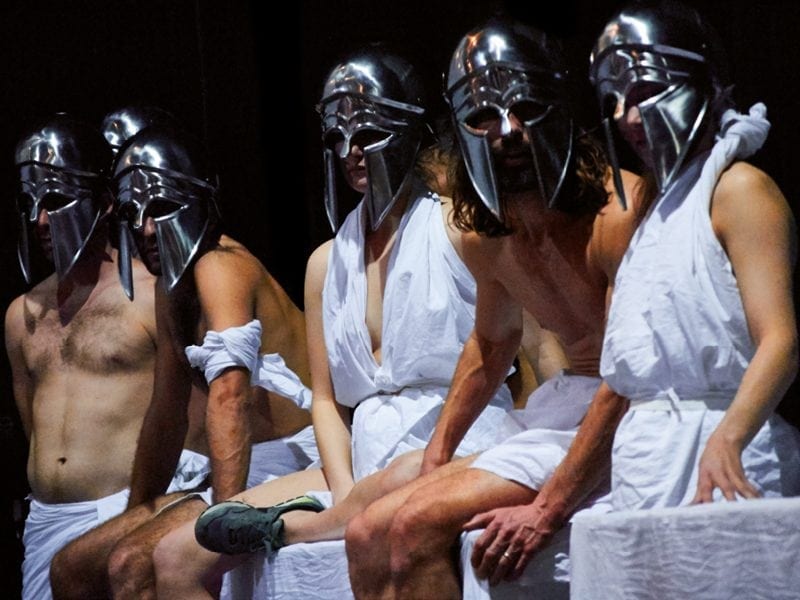 Presented in Bologna during the Ubu Prize to Jan Fabre and for the first time in Rome, Surrender by artist and filmmaker Phil Griffin covers the 24 hour masterpiece Mount Olympus – To glorify the cult of tragedy presented during the Romaeuropa Festival 2015.
Trained as a dancer and choreographer but taking an early interest in the world of video and photography, Griffin has made numerous portraits and visual campaigns for music stars such as Amy Winehouse, Adele, Prince, Bon Jovi, Rhianna, Naomi Campbell, Jay Z, Helen Mirren and Tracey Emin, as well as for some of the most important living artists, such as Damien Hirst. With a glamorous yet extremely sensitive gaze, the artist filmed the bodies, the meat, the sweat, the unbridled passion and sensuality of the performers of the famous Troubleyn company, making them, along with the words of Fabre, protagonists of a lunge in the world of the Belgian artist.
Suspended between the pursuit of beauty and the spirit of tragedy, male and female, Surrender captures the most significant aspects of Fabre's mammoth work, backstage with his "warriors of beauty", and investigates the darkest and most closely guarded aspects of his artistic genius.